In this photo from July 20, San Francisco Police Chief Greg Suhr, bottom, addresses Bayview residents upset about the police shooting of Washington state parolee Kenneth Wade Harding in San Francisco. About 300 people gathered for the meeting which ended early following outbursts from some attendees. (AP Photo/San Francisco Chronicle, Noah Berger)
By TERRY COLLINS,Associated Press
OAKLAND, Calif. (AP) — Distraught relatives of a Washington state parolee who San Francisco police believe fatally shot himself while running away from officers said Monday they are demanding more answers.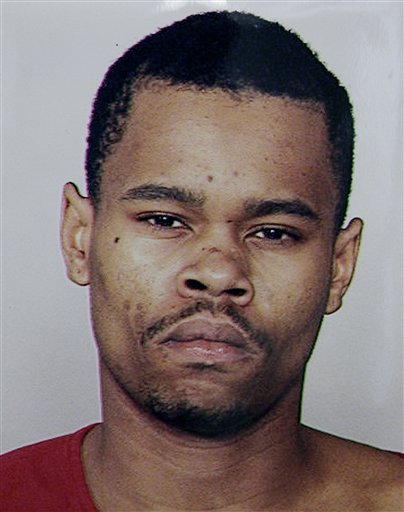 Kenneth Harding's family and their attorney said they are troubled with how police have portrayed the shooting. Police first said that the 19-year-old was fatally shot by officers, then said they believed Harding killed himself with his own gun.

"I'm angry and I'm hurt," Harding's mother, Denika Chatman of Seattle said at a news conference in Oakland. "I want the truth and I want justice to be done."

Police said officers tried to stop Harding (pictured) while checking for fare evaders on a light-rail train July 16 in the city's Bayview district. His mother said her son, who would have turned 20 on Aug. 5, was in the San Francisco Bay area to visit family and embark on a rap music career.

She also said that her son was enrolled to attend a community college in Seattle this fall.

"We know based upon the police department's shifting stories, conflicting statements, allegations, claims and retractions that the truth seems to be far from at hand," said Adante Pointer, Harding's family attorney. "A truth that the family is entitled to."

Police initially said officers gunned down Harding in self-defense after he first shot at them. They later said Harding was a parolee sought for questioning about the fatal shooting of a pregnant woman in Seattle.

Police also that gunshot residue on Harding's right hand backed officers' accounts that Harding fired the first shot as well as audio of the shots captured by a gunshot-detection system used by police.

But angry community reaction to the shooting and videos posted online show Harding bleeding helplessly in the middle of the street as police stood around him with guns drawn and a crowd gathered.

At a packed town hall meeting last week, Police Chief Greg Suhr was cursed and shouted down by outraged residents a short distance from where the shooting took place.

Suhr later said that he now believes Harding shot and killed himself with his own gun. Suhr said after officers shot him in the leg, Harding lurched and fired his gun and the bullet entered the right side of his neck and lodged behind his cheek.

Authorities say they do not know whether Harding killed himself — either intentionally or by accident — with a .380-caliber bullet. A similar bullet was found in Harding's jacket pocket, police said as the gun he apparently used is still missing.

Police said officers only shot Harding in the leg and could not have fired the fatal bullet because they use .40-caliber handguns that cannot fire .380 ammunition.

On Monday, Harding's sister, Mikcolyn Curtis, said her brother told her just hours before her his death that he wanted to provide a better life for their mother.

"He didn't have nothing on his mind to want to blow his brains out," Curtis said.

Pointer said Harding's family reject the notion that he was on the run and requests police provide them with a preliminary autopsy report, witness statements, surveillance video and the gunshot residue tests.

"So they can have the closure they are entitled to," Pointer said.

Pointer said they also want witnesses who saw what happened to come forth.

"What's in dispute is the truth and we want to get to the bottom of this situation," Pointer said. "We've been told a number of different things and we have information that is conflicting. We need to sort this out."