Mon., Aug. 29, 2011
Just wondering
Back when it was common for men to put various oils and goo in their hair to hold it in a rigid, unnatural shape, was America covered in collateral-damage grease stains?
Maybe not. I guess your head doesn't actually come in contact with that many surfaces.
But have you ever longed to "summerproof" your hair? (I'm not sure firing up a lighter that close to your face would be such a great idea after molding your head-loaf with that stuff. And do those two young ladies in the ad seem rather easily beguiled?)
www.vintageadbrowser.com
Or have you ever worried about the dreaded "dry hair"? Or thought that perhaps your phone was actually a WWII walkie talkie?
www.thehairhalloffame.blogspot.com
Or realized that, according to noted relationships expert Charlie Wild, putting "cream-oil" in your hair was the secret to romantic success?
www.politedissent.com
Or ever considered using a Vaseline product in your hair?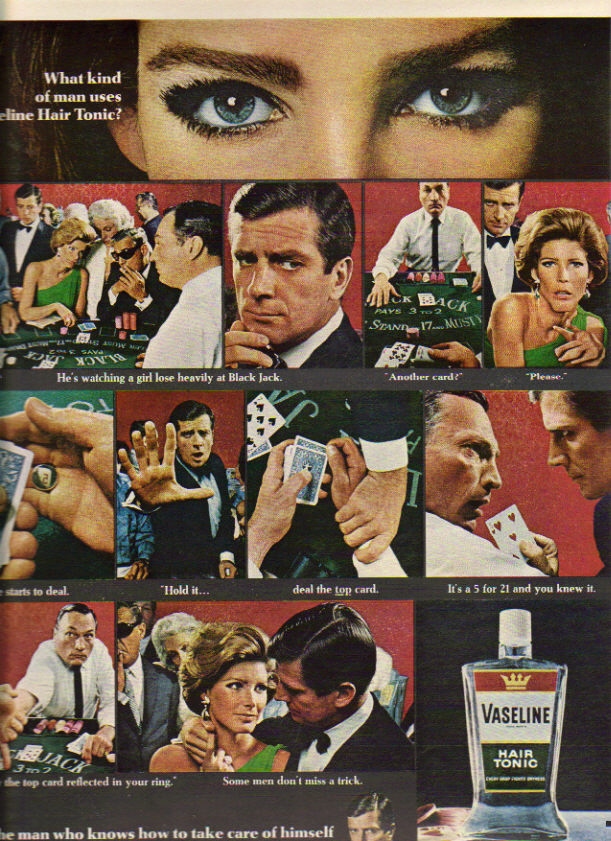 www.dadsvintageads.com
Or believed that your summer choices came down to staying inside or slathering your hair with shellac?
www.barberz.com
---
---