Sat., Oct. 1, 2011, 3:16 p.m.
Oh yes, we've got trouble. Right here.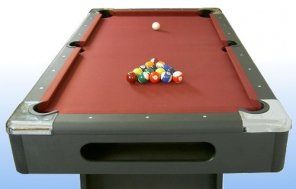 www.libertygames.co.uk
When I visit my mother at her retirement community, I walk past a cheery recreation room.
Sometimes residents are in there playing Wii games. I know some of those folks and we exchange waves.
Once in a while, you'll see somebody's grandchildren playing ping-pong.
The feature that catches my eye, though, is the pool table. It beckons.
I can't recall the last time I played a game of billiards. But I've always thought of it as an entertaining activity. At least for a few minutes.
The way the smooth, tapered stick feels in your hands. The clicking of the balls. The geometry of the caroms. What's not to like.
Anyway, I've thought a time or two that if I ever went by that rec room, found it unoccupied and was in the right mood, I might stroll in and line up a shot.
Today was that day.
The lights were off except one shining down on the table. The balls were racked and ready.
I grabbed a cue stick, lifted the plastic frame from the triangle of balls and assumed the position.
Visions of pool-themed movies flickered. "My name? Spokane Fats. What do they call you? Or has no one ever heard of you?"
I eased the tip of the stick into the cue ball. Not too hard. Not too soft.
And the white ball skittered off the wedge of colored balls and promptly rolled into the left corner pocket.
Scratch. On the break, for crying out loud. Glad no one saw that.
I'm really more of a ping-pong man.
---
---