Mon., Nov. 26, 2012, 8:01 a.m.
How much time is enough?
A GRIP ON SPORTS
Five years ago Washington State hired Paul Wulff to lead its football program. A year ago, after just nine wins, the Cougars fired him, an impatient action, according to some WSU fans, that came a year too early. Now it seems like the Cougs waited an eternity. Read on.
••••••••••
• The college football regular season ended Saturday. Five coaches of prominent programs lost their jobs Sunday. Included in that group was Auburn's Gene Chizik, who was just two years removed from a national title with the Tigers, and Colorado's Jon Embree (pictured). It was just two years ago as well when the Buffaloes reached out to Embree, an alum coaching in the NFL. Never a head coach, Embree answered the call of his alma mater and its athletic director Mike Bohn to turn around a program mired in mediocrity after five consecutive losing seasons. But Embree won just four games in two seasons, with only an improbable comeback in Pullman saving the Buffs from a winless year this season. So yesterday he was fired. According to John Henderson's story in the Denver Post, Bohn told Embree the program wasn't going in the right direction. Embree's appropriate response: "What direction was it going when I got hired?" The answer is simple: down. So how does a new coach, one who is hired to change a culture, do that in two years? That answer is simple too: He doesn't.
• Why not? Because if there is something I've learned in the past 40 years, it's that fit is important. Let's use Washington State as an example. When Bill Doba was let go, the Cougars still had some talent. Guys like Greg Trent, Kenny Alfred, Brandon Gibson. But the majority of Doba's guys didn't fit what Wulff wanted to do. Nothing against them or Wulff, but for Wulff to have long-term success at WSU, he needed his guys. And, after four years, he was starting to get them. But a change was made. And Mike Leach stepped in. He inherited talent in Pullman. Travis Long, Jeff Tuel, Marquess Wilson. But some of the best talent (ie. Wilson) did not fit the program Leach wanted. Either did many others. So a rebuild had to be instituted. Again. And it won't take place overnight. The Cougars, like the Buffs in Embree's first year, won three games in Leach's inaugural campaign. What if they win just one game next year, as Colorado did in Embree's second? I don't think it will happen, but what if? Will Bill Moos take a page from Bohn's playbook and fire Leach, knowing the rebuilding will have to start again? Or will he ride the fire awhile and give Leach a chance to put his players in place? The thought here is Moos is smarter than Bohn (who, as an aside, was Idaho's AD from 1999 to 2003), and won't pull the plug that quickly.
• If Moos ever does make a change, let's hope he doesn't follow Bohn's example in one way. According to some players on Twitter, Bohn used the same speech to tell them he had let Embree go he used two years ago when talking about the firing of Dan Hawkins. Not good.
•••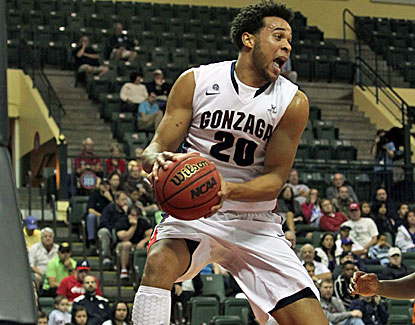 • Gonzaga: The Old Spice Classic hasn't been around that long, but it now has a two-time champion: Gonzaga. The Bulldogs won the tourney for the second time Sunday night, holding off Davidson 81-67 behind tourney MVP Elias Harris (pictured) and Kevin Pangos. Jim Meehan was in Orlando and filed this game story and a blog post. ... The tournament has enough cachet there are also stories about the final on ESPN.com and CBSSports.com. ... It was an up-and-down day for the rest of the WCC. BYU got back on track, but St. Mary's lost for the second time in Anaheim and Portland was handled by New Mexico in the Pit.
• Washington State: With all the openings, expect Mike Leach's name to come up. Christian Caple covers that and more in his morning blog post. FYI, when North Carolina State made its change, Leach's name was the first one to hit the Twitterverse. Just remember: For some schools, money is no object. If they want someone, they will throw whatever dollars are needed to get their way. Not saying it will happen with Leach, but it could. And the way coaches get fired so quickly, who could blame him? ... The Cougars jumped a couple of spots in these Pac-12 power rankings.
• Idaho: Utah State will represent the WAC in the Potato Bowl, but whom the Aggies will be playing is still unclear.
• Chiefs: Nothing on Spokane, but Kelowna crushed Everett last night. ... The Winterhawks are trying to re-energize the high school hockey scene.
• Seahawks: Sprinklers (pictured). Calls that demand players defy gravity. Reports of key players about to be suspended. It was a weird day for the Hawks in Miami. And a losing one. When Dan Carpenter's 43-yard field goal went through the uprights as time expired, Seattle was 1-5 on the road this year despite decent efforts from the special teams and Russell Wilson. ... Brandon Browner and Richard Sherman are facing four-game drug suspensions, according to numerous reports.
• Mariners: If you are wondering what kind of money some teams will have available for free agents this offseason, the answer is probably a boatload.
•••
• That's it for this Monday morning. I hope you enjoyed your holiday weekend. We did. I also want to wish my son Jack a happy 25th birthday and let him know this mention on his dad's blog is his only present. Until later ...
---
---