SUNDAY, OCT. 14, 2012, 10:42 A.M.
Better late than … no, on-time is better
A GRIP ON SPORTS
If you woke up this morning and wondered where this column was, there's an explanation. Well, an excuse really, but explanation just sounds better. Read on.
••••••••••
• Let's see. The Washington State game with California began at a bit past 7:30 last night and, after a first quarter that took almost an hour thanks to ineptitude by the officiating crew, didn't finish until well after 11 p.m. As time, like something else, flows downhill, the postgame show didn't get finished until after midnight. Which meant the call-in show I do each week with Dennis Patchin didn't begin until after midnight – and didn't finish until after 1 a.m. Not a big deal, really, but that was followed by the usual packing-up routine, a walk to the car and a 90-minute drive up U.S. 195. Bedtime: Sometime around 3:30. I lost track after falling asleep somewhere around Plaza (just figuratively; my eyes were open but my mind was in lullaby land). Luckily, the Honda knew the way home after all these years. The plan was to catch a couple hours, then arise groggy and inefficient to write this post. The latter part of that sentence is true, but the sleeping lasted longer than I planned. Sorry.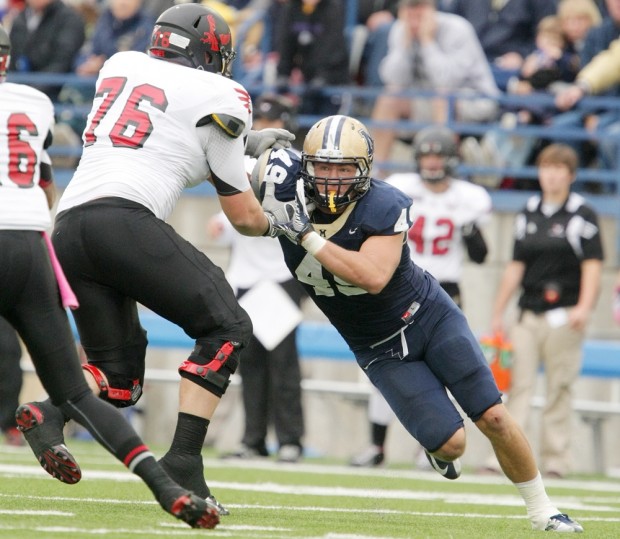 • I'm sure you've spent enough time mulling the Cougars fourth consecutive defeat, so I'll leave whatever thoughts I have to the WSU section below. The most exciting game involving an area team yesterday was obviously in Bozeman, where the Eastern Eagles rallied for a 27-24 Big Sky Conference win over Montana State. The sixth-ranked Eagles rode a dominant offense – no, that's not true. EWU had just a bit more than 200 yards of total offense, but a blocked punt for one fourth-quarter score followed by a Jordan Tonani interception return for another just a couple plays later. Game, set and match to the Eagles. And a possible No. 2 national ranking this week. Four of the five teams ranked about the Eagles were upset yesterday.
•••
• Washington State: I wonder if Mike Leach's favorite pirate is a fictional one: Captain Hook. He had a pretty quick hook with Connor Halliday last night, pulling the sophomore after two picks, one of which had to be determined by replay, the other on a play in which Marquess Wilson (left) nearly stopped on the route. That's not to say the throws were not ill-advised, they were, but after getting a clear majority of the reps in practice, it would seem Leach might have stayed with his younger quarterback a bit longer. Or give Tuel more snaps during the week. In his postgame radio interview, the senior sounded a bit frustrated by his recent come-off-the-bench-and-try-save-the-game status. He revealed to Bud Nameck there were plays called during the game that he had not practiced during the week. Not the ideal situation for any quarterback. Tuel responded by completing 30 of 53 passes for 320 yards (most of his time without Wilson, the Cougs' top target), but the Cougar offense wasn't able to take advantage of some late opportunities to pull within a touchdown. ... Christian Caple has his usual game coverage, with his game story, keys to the game, notebook, scoring and the statistics. John Blanchette has a column looking at the waning hope surrounding the season. Photographer Tyler Tjomsland was also in Pullman and added a photo package. ... Christian was all over the coverage with blog posts, including a number of videos of the post-game interviews. His morning post includes links to Cougar coverage and the other Pac-12 games. ... The new rankings are out and the Pac-12 is doing just fine.
• Gonzaga: A really good look at Adam Morrison and his quest to make the Trail Blazers. Worth reading.
• EWU: Jim Allen made the long car trip to Bozeman for the Eagle win and filed this game story. ... We looked around and came up with a couple stories from the Billings Gazette and one from the Bozeman Chronicle. ... Southern Utah made it two Missoula Big Sky losses this year already for the Griz, winning 30-20. ... Weber State is still winless after dropping a 19-14 decision in Sacramento. ... UC Davis hung a 52-45 defeat on Idaho State.
• Idaho: The Vandals traveled to Texas State for the first and only WAC contest with the Bobcats and a win was once again out of reach as UI suffered a 38-7 loss. We have a story and Josh Wright has a couple of blog posts from after the game. ... Louisiana Tech engaged in one of the all-time great shootouts with Texas A&M, with the last comeback coming up a couple points short. ... Utah State had little trouble on the road at San Jose State.
• Whitworth: The Pirates finally found out what it feels like to lose a road game and this one wasn't close.
• Chiefs: Spokane returned to the Arena and returned to the winning side of the ledger Saturday night. Jess Brown has the coverage. ... Portland just keeps on winning.
• Preps: Not a lot of prep action on Saturday, but we have a roundup.
• Seahawks: By the time you read this, the NFL action for this Sunday will be underway, so picks and power rankings and the like might be a bit outdated. ... The Hawks should be relatively healthy when they face New England today. ... The defense needs to continue its stellar play.
•••
• Enjoy the Seahawks game today and don't forget to pick a winner on our poll. So far this week readers were right about Eastern and wrong about WSU. That's better than I did with my college picks on radio Thursday. Luckily, my picks go on someone else's record due to my fill-in status. Until later ...
---
---