Thu., April 18, 2013, 8:35 a.m.
Another reason behind the NBA's slowdown
A GRIP ON SPORTS
I have an off-the-wall theory on why the NBA is dragging its feet concerning the sale of the Sacramento Kings and their possible relocation to Seattle. Read on.
••••••••••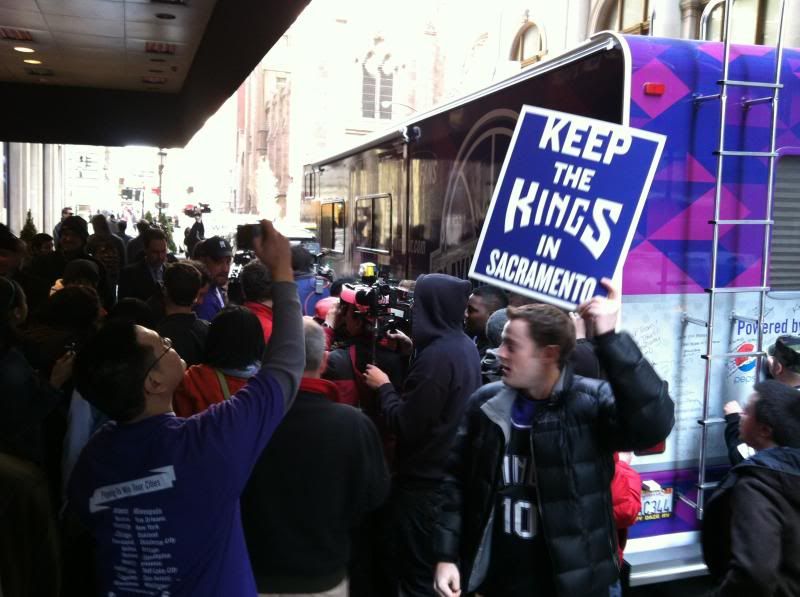 • It's all a conspiracy between David Stern, who is retiring from his spot as NBA commissioner soon, and the New York City hotel/motel owner's association. I'm guessing Stern will transition into some highly paid, no-work job with the group after his retirement. After all, he's been doing everything in his power to ensure overcrowding in the city's hotels for the next few weeks, due to the media crush covering "The Decision." Heck, maybe even Alaska Airlines is involved, needing to fill up its Seattle-to-Newark flight. Otherwise, the only explanation is money. And that's never the reason behind franchise relocation, is it? I always thought the basis of these things was to reward loyal followers and to punish cities whose fans don't turn out often enough. It couldn't be the NBA owners – and Stern – have been playing the Seattle group all along, hoping to drive the price up and raising the value of all the league's franchises, could it? No way. Such underhanded dealings never happen in pro sports. So the Seattle media continues to be held hostage in New York, standing outside the St. Regis Hotel, hoping to talk to Stern or his lackeys before the expense money runs out. And the hotels pick up some customers.
• That last paragraph was brought to you by the term sarcasm and was made possible by a grant from The I'msickofthiswholething Corporation.
•••
• Washington State: Though spring football is still going – culminating in Saturday's spring game at Joe Albi Stadium – Christian Caple switches gears a little bit and reports on the Cougars' signing of junior college point guard Danny Lawhorn. He has a story and a blog post from yesterday, along with more in this morning's post. ... Christian also has five questions with linebacker Eric Oertel and a summary of yesterday's live chat.
• Gonzaga: The Zags didn't sign anyone yesterday but BYU did.
• EWU: Today's position on Jim Allen's tour of the Eastern football team: Receivers.
• Idaho: The Vandals rounded out their basketball recruit class by adding four more players Wednesday, two guards and two bigs. Josh Wright has more in this blog post.
• Chiefs: Spokane needs a new assistant coach.
• Preps: It's Prep Page day so we have a feature on a Mead baseball player from correspondent Mike Vlahovich, Greg Lee's weekly track notebook, Greg's column and coverage of the Central Valley soccer win over Ferris from writer Jim Allen and photographer Colin Mulvany.
• Mariners: Free baseball. The M's and Tigers gave us five innings of it last night, but even then Seattle couldn't score more than one run and lost 2-1 in 14. And that was on a night Felix Hernandez started. ... Stephen Pryor was in the clubhouse, sporting a sling. ... Carlos Truinfel may never be the answer on the big league level, but he's a heck of a Triple A hitter. ... So is the TV deal the M's agreed to yesterday as good as it is cracked up to be?
• Seahawks: So who can the Hawks get with their top draft pick? When you don't have a first-round pick, it can make for a long day. ... As the offseason wears on, the injuries heal a bit.
• Sonics: Want to know if the Sonics are coming back? Or if the Kings are staying in Sacramento? You might have to wait until mid-May or so. Maybe even later. ... There are a lot of folks in Seattle who think David Stern is out to get them.
•••
• That's it for today. We'll be back early tomorrow, because we have a weekend trip planned. Until then ...
---
---