WSU bowl rewind: 1931 Rose Bowl
Video courtesy of wazzulibrary on YouTube.
As part of the build up to Washington State's showdown with Colorado State in the New Mexico Bowl, we're going to take a brief look every day at one of the Cougars' previous bowl appearances. Today we kickoff the segment with the 1931 Rose Bowl, WSU's second bowl game.
Heading into the 1931 Rose Bowl both Alabama and Washington State were 9-0. The Crimson Tide were led by College Football Hall of Fame coach Wallace Wade, who later left Alabama to coach at Duke. Wade finished his career with a 171-49-10 coaching record in football, a 24-16 record in basketball and an 87-45-2 record coaching baseball.
Coaching the Cougars was Orin "Babe" Hollingberry, who achieved a 93-53-14 at WSU but only coached in one bowl game. Hollingberry led the Cougars to national rankings in 1941 and 1942 when the Associated Press ranked the team No. 19 and No. 17, respectively. Suiting up for WSU were future College Football Hall of Famers Mel Hein and Glen "Turk" Edwards.
More on the game, after the jump.
...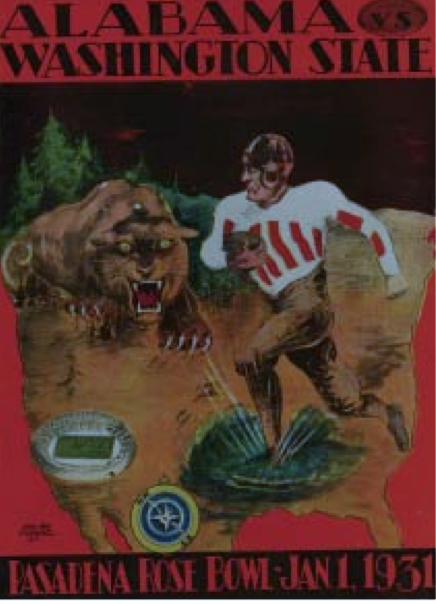 Wade had been a member of the Brown team that lost to WSU, 14-0, in the 1916 Rose Bowl, but got his revenge in front of 65,000 fans the next time the Cougars returned to Pasadena. The Crimson Tide scored 21 points in the third quarter thanks to touchdown runs of one and 43 yards by quarterback Monk Campbell.
Alabama tacked on a field goal in the third quarter to set the final score of 24-0.
---
---