Tue., June 11, 2013, 8 a.m.
Guess who won
A GRIP ON SPORTS
We interrupt our day-by-day report on the Mariners' futility for this SportsLink special report: The M's won. And so did my golf team. Read on.
••••••••••
• The former should come as the lesser of the surprises. After all, Hisashi Iwakuma was pitching and he's been nearly unhittable recently. (Actually, the correct term would be unscoreuponable, but I don't believe that is a word.) And Iwakuma was ace-like again last night against the woeful Houston Astros. Only an unearned run in the third inning marred his seven innings as he improved to 7-1, with a team-best – for a starter – 1.79 earned run average. We won't get into the debate on whether he's the Mariners ace right now – right now I believe he is – but it sure is nice to throw a guy out there every fifth day that makes you want to follow what the M's are doing, isn't it?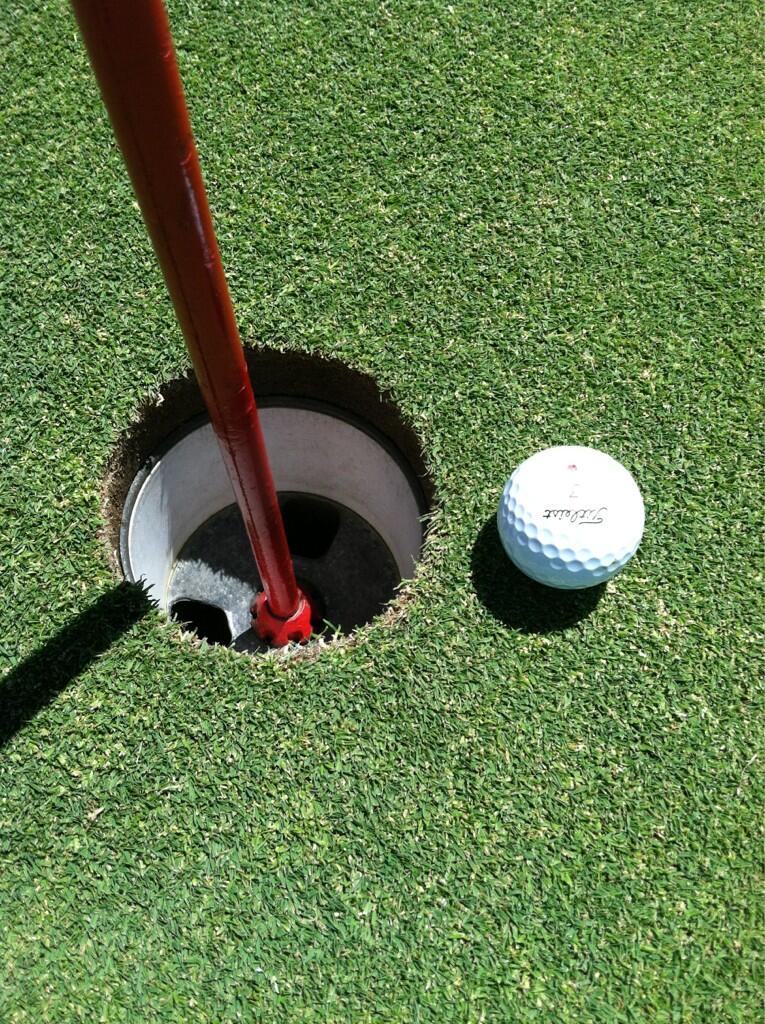 • Speaking of aces, Bud Nameck, the voice of Washington State basketball, missed a hole-in-one by about the length of Kate Upton's little toe yesterday and I was there to witness it (where the 175-yard shot ended up is pictured here). Yep, I was a witness to a lot of great golf shots as our four-man scramble team took home the prestigious Wet Dog Fur Open golf title at MeadowWood. Sure, Christian Caple, my son Tyler, a copy editor for the Review sports department, and Bud carried the load, but I contributed. Let's see. I drove the cart well. I gave the guys an occasional read on putts. I found a couple balls. And, oh ya, I made sure we remembered to put out the long drive and closest-to-the pin signs. Other than that, I was pretty much a spectator, though I did have a hand in one of our birdies on a par 5. Yep, the last 8-inch putt was mine. But what the hay, it was all about the team, right? And we won.
•••
• WSU: With Christian probably somewhere nursing a sunburn, I will make sure to get to all the Washington State links. And there are quite a few. ... Oregon State will join UCLA at the college World Series after its 4-3 victory over Kansas State on Monday. The Pac-12 received just four of the 64 NCAA berths. It will have two of the eight teams in Omaha. ... Oregon may learn its NCAA fate soon and then it will become part of this list. ... A couple things from ESPN.com's Pac-12 blog, including a look at offenses that need to bounce back and each school's most hyped newcomer. ... USA Today is counting down all the college football teams. WSU comes in at No. 93. Spoiler alert: You may not want to read the first sentence. ... Auburn thinks it has the ideal opener.
• Preps: We have a youth sports notebook each week during the summer.
• Mariners: We've already shared the news the M's won, with the big story being Iwakuma's pitching. But there are other things to share, like the news Mike Morris would be on the disabled list if Justin Smoak were healthy. And the news Smoak is getting better. How about Jon Garland being released by the Rockies or another look at the rebuilding plan? Dustin Ackley is hitting the ball well at Tacoma, the Astros are pretty darn bad and last night's game shouldn't have been that close.
• Seahawks: Hey, Tarvaris Jackson is back on the market. Wonder if the Hawks have any interest? Let's move on. ... The Hawks begin minicamp today and Pete Carroll has a number of issues to work out.
• Sounders: The U.S. National Team will play at CenturyLink tonight and a crowd of at least 35,000 isn't enough for some folks. Either is the quality of the grass playing surface.
•••
• Every year the team I've been a part of has won the WDFO (notice I didn't write "my team" or "I won"), the golfing summer has been much better. So I guess I better start playing a bit more often. Especially if the weather stays this nice. Until later ...
---
---