Thu., March 21, 2013, 8:23 a.m.
The day has arrived
A GRIP ON SPORTS
It's finally here. The first (real) day of the NCAA basketball tournament. Do you have your schedule ready? Read on.
••••••••••
• You can't get through a day like today without a little planning. Heck, to do it right, you need to plan as if you are invading Normandy. My suggestion? Grab the sports section, turn to the page with the television listings and start highlighting games you have to see. Then use a different color and highlight the games you want to see. Adjust your TV watching – and the rest of your life schedule – accordingly. As you can tell, I am already assuming you have found an excuse to avoid your usual work schedule today. After all, daily readers of this column are sports experts and sports experts are masters of the day-before questionable cough and wheeze, the weeks-before scheduling of fictional dental appointments and, in extreme instances, the Wedesday-before-March-Madness-begins vasectomy or the like. All in the pursuit of a good day – or weekend – of basketball watching. And all items that should have been taken care of before today. By the way, if you are reading this in Salt Lake City before heading to the arena to watch the Zags live, I have two words for you, one of which I can't write in this family-friendly column. Yes, I'm jealous.
•••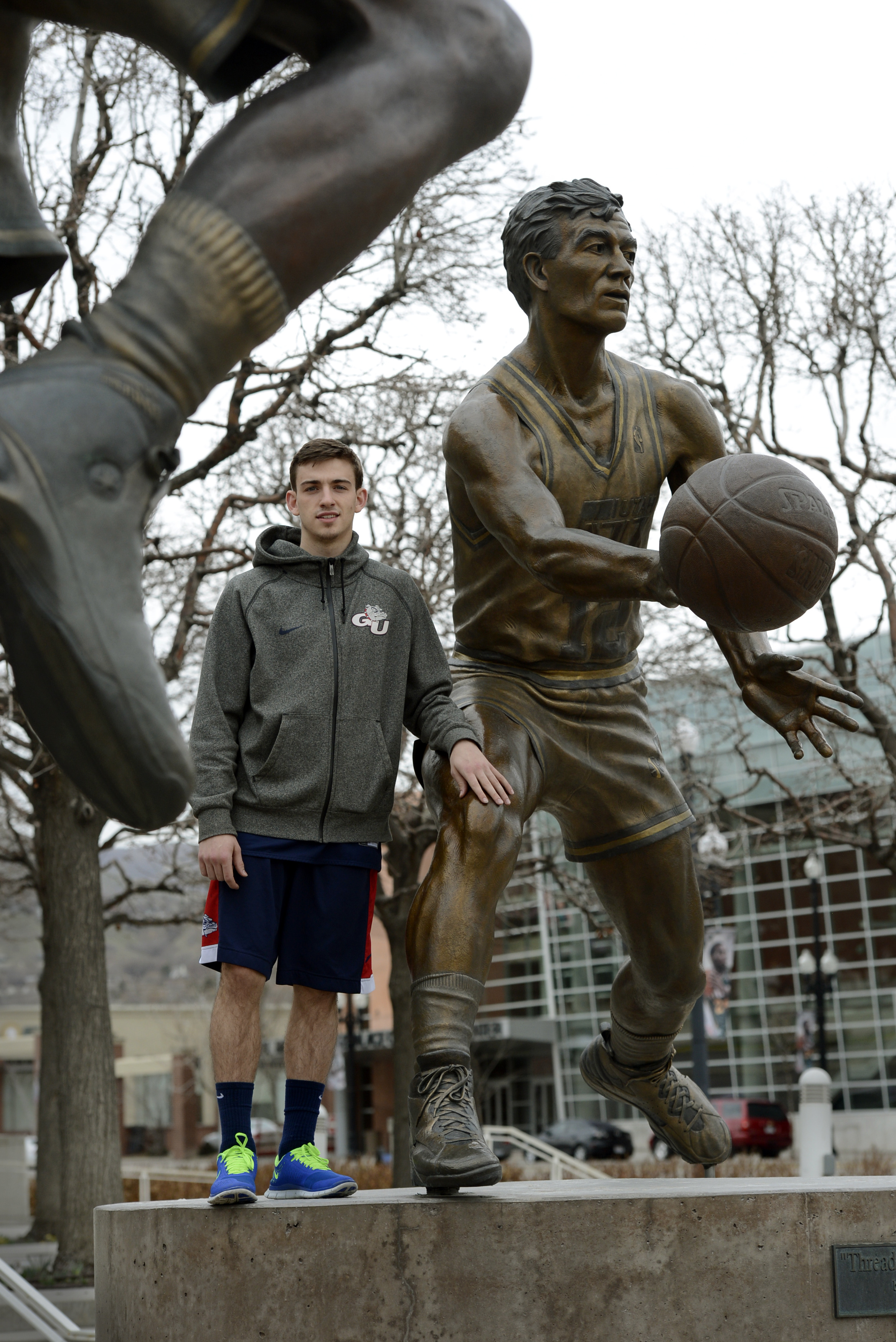 • Gonzaga: There are so many links to pass along I'm afraid of overloading the server farm of my internet provider. But we feel it is our duty to pass them along. We start with Jim Meehan's story on the Zags' feelings about Southern and his feature on Przemek Karnowski. Jim also has a blog post from last night. ... Then we shift gears a bit and pass along John Blanchette's column on David Stockton's homecoming (pictured). ... Christian Caple is also in Salt Lake and has a story on how the experts rate Gonzaga and one on Southern's best player. ... Dan Pelle has a photo story on the Zags' practice yesterday while Christian has video of it and the quotes from the media session. ... We also can pass along this timeline. ... Bud Withers has a column on the Zags (as does Jerry Brewer) along with a look at Southern in this notebook. ... ESPN tried to figure out how each No. 1 seed could lose, including Gonzaga. ... Wichita State, which could be GU's next opponent, wants to emulate the Zags. ... The Tribune has another David Stockton feature and a Southern advance. ... St. Mary's thinks its first-round game Tuesday night will actually help it tonight vs. Memphis. ... BYU is still playing in the NIT in case you care.
• Washington State: Spring football kicks off today – I will not be there as I have other "obligations" – and Christian, despite being a bunch of miles away, gets you ready for the second one of Mike Leach's tenure. He posted video from Leach's press conference and the official roster as released by WSU. He also has a story. ... As usual, Christian also has a morning blog post and he had a spring preview of the defense yesterday on the blog.
• EWU: As Jim Allen writes, injuries really derailed the Eagles' season. ... Weber State pounded Cal Poly in the CIT first round.
• Idaho: The Idaho women were once 3-9. They are now in the NCAA tournament. Talk about perseverance. Chris Derrick has more in this feature. ... Denver's men will face Maryland in the NIT's second round.
• Chiefs: Spokane opens the playoffs tomorrow night in the Arena against Tri-City. Chris Derrick has an advance and blog post centered round captain Brenden Kichton (pictured). ... Marcus Messier is hoping to lead Tri-City past the Chiefs. ... The heavily favored Portland Winterhawks will meet Everett in the first round.
• Preps: The tree outside my window has more and more buds, so I guess it's appropriate there are spring sports in today's newspaper. Sports such as soccer, as Jim Allen has this story on Ferris' 1-0 win over rival Lewis and Clark. And sports such as baseball, with Mike Vlahovich examining how the GSL is improving vs. its competition. Mike also has a preview of the area's bigger schools. ... Greg Lee doesn't feel the Coeur d'Alene school administration handled the Kent Leiss situation correctly and says so in this column.
• Mariners: You know, when the spring began the two big unknowns were power – that seems OK now – and the starting pitching. Is that going to be OK? I'm not sure, but it is beginning to sort itself out and will do more sorting over the next couple days. ... There is another question: Who is leading off?
• Seahawks: The free agent period was good to the Hawks, mainly because they were patient.
• Sounders: It's not easy playing for an MLS team and also for the national team. An honor, yes, but not easy.
•••
• We have our schedule for the day, though I'm sure it is different from yours. Anyways, it is full. Until later ...
---
---