Thu., Oct. 17, 2013, 7:53 a.m.
The playoff folks missed an opportunity
A GRIP ON SPORTS
At the end of next college football season there will be a mini-playoff of sorts to determine a national champion. One of the biggest steps toward that mini-playoff occurred yesterday, when the names of the selection committee were officially released. I can't lie. I'm a little disappointed. Read on.
••••••••••
• When the news broke there would be a mini-playoff replacing the fraudulent BCS, and that there would be a selection committee, I started campaigning for a spot. Quietly of course, but it was as strong a campaign as the one I put on in eighth grade when I ran for school president. (My slogan: Get a Grip on Leadership; notice a trend here?) Anyhow, like that campaign, this one failed too. All the hints I dropped to people in the know, all the anonymous emails I sent to the powers that be to look at the Grippi guy, all the subtle clues I left in this column over the past few months, they all went unheeded. And who did they pick? A bunch of athletic directors and, god forbid, a woman. Yep, the championship of our national sport is going to be decided by a woman. Oh, the horror. At least they didn't put any other godforsaken retired sports writers on the committee, because that would really hurt. Wait, what? There is a retired sports writer on the committee? And it's not me? Some guy who worked for USA Today, where they don't even get to write complete stories? Jeez. A woman and a sports writer. What is this world coming to? At least Condolezza Rice (pictured) is a Republican. That helps some. And her dad was a football coach. That's another positive. I guess, when you get right down to it, she's a better choice than that sports writer guy. After all, with a name like Steve Wieberg you know he's a Northeast mamby pamby who has no idea how real men play football. Wait, he's from Kansas? Do they play college football in Kansas?
•••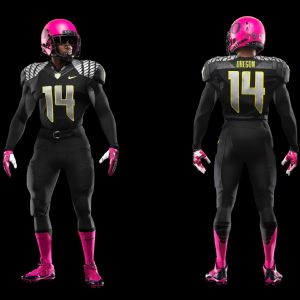 • WSU: With the Pac-12 holding its basketball media day today in San Francisco, Jacob Thorpe wasn't at football practice yesterday. However, he still has a football story. It's about how the Cougars respond to adversity. Jacob also has his Pac-12 picks and a morning post with links. ... The folks over at ESPN.com's Pac-12 blog have their picks for the weekend. ... Speaking of links, we have a few, including this one about the Oregon helmets (pictured) this weekend. ... We missed this earlier, but Deone Bucannon earned a pretty big accolade this week. ... The Oregon defense hasn't missed a beat. ... It doesn't look as if DeAnthony Thomas will play Saturday. ... Mike Riley is tired of night games. Me too.
• Gonzaga: The BYU basketball team is a bit different this season.
• EWU: Jim Allen will be holding a live chat this afternoon but before then we can pass along his Eastern notebook and his morning blog post. ... The Eastern women are the preseason choice to win the Big Sky in hoops.
• Chiefs: Spokane's fast start continued last night in the Arena as the Chiefs hammered Swift Current, 5-1. Chris Derrick has the game coverage and more in this blog post. ... Portland hosted Tri-City last night and came away with a 4-1 victory.
• Preps: It's Thursday, so that means there is a lot of prep stuff to pass along, including Greg Lee's column on the biggest battle of Coeur d'Alene football coach Shawn Amos' life. ... Greg also has his picks for the week. He and Sam Adams disagree on a couple games. ... Jim Allen has a feature on a Post Falls soccer player (pictured) who is headed to the national team and gamer from Mead's 2-0 win over Lewis and Clark. ... Mike Vlahovich covered Wednesday's big showdown in GSL cross country. ... We also have today's roundup. ... Finally, we decided to pass along a couple of stories from the San Francisco Chronicle, which is examining the youth sports scene. The first is on injuries and the second on the proliferation of high-priced select teams.
• Seahawks: Yes it's Thursday, so that means ... the NFL? Every week. Tonight it is the Hawks' turn as they are in Arizona to face the Cardinals. ... Will this be a defensive battle or will the receivers shine? Who will be healthy for the Hawks and who isn't? What should we look for? How does Pete Carroll see tonight's game? How will the Hawks win? (They are going to win, right?) We went out and found answers to all those questions and more.
• Sounders: One more question. How does Michael Gspurning feel about his benching last week? The goalkeeper talked about it yesterday. ... Sunday's game against Dallas in Frisco, Texas, is still a few days away, which gives the Sounders a chance to heal up a little bit. They need it. After all, they are falling in the power rankings.
•••
• I hope you realize I was being sarcastic in my opening thoughts today. There is no way guys like former Auburn coach Pat Dye and others care if Rice is a Republican or not. ... If this were a tweet, I would follow that sentence with a smiley face. Here, I let you imagine it. Until later ...
---
---