Sat., Oct. 10, 2015, 8:14 a.m.
M's fire McClendon, which shouldn't have come as a surprise to anyone
A GRIP ON SPORTS • On a day when the Mariners reminded us job security in major league baseball is fleeting, another news event reminded us life itself is fleeting as well. Read on.
••••••••••
• We'll start with the Mariners' move yesterday because it was the biggest single news event in the Northwest on Friday. Lloyd McClendon's firing came as no surprise, not after the M's hired Jerry Dipoto as their general manager and gave him the keys to the clubhouse. Dipoto, whose last job seemed to be derailed by a difference of opinion with the manager, wanted to have his own guy in charge. We get that. And the M's weren't very good last year, which usually falls on the shoulders of the manager. We get that as well. But sooner or later the M's need to have some continuity in their management structure – below the office of president. Since Lou Piniella left following the 2002 season, the M's have run through eight managers. Only two have been given the opportunity to feel comfortable in the position by spending more than two seasons in the chair: Mike Hargrove and Eric Wedge. And Wedge left because he was fed up with the direction the franchise was taking. Other than those two, most of the M's managers since Piniella have been in and out. John McLaren, Jim Riggleman, Don Wakamatsu, Darin Brown, none of them were given enough time to buy a home, let alone make a difference in the clubhouse. Maybe none of them were right for the job. Maybe one or two were. We'll never know. And now the M's start over once again. Lou Piniella is not coming back. Sadly. But the success Piniella brought to the franchise can return, if the right choice is made.
• Dave Meyers was "long," long before basketball coaches began to talk about the importance of players being that way. That is, his wingspan was unusual for a player his size, which is now a prized commodity in hoops. He was so long his nickname was "The Spider," mainly because he seemed to have eight arms. But there was more to the 6-foot-8 Meyers, who died yesterday at age 62 after losing a battle with cancer, than his size. Or his basketball ability. He was the consummate competitior, giving his all on the court until he couldn't anymore. Then the former UCLA All-America and first-round NBA draft choice gave up the game and became an elementary school teacher. Not the career arc one would expect. Meyers was just a bit older than myself, a peer in a way, whose path crossed with mine more than once. There was the time we played a baseball game at UCLA my freshman year and he, along with many of his Bruin teammates from the 1975 NCAA title team, were going at it in Pauley as we trudged through to use the locker room. I remember stopping to watch and being struck with how intense the game was. And, more importantly, there was the time I stood in line next to him at the Cinedome Theaters in Orange, waiting to see "Star Wars," if I'm not mistaken. All I remember about that encounter is we talked, he an NBA player with the Bucks, myself a bench-bound catcher at UC Irvine. He was with his wife Linda, I was with my girlfriend at the time, a tennis players, and we began talking about sports and competition. I wanted to know all about playing for John Wooden, a subject Meyers was willing to talk about at great length. Otherwise, he wasn't what you would call real out-going. But for the 10 minutes or so, while we waited for the line to move, he shared his thoughts on the greatest basketball coach of all-time. And I got to listen. I've never forgotten the experience.
•••
• WSU: The Cougars have their best chance in a while to get a win in Eugene today when they face the Ducks. In fact, the last time WSU won in Eugene was the 55-16 Matt Kegel-led beatdown in 2003. If that same result were to happen again today I'm pretty sure Mark Helfrich would be looking for a job soon. Jacob Thorpe is in Oregon and has this advance and the keys to the game. He also has his morning post with links. ... The volleyball team had a lead in the fifth set but couldn't close out No. 14 Arizona on the road last night. ... The soccer team picked up a 1-0 road win in Utah. ... Back to football, we can pass along ESPN.com's mailbag. ... The best Pac-12 game of the weekend is in Salt Lake City between Utah and California. Ya, we all saw that coming a couple months ago.
• EWU: The Eagles host always-tough Cal Poly this afternoon in Cheney. Jim Allen has an advance of the crucial Big Sky Conference game. ... In other Big Sky action, Montana State plays host to Sacramento State today while Weber State visits 12th-ranked Montana.
• Whitworth: The ball should be in the air often today as the Pirates face Puget Sound in Tacoma.
• Shock: Spokane made a trade to pick up a wide receiver.
• Chiefs: The Chiefs' road swing continued Friday night with a tough 5-0 loss at Portland. Spokane heads up I-5 for a battle with Everett tonight. ... Tri-City picked up a 5-2 win over Prince George last night.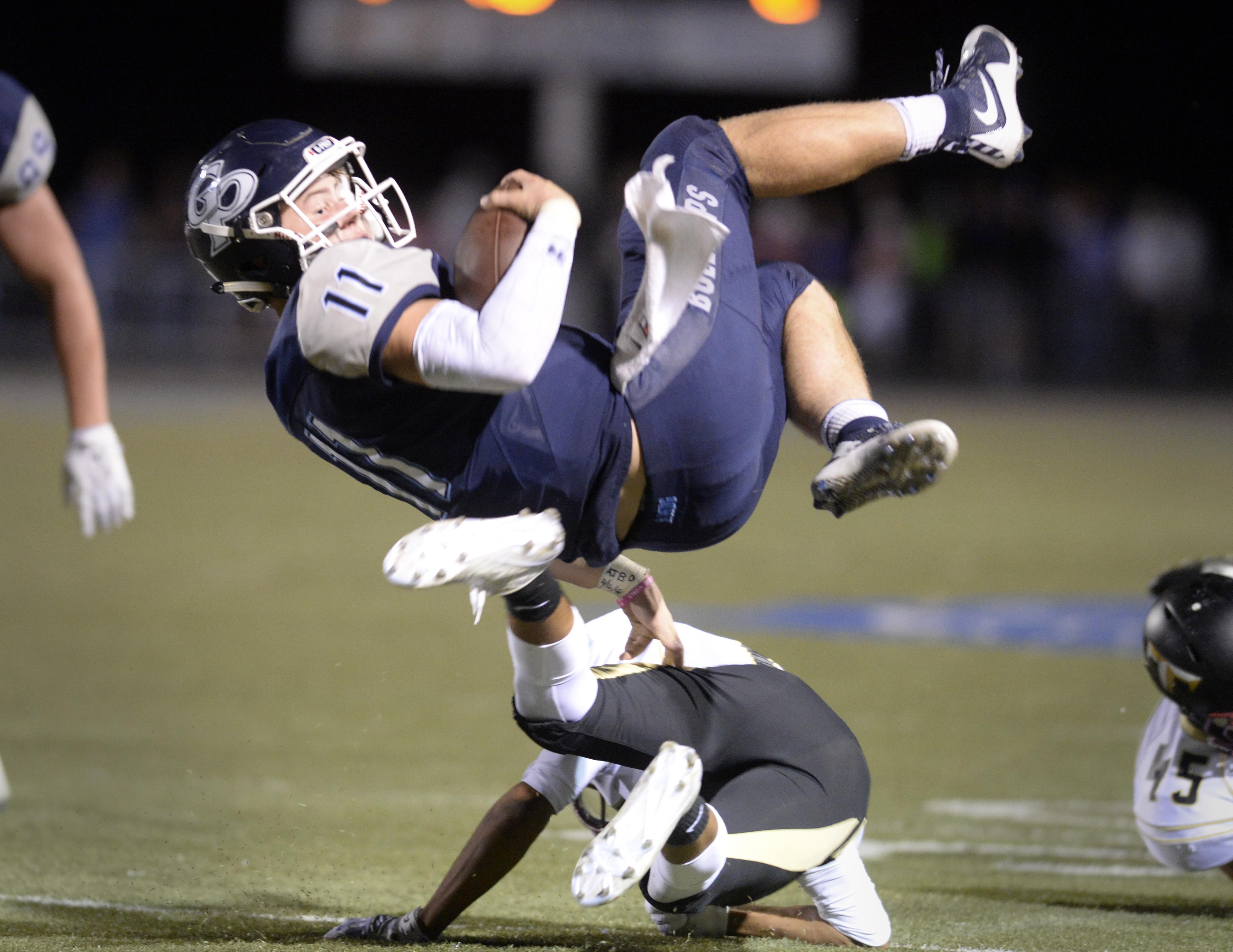 • Preps: Gonzaga Prep is proving to be pretty good. The fourth-ranked Bullpups smothered University 28-6 last night at home and Greg Lee was there. He has the game story and Jesse Tinsley has a photo report. ... Over at Albi, Mt. Spokane pulled away in the second half to win the rivalry battle with Mead 30-14. Chris Derrick has the game story and Tyler Tjomsland has a photo report. ... West Valley was at East Valley last night. For a while. But a balky transformer forced a change of venue and the game was finished at West Valley. The Eagles won, 30-13. Jim Allen has the story. ... Lake City held on and edged Post Falls 21-15 last night. Jim Meehan has the story. ... Colville and Freeman had to go to double overtime before Colville posted a 20-14 victory. ... We also can offer a roundup of other games.
• Seahawks: No Marshawn Lynch for the second straight week. Yep, the Hawks will face the tough Cincinnati defense on the road without their best running back. ... The Hawks defense is not picking off passes like it has in the past. ... Bobby Wagner has all the attributes a coach looks for in a middle linebacker.
• Mariners: Really, did anyone not see the change coming? There was little chance DiPoto would enter his first season with the M's with someone else's manager. And is it a surprise Edgar Martinez will be back? Nope.
• Sounders: The big match this weekend is in Los Angeles, where the U.S. National Team will try to move on to the Confederations Cup with a win over Mexico. ... Marco Pappa was called to his national team for a friendly next week.
•••
• Meyers is the answer to two trivia questions. He was traded by the Lakers to Milwaukee (along with Brian Winters, whose daughter Meghan played at Gonzaga) for Kareem Abdul-Jabbar. Meyers was also the brother of former UCLA and Olympic star Ann Meyers. Until later ...
---
---