Wed., Nov. 16, 2011, 10:11 a.m.
Before the pumpkin pie
I'm not trying to steal the show from November's favorite pumpkin dessert.
It's just that I tucked a recipe for Pumpkin Cheesecake Brownies into my file a few weeks ago and nearly missed my opportunity to make them before the snow steals the season and forces us to start thinking about Christmas.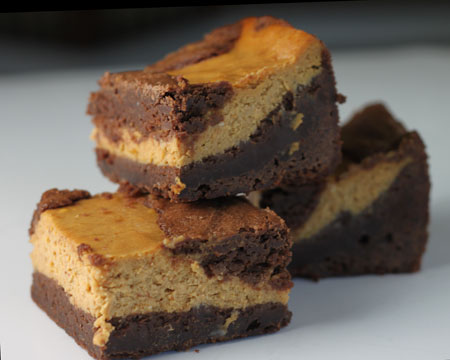 I'll be sharing these tall pumpkin cheesecake brownies today at the final potluck in The Spokesman-Review's Valley office. It is closing after the end of the year as the early retirees leave and the remaining staff members are consolidated downtown.
When I first came to Spokane, I was a city government reporter fresh from my first journalism job for The Montana Standard in Butte, Mont. I arrived on the cusp of new governments for the City of Spokane Valley and Liberty Lake.
The reporting was challenging, but what really made Spokane feel like home was that little office in the Valley. It was a great way to be introduced to a bigger city. There was a nice mix of staff, both young and older. We worked closely. Those who had been around awhile shared advice (and scary stories of when that office had been the target of a bombing) and the young transplants discovered the area together.
The potlucks? Well, it helped us welcome new people and wish them well when they left. It was how we celebrated my marriage and my firstborn son together. Today, it will help us send off those who are retiring and bring some life and laughter to the little brick office one more time. We'll connect and remember.
The food? It was always legendary, of course. But it was never the best part. Not by a long shot.
The recipe came from the Cookie Madness blog.
Here it is:
Layered Pumpkin Cheesecake Brownies
Pumpkin Cheesecake Filling:
12 oz cream cheese, softened
6 tablespoons brown sugar (dark or light)
2 tablespoons granulated sugar
3/4 cup canned pumpkin
1 large egg plus 2 tablespoons beaten egg
1/2 teaspoon vanilla
3/4 teaspoon pumpkin pie spice
1 1/2 tablespoons flour
Brownies Batter:
2 sticks (8 oz) unsalted butter
1/4 teaspoon plus a tiny pinch of salt
1 ½ cups granulated sugar
3 large eggs
1 teaspoon vanilla extract
9 oz bittersweet chocolate chips (1 ½ cups), melted and cooled
1 cup (4.5 oz) Flour
Preheat oven to 350 degrees F. Line a 9 inch square pan with foil and spray foil with cooking spray.
Make the filling first. Beat the cream cheese and both sugars together with a mixer, then reduce speed and beat in the pumpkin, egg, vanilla and pumpkin pie spice. Stir in the flour. Set aside.
In a second bowl, beat the butter, salt and sugar until creamy. Beat in the eggs and vanilla. Stir in the melted chocolate chips then stir in the flour. Pour all but about 3/4 cup of the chocolate mixture into the pan.
Spoon the pumpkin mixture evenly over the brownies layer.
Drop reserved brownie batter over pumpkin to give the brownies a splotched, marbled look.
Bake on center rack at 350 for 45-50 minutes or until brownies test done. That is, when a skewer inserted comes out clean. Let cool for about two hours at room temperature and then chill for a few hours or overnight (the longer the chill, the better). Lift from pan and cut into 16 large squares.
---
---