Tue., April 17, 2012, 1:03 p.m.
Making senbei
The members of Highland Park United Methodist church worked hard for two days last week on traditional Japanese senbei crackers for an upcoming fundraiser as part of Japan Week festivities.
Church members, many of them Japanese-Americans, make the crunchy, salty and sweet rice crackers for the bake sale held each year during the Sukiyaki Dinner during Japan Week. This year marks the 63rd annual dinner.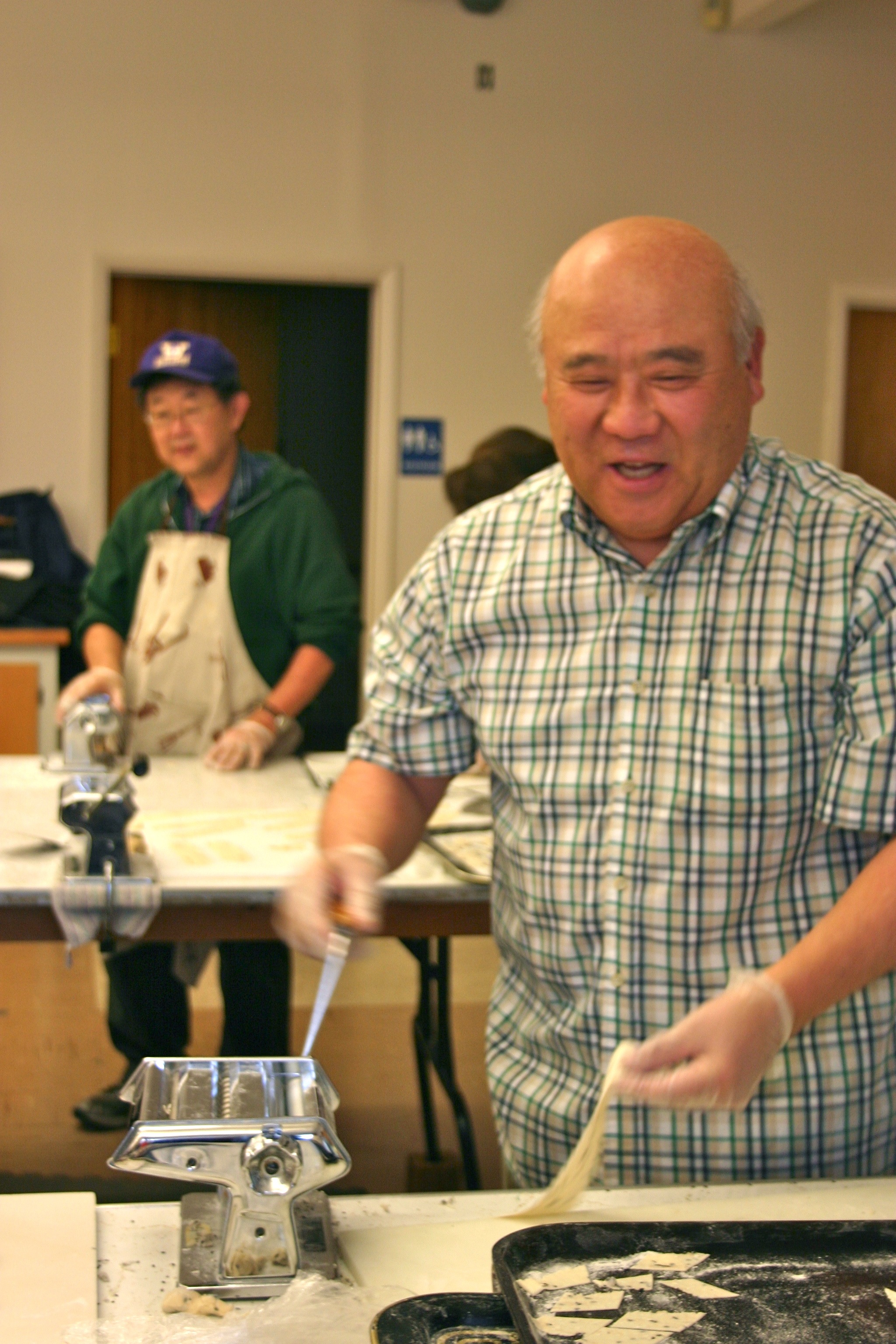 Making the crackers is a time consuming process that takes the help of many congregation members. The church uses a recipe for the crackers was first made by the issei, or first generation Japanese-Americans.
Many of the people working to make the crackers are in their 60s, 70s, and 80s. Even a few 90-year-old members join the volunteers. They worked from 7 a.m. to 3 p.m. on Wednesday and Thursday last week.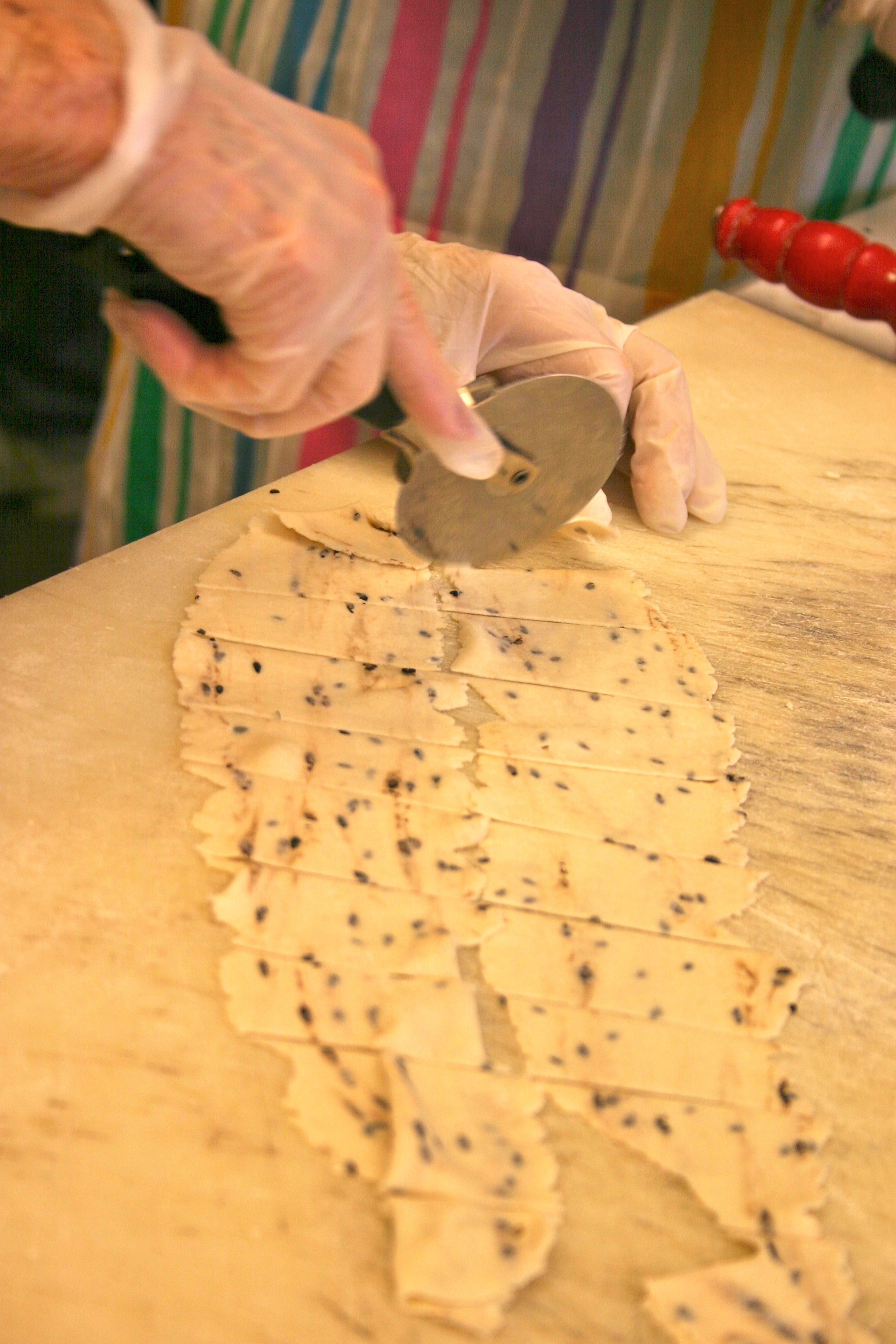 Church member Margie Myoshi invited me to come see the process.
After the wheat and rice flour dough mixed, it is cut into small pieces and then rolled out into thin sheets using a pasta roller. Keiji Shimizu was one of the rollers flattening the dough into sheets.
Then, he passed the dough to other church members who cut it into bite-sized pieces.
Then the dough pieces were tossed with a bit more rice flour to keep them from sticking together. From there baskets of crackers were passed to the frying station.
Chris Newton was among those tending the the frying crackers on Thursday.
The fried rice crackers were piled into bins while they waited for a dunk into a soy, sugar and ginger sauce. Church members tossed the crackers in the coating.
After the senbei are coated, the crackers must be dried in one of large ovens at the church.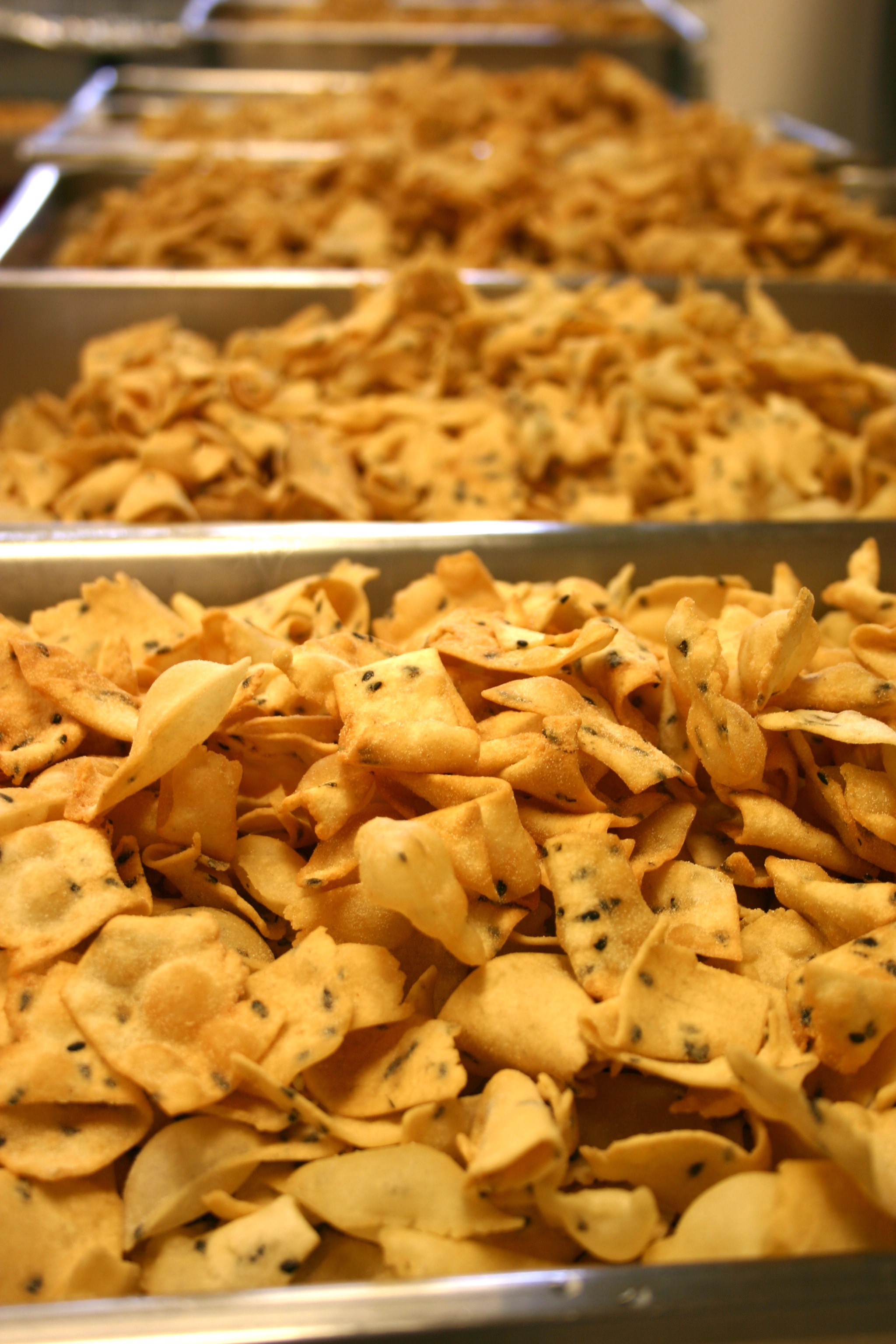 The crew passed the crackers to Dorothy Hashimoto who turned and tending them while they dried on Thursday.
Once dry, the finished crackers were passed to a "quality control" crew, including Hisako Akiyama, 89, Emi Suemori, 90, and Charlotte Tetsuka, 86. (They are pictured at the top of this post.) They checked the final product and packaged the crackers into 4-ounce bags.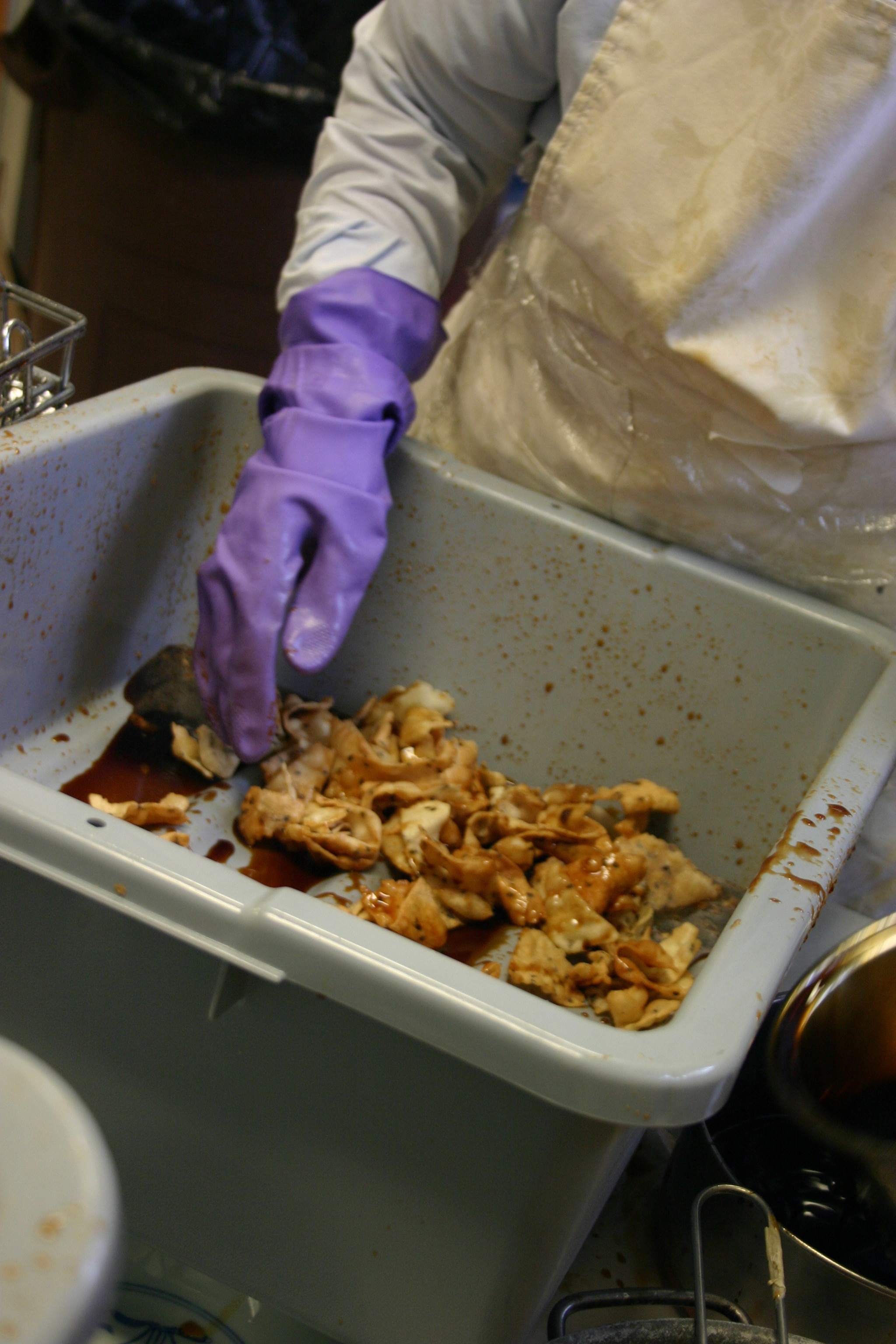 Senbei are sold for $5 per bag during the Sukiyaki Dinner.
The 63rd Annual Sukiyaki Dinner will be held noon to 6 p.m. Highland Park United Methodist Church at 611 S. Garfield St. on April 28. Tickets are $12.50 and may be reserved by calling 928-9459, 624-6892, 534-7994 or the church at 535-2687.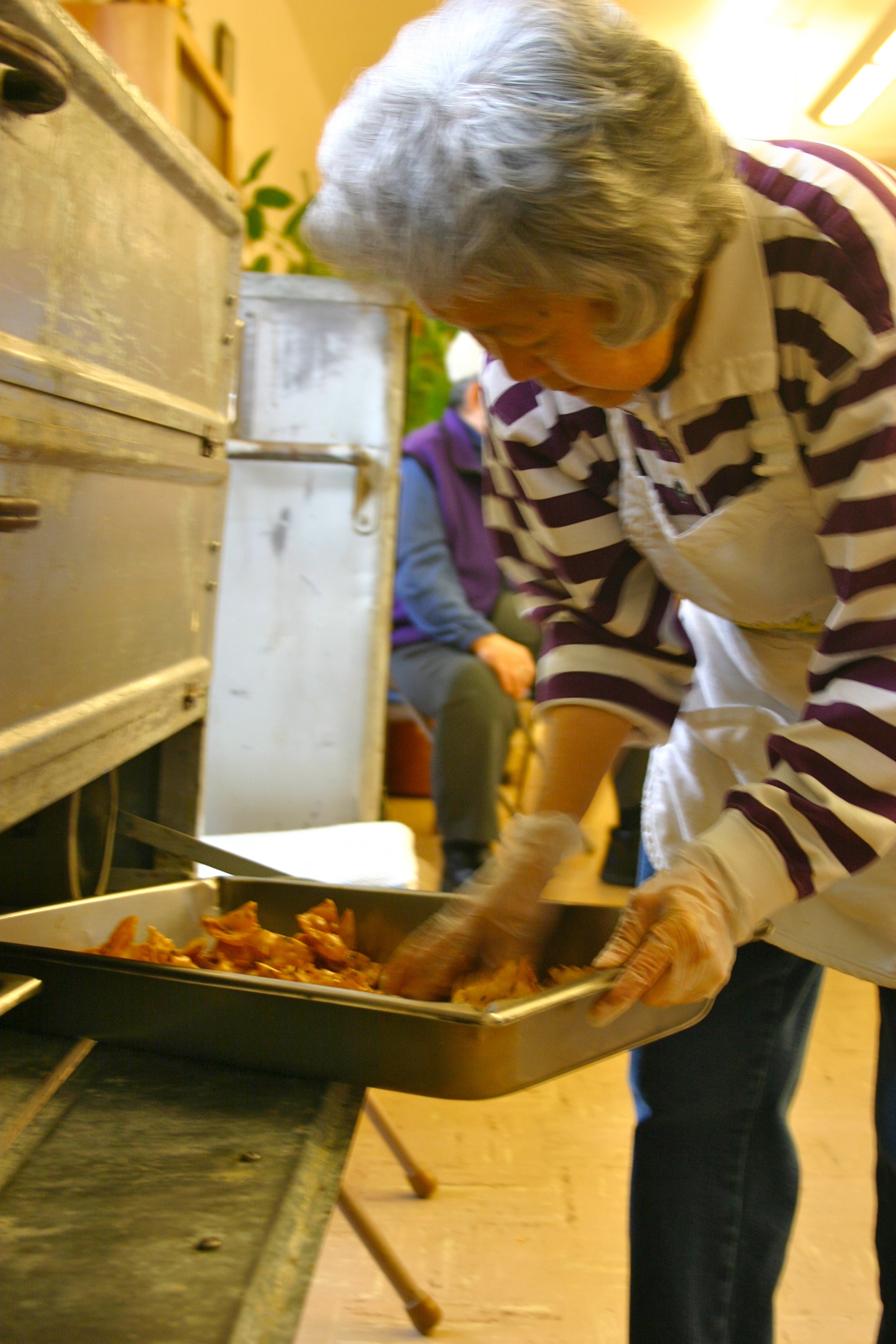 Also on sale are baked goods, (including senbei), inarizushi, crafts, church cookbook.
The senbei can also be pre-ordered by calling the church.
---
---