Spokane cook wins with Irish Boxty
Spokane cook Nancy Patrykus was awarded a blue ribbon in the Just a Pinch recipe contest for her authentic recipe.
Just a Pinch is a new online social site for American cooks. Food editor Janet Tharpe chose Patrykus' Irish Boxty because it is "a full-flavored festive dish" that is both tasty and easy to prepare.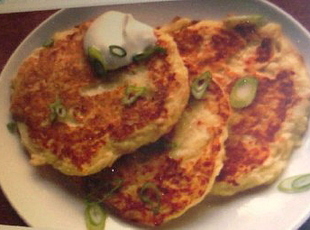 "[This recipe is] from my Irish friend Coleen. She has given me some really great authentic [recipes] over the years. She left Ireland in 1940," Patrykus told Just a Pinch editors.
Just a Pinch allows cooks access to thousands of recipes shared by members. Known as "America's Great Recipe Swap," members can post their own family tested and approved recipes, try recipes submitted by others and enter contests. The site also lets members use an online recipe box and chat online about recipes and cooking tips.
Editors say less than 2 percent of the 80,000 recipes posted on the site have received a blue ribbon award. Congratulations Nancy!
Just a Pinch offers free and premium memberships.
Here's Patrykus' recipe, just in time for St. Patrick's Day.
Irish Boxty
These crispy fried potato cakes earned Spokane cook Nancy Patrykus a blue ribbon from the food editor of the Just a Pinch Recipe Club.
1 pound potatoes
1 onion, chopped fine
3/4 cup flour
1 teaspoon salt
1/4 teaspoon black pepper
1 egg
1/2 cup milk
1/2 cup vegetable oil
Ste half of the potatoes aside for later. Peel and cut remaining potatoes into large chunks and place in a saucepan. Cover with cold water and bring to a boil ver high heat. Reduce heat to low and cook 15-20 minutes or until tender. Drain and place in a large bowl. Mash potatoes and set bowl aside.
Now peel and grate reserved potatoes and then stir into the mashed potatoes. Add onion, flour, salt and pepper; mix well. Stir in milk and egg to form a batter.
In a large skillet, heat oil over meidum heat. Drop batter from a tablespoon into the hot oil and cook 3-4 minutes on each side. Drain on a paper towel. Transfer to your serving dish. Serve with applesauce and sour cream.
Yield: 20 cakes
---
---