Fri., March 16, 2012, 9:20 a.m.
Spokane cook shares Irish Boxty recipe
Spokane cook Nancy Patrykus got this recipe from her friend Coleen, who left Ireland in 1940.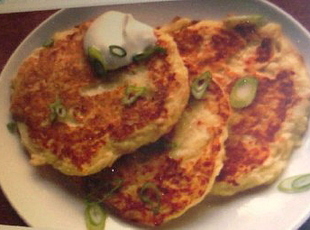 Irish Boxty
1 pound potatoes
1 onion, chopped fine
3/4 cup flour
1 teaspoon salt
1/4 teaspoon black pepper
1 egg
1/2 cup milk
1/2 cup vegetable oil
Set half of the potatoes aside for later. Peel and cut remaining potatoes into large chunks and place in a saucepan. Cover with cold water and bring to a boil ver high heat. Reduce heat to low and cook 15-20 minutes or until tender. Drain and place in a large bowl. Mash potatoes and set bowl aside.
Peel and grate reserved potatoes and then stir into the mashed potatoes. Add onion, flour, salt and pepper; mix well. Stir in milk and egg to form a batter.
In a large skillet, heat oil over meidum heat. Drop batter from a tablespoon into the hot oil and cook 3-4 minutes on each side. Drain on a paper towel. Transfer to your serving dish. Serve with applesauce and sour cream.
Yield: 20 cakes
---
---