Old Liberty Park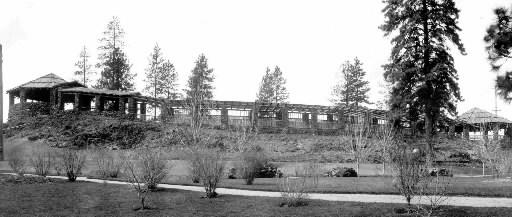 Third Avenue and Arthur Street, Spokane, WA
Directions: Old Liberty Park is accessible from the southeast corner of the intersection of Third Avenue and Arthur Street. There is no parking specific to the location, so you might need to hunt for a spot, ride a bike or walk.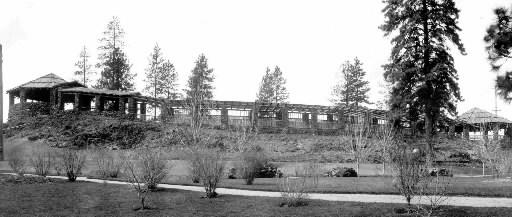 Submitted by: SR Staff
Old Liberty Park is sometimes called Spokane's Stonehenge. The ruins consist of a promenade with mortared basalt walls and pillars, pathways and a small concrete basin that served as a summer wading pool.
The ruins are part of the original Liberty Park, which was deeded to the city in 1897 and later designed by the renowned Olmsted brothers of Massachusetts about 1907.
The ruins are easily visible from the eastbound lanes of Interstate 90 along the curve just west of the Hamilton Street exit. The site can be reached from Third Avenue and Arthur Street.
In its prime, Liberty Park was admired for its natural beauty and the vista looking eastward from the terraced bluff. In 1921, a swimming pool opened, but it, too, is gone.
The park once hosted ice skaters on a pond that was claimed for construction of Interstate 90 in the 1960s.
The freeway route bisected the park, leaving the promenade and wading pool stranded at the west end.
What wasn't covered by freeway became overrun with vegetation, but volunteers have periodically sought to keep the overgrowth at bay.
Source: Spokesman-Review archives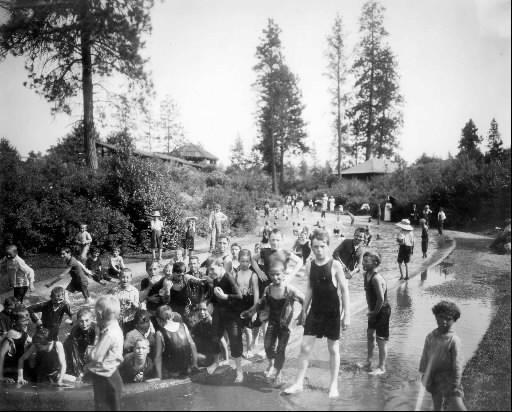 Directions to the next stop: Dishman Hills
© Google • Open in Maps 2.0 mi away
1
Head north on S Arthur St toward E 2nd Ave
2
Take the 1st left onto E 2nd Ave
3
Turn right onto S Division St
4
Turn left onto W Spokane Falls Blvd
5
Sharp right onto N Monroe St
Destination will be on the right