Spring Barrel Tasting
There's no need for a long road trip to taste wine made from fruit in the state's best growing regions. Spokane winemakers are bringing grapes from the Columbia Valley, Yakima Valley, Horse Heaven Hills, Red Mountain and the Walla Walla Valley to make wines right here.
Starting Friday, 15 area wineries open their doors for the annual spring barrel tasting to show off new vintages, offer sips of wine still in the barrel and serve food perfect for pairing with the wines. The wineries are open 11 a.m. to 5 p.m. Friday, Saturday and Sunday.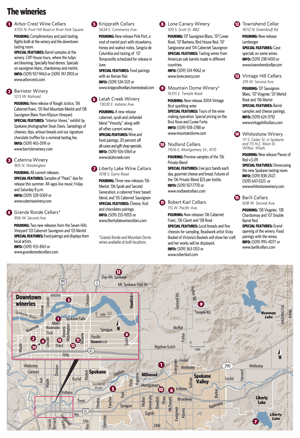 Spring Barrel Tasting wineries
Arbor Crest Wine Cellars
4705 N. Fruit Hill Road or River Park Square
Pouring: Complimentary and paid tasting flights both at the winery and the downtown tasting room.
Special features: Barrel samples at the winery. Cliff House tours, where the tulips are blooming. Specialty food demos. Specials on sauvignon blanc, chardonnay and merlot.
More information: (509) 927-9463 or (509) 747-3903 or www.arborcrest.com
Barrister Winery
1213 W. Railroad
Pouring: New release of Rough Justice, '06 Cabernet Franc, '05 Red Mountain Merlot and '08 Sauvignon Blanc from Klipsun Vineyard
Special features: "Interior Views," exhibit by Spokane photographer Dean Davis. Samplings of cheeses, dips, artisan breads and our signature chocolate truffles for a nominal tasting fee.
More information: (509) 465-3591 or www.barristerwinery.com
Caterina Winery
906 W. Second Ave.
Pouring: Two new releases from the Seven Hills Vineyard '03 Cabernet Sauvignon and '03 Merlot
Special features: Food pairings and displays from local artists.
More information: (509) 455-8161 or www.granderondecellars.com
Grande Ronde Cellars
906 W. Second Ave.
Pouring: Two new releases from the Seven Hills Vineyard '03 Cabernet Sauvignon and '03 Merlot
Special features: Food pairings and displays from local artists.
More information: (509) 455-8161 or www.granderondecellars.com
Knipprath Cellars
5634 E. Commerce Ave.
Pouring: New release Pink Port, a rosé of merlot port with strawberry, honey and walnut notes, Sangria de Columbia and tasting of '07 Tempranillo scheduled for release in June
Special features: Food pairings with an Iberian flair.
More information: (509) 534-5121 or www.knipprathcellars.homestead.com
Latah Creek Winery
13030 E. Indiana Ave.
Pouring: A new release cabernet, syrah and zinfandel blend "Vinosity," along with all other current wines.
Special features: Wine and food pairings, 20 percent off all cases and gift shop specials.
More information: (509) 926-0164 or www.latahcreek.com
Liberty Lake Wine Cellars
1018 S. Garry Road
Pouring: Three new releases '06 Merlot, '06 Syrah and Second Generation, a cabernet franc based blend, and '05 Cabernet Sauvignon
Special features: Cheese, fruit and chocolates pairings.
More information: (509) 255-9205 or www.libertylakewinecellars.com
Lone Canary Winery
109 S. Scott St. #B2
Pouring: '07 Sauvignon Blanc, '07 Cuvee Rosé, '07 Barbera, Bird House Red, '07 Sangiovese and '04 Cabernet Sauvignon
Special features: Tasting wines from American oak barrels made in different countries.
More information: (509) 534-9062 or www.lonecanary.com
Mountain Dome Winery
16315 E. Temple Road
Pouring: New release 2004 Vintage Brut sparkling wine
Special features: Tours of the wine making operation. Special pricing on the Brut Rose and Cuvee Forte.
More information: (509) 928-2788 or www.mountaindome.com
Nodland Cellars
11616 E. Montgomery Dr., #70
Pouring: Preview samples of the '06 Private Blend
Special features: Live jazz bands each day, gourmet cheese and bread. Futures of the '06 Private Blend $25 per bottle.
More information: (509) 927-7770 or www.nodlandcellars.com
Robert Karl Cellars
115 W. Pacific Ave.
Pouring: New releases '06 Cabernet Franc, '06 Claret and '08 Rosé
Special features: Local breads and fine cheeses for sampling. Beadwork artist Vicky Boubel of Victoria's Baubels will show her craft and her works will be displayed.
More information: (509) 363-1353 or www.robertkarl.com
Townshend Cellar
16112 N. Greenbluff Rd.
Pouring: New release Lemberger
Special features: Case specials on some wines.
More information: (509) 238-1400 or www.townshendcellar.com
Vintage Hill Cellars
319 W. Second Ave.
Pouring: '07 Sauvignon Blanc, '07 Viognier, '07 Merlot Rosé and '06 Merlot
Special features: Barrel samples and cheese pairings.
More information: (509) 624-3792 www.vintagehillcellars.com
Whitestone Winery
111 S. Cedar St. in Spokane and 115 N.E. Main St. Wilbur, Wash.
Pouring: New release Pieces of Red v.5.09
Special features: Showcasing the new Spokane tasting room.
More information: (509) 838-2427, (509) 647-5325 or www.whitestonewinery.com
Barili Cellars
608 W. Second Ave.
Pouring: '08 Viognier, '08 Chardonnay and '07 Double Barrel Red
Special features: Grand opening of the winery. Food pairings with the wines.
More information: (509) 995-4077 or www.barilicellars.com