Patagonia delivers stunning family hiking adventure
While scrambling up a razorback moraine near the iconic granite towers of Torres del Paine National Park, a gust of wind broadsided me with the force of a charging bull. No need to get up off all fours, I thought as I continued on, clinging to boulders to keep from going over the edge. If the notorious winds of Patagonia didn't blow me over, the scenery surely would.
It was a dream trip wedged into a family vacation to Chile. The adventure started at Punta Arenas and the penguin colonies on the Strait of Magellan at the south end of this string bean-shaped country. A couple of bus links ushered us into one of the most famous of the many national parks along the Andes.
Llama-like guanacos and elusive pumas roam here.
Walking northward, the sun casts shadows behind you. The seasons are reversed, too.
A 2 a.m. nature call from your tent might leave you disoriented under unfamiliar constellations. There's no North Star. Indeed there's no polar star in the Southern Hemisphere.
A boat shuttle landed us at Paine Grande trailhead and campground, where an Andean condor launched from a hill just above our tent and blinked out the sun over our heads with its 11-foot wingspan.
Clouds rarely drift in the sky here. The breeze might be light along the trail, but clouds still are likely to be racing like a stampede of unshorn sheep.
Cloudwatching was spectacular some days, and more convenient than trying to outlast 18 hours of daylight to gaze at the stars in late December.
Even with spectacular peaks, skies and condors above us, our eyes were constantly drawn to the red-saturated blossoms – with honeysuckle-like tubes of sweet nectar to sample –on the gnarly fire bush (notro). Sometimes our path snaked through hallways of the brilliant blooming shrubs.
From Paine Grande we began a four-day, 46-mile trek to experience The W, an internationally known route along glacial lakes at the foot of a spectacular mountain landscape. Three side trips head northward up valleys from the lowland route, forming a "W" when viewed on a map.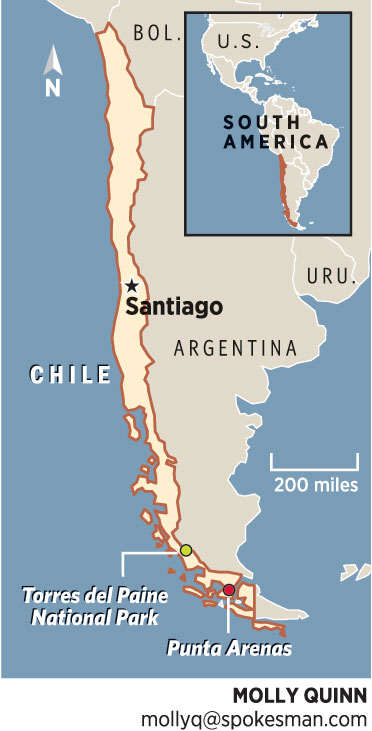 Given nine days, we would have opted for the 93-mile "Circuit," which includes The W before looping around the north section of the park where the crowds are thinner and the trail less defined.
We started with daypacks up the western-most prong of The W along Lake (Lago) Grey, an iceberg-studded lake in the retreating footprint of the Grey Glacier.
This is one of many glaciers that sprawl like tentacles from the Patagonian ice cap through the Andes valleys into Chile and Argentina. It was huge, choking the end of the lake with ice chunks that calve off the toe of the glacier to the thunderous entertainment of visitors at Grey Camp.
Philippe, a Chilean friend who joined us on the trek, was shocked at how the glacier had retreated by several miles in the 12 years since he visited the park with his family.
From the LAN Airline flight into Punta Arenas, we already had looked down on the sprawling wildness of snow, ice, forest, peaks, foothills and glacial lakes.
The size of Torres del Paine is deceiving at 561,665 acres, considering that Glacier National Park in the USA is 1.4 million acres. But Torres del Paine is nestled with two other parks – Bernardo O'Higgins National Park at 8.7 million acres and Argentina's Los Glaciares National Park at 1.1 million acres.
Want some room to roam south of Alaska? This is it. Crampons recommended.
Indeed, a visitor has to mediate an urge to see it all, a reality I tend to lose sight of when my eyes are overwhelmed by mountain scenery.
"The only problem with backpacking in Patagonia with my dad (in December) is that the sun sets at 11 p.m., so we just keep hiking … and hiking …," said my daughter Brook, in a post-trip Facebook entry after enduring the "you snooze you lose" approach to getting The W done in four days.
We were not the only people there, of course. We camped next to Israelis singing Hanukkah songs, a French couple cooking noodles in wine sauce and a constant assortment of Germans, Aussies, Brits and on and on.
Chile does not manage these crowds as well as the U.S. National Park Service. For instance, the outhouses were overflowing at Italiano Camp, a free campsite at a busy junction in the center of The W.
But as it is in virtually any wilderness national park around the world, solitude and pristine beauty can be found just a short scramble off the beaten path.
Our adventure had many highlights, including the breathtaking amphitheater of granite peaks up the French Valley, a fiery sunset glowing on the Horns of Paine, trekking along a Lake Nordeskjöld beach of small black and white stones polished smooth by wind-powered waves.
A Frenchman tipped us to a knockout campsite near the lake at Los Cuernos, where we pitched our tents at last light, about 11 p.m.
In a midtrip surrender to decadence, Philippe brought my wife, Meredith, and me glasses of red wine from the nearby refugio. We toasted another fulfilling day before anchoring the tents snug against the powerful nighttime gusts known to sweep down the lake without warning. And they did.
Mostly we had good weather, with just enough adversity to appreciate the nature of our surroundings
Our last hiking day included an 11-mile round trip up the Ascending (Ascencio) Valley to get up close to the Towers (Torres) of Paine. The trek gains 2,680 feet in elevation in 5.4 miles, through old-growth beech forest before breaking above treeline to the viewpoint (mirador).
It's worth the sweat – or in our case, the cold, snow and wind that swept in with rocket-blast force as we gawked at the scenery.
Pity the people who've enjoyed perfect weather while hiking in Patagonia.
We'd rather surf Maui without waves or visit Yellowstone without critters.
---
---
---
---
---
​
---
sponsored According to two 2015 surveys, 62 percent of Americans do not have enough savings to handle an unexpected emergency, much less any long-term plans.