News > Spokane
Mount St. Helens memories: Outdoors
Tue., May 18, 2010
Editor's note: Readers submitted the following stories about being involved in outdoors activities when Mount St. Helens erupted May 18, 1980.
Marathon canceled
I was on a 20-mile training run with my friend, the late Rick Stewart. We were training for the Coeur d'Alene Marathon, which was to be held the following week.
The sky to the west began getting dark as though a major thunderstorm was headed our way. I mentioned this to Rick, saying that it was a good thing we were almost finished with our run, it looked like we could get drenched.
Of course the "thunderstorm" was ash from Mount St. Helens and it wasn't long until we were being pelted with ash. 
We hadn't realized that Mount St. Helens had blown until a little later my dad called with the news.
The Coeur d'Alene Marathon was canceled. We received T-shirts by mail with the lettering covered by the words: "Canceled due to volcanic ash from Mount St. Helens."
Terry Kjolseth, Colbert
Ash didn't stop grave-decorating plans
Everyone was told that they should not go out and decorate the graves that May when the ash came down, however, my mom and I did over 30 graves every year, so we did the decorating anyway.
The newspaper published a picture that they took of us while we were doing the decorating.
I had a gallon jar of ash that I collected at work. I made a lot of small gifts out of it for people in other states and still had over a half-gallon left when someone stole everything out of our house. They even took the ash.
I would like some more ash, however, I would not want the mountain to blow up again.
Mickey Glendenning, Spokane
Eruption didn't deter golf foursome
I was playing in a tournament at Wandermere Golf Course. We had heard rumors that there was a mountain over on the coast that was giving signs that it might erupt.
At the turn (between the 9th and 10th hole), we heard that the rumors were true – Mount St. Helens had erupted. It didn't bother our foursome.
But on the 15th hole (at that time), as we teed off, we could see to the southwest a dark cloud coming in.
One of the fellows said, "Boy, it looks like we are in for one h—- of a storm." We had an airline pilot in the group and he said, "I have been a pilot for a major airline for quite a few years and I am here to tell you that is not a storm cloud."  We decided to finish.
On the 18th hole our eyes started to burn and were scratchy. We finished the round and ran to our cars and sped for home. It was only mid-afternoon, but we had to turn our car lights on. Needless to say, I don't remember in what place in the tournament we ended.
K.C. Stacy, Spokane
Knowledge of back roads led the way home
It was a beautiful Sunday morning on Amber Lake when my father, architect friend and I were tossing flies at very cooperative rainbow trout. Frank paddled his pontoon boat over to check on our progress filling our creel. My dad just missed a rise when Frank remarked that we should hurry before the thunderstorm hit.
I looked to the far southwest horizon and there was a monster high thunderhead.
Discretion being the better part of valor, we pulled our fly lines in and headed to the launch ramp. We cleaned our fish and watched that thunderhead approach with its ominous gray halo in a paling sky.
It was not until all the gear was stowed away and the aluminum boat was secured tightly to the canopy of my pickup truck that I turned on the radio. "Mount St. Helens erupted this morning and is moving to the northwest" were the first words we heard. "Highway 90 and US 2 are closed at Moses Lake and Ephrata," the radio droned on.
My dad left for home in Spokane with instructions to call my wife that we would try to get home as best we could. Home was Western Washington south of Olympia.
By 1 p.m. the area was pitch black with visibility less than 30 yards. With the headlights on low beam I could barely see the edge of the road. How could we get home to go to work on Monday?
I had grown up here and hunted the back roads many years so I was confident I could navigate the back dirt roads around highway closures and get north of the ash plume in order to head west. There were times I could get my speed up to 10 mph, but those times were rare.
I recognized names on mailboxes along the road so I had a fair idea where we were and when to look for intersections of country roads that would lead me past where roadblocks might be set up. Frank and I had to be at work on Monday as responsibilities do not go away.
Hours passed rapidly in contrast to our progress. I crossed Highway 2 east of Ephrata and headed for the network of roads in the irrigation district. This network of east/west and north/south roads would lead us north of Quincy. The density of volcanic ash had diminished significantly in the last hour and visibility was up to a half mile and speed could be resumed.
At 7 p.m. we arrived at Wenatchee and our way to Stevens Pass on our way home. I knew my wife would be worried to death because there was no way I could place a phone call to her as the lines were jammed.
Our radio kept us informed of the progress of the ash fallout and the engine problems police cars were having. We stopped every half hour to shake the dust out of the engine air cleaner and kept the heater blower on high in order to keep the dust out of the cab of my pickup.
We arrived home at 1 a.m. with about 6 inches if volcanic ash in the bed. There was no ash west of St. Helens and I had 100 pounds of ash to share with colleagues at the college.
The mountain got even with me, the next week it blew again and the wind was southwest and my home was saturated with two inches of ash.
Hobart G. Jenkins, Bayview
Volcano interrupted park play day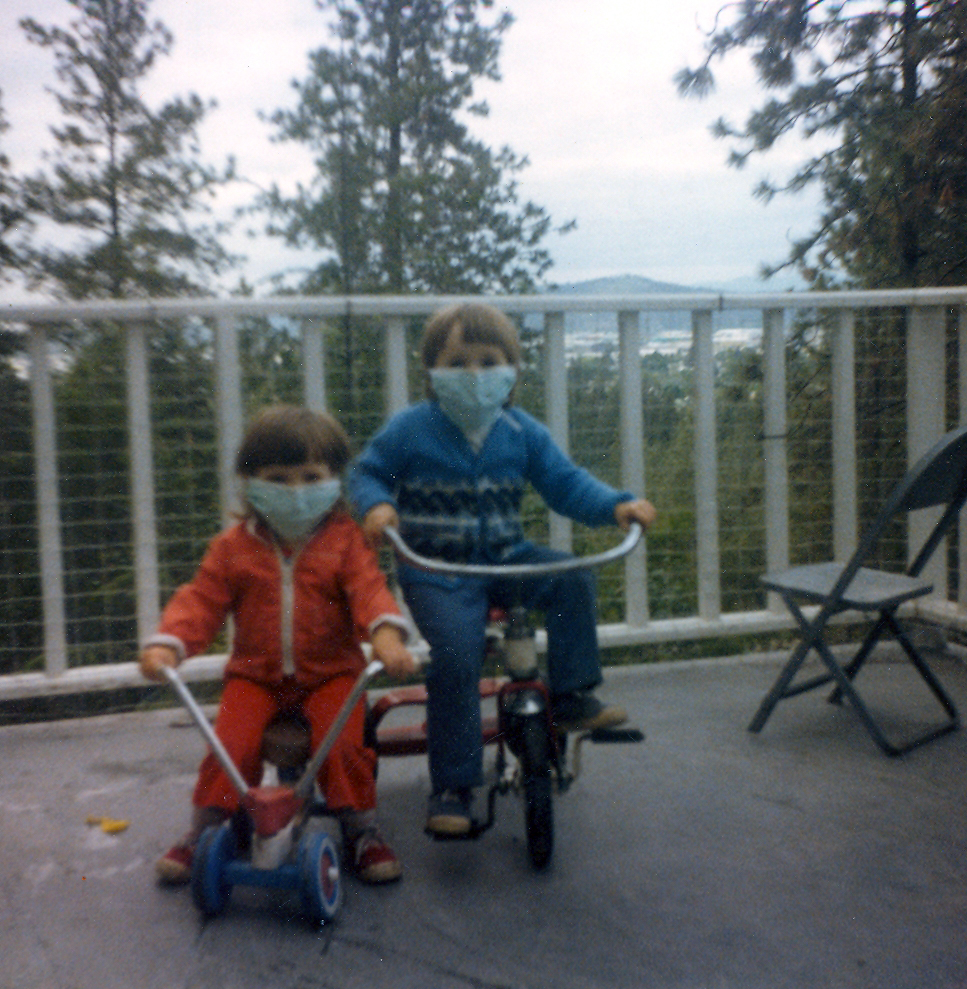 I was at Comstock Park with my five young children for a school picnic when someone with a transistor radio started running through the park. He was yelling at everyone to go home because a volcano had erupted and a giant ash cloud was headed our way.
As we drove home the sky began to darken. It was very eerie. As soon as we got home we started calling family to see if they had heard and then watched TV to get the latest news about this strange disaster. The sky began to drop grey ash everywhere. All of Spokane became trapped in their homes.
Eventually we heard that it was okay to go outside if you wore a surgical mask. People ventured out to sweep and wash ash off porches, roofs and cars.
My son, Pat, had smuggled a stray cat in the basement. She gave birth to three kittens, which we named Ashes, Lava and Volcano. We kept one of them and had her for 19 years.
Ann Kaluza, Spokane
Hikers hear eruption 370 miles away
My husband and I were hiking in the hills above the upper reservoir in Conconully, Wash., with our first three children when we heard what we thought was blasting at the Blackbird mine. 
After our hike we packed the car for our return trip to Deer Park by way of Sherman Pass. Between Kettle Falls and Colville we started to see a fine dust falling from the sky. We turned on the radio and found out that this "dust" was the ash from Mount St. Helens.
The sound of the explosive eruption was mistaken for the "blasting" we had heard. Conconully is approximately 370 miles from Mt. St. Helens.
By the time we arrived in Deer Park the ash had covered everything. As the cars went by our house the ash would billow up and swirl along the street. 
People stayed inside and only ventured out for necessities with masks over their mouths and noses.
Ed and Suzanne Rooney, Deer Park
Aircraft company asked for ash sample
That Sunday morning, myself, husband John and good friend Greg were fishing in a rental boat at Silver Lake. About noon we noticed a big gray cloud on the horizon and thought we were in for a big thunder boomer.
We heard from some other people on the lake, who had a radio, that Mount St. Helens erupted. Our first thought was "what?"
The gray cloud continued coming closer so we headed to shore. By the time we got back to the boat launch we were being rained on by the weird gray ash stuff and it was so dark we had to get a flashlight to get everything out of the boat. On our way home it was like driving in a snowstorm.
At that time no one had a clue about how harmful the ash was. We spent numerous days cleaning up our home on the north side of Spokane with the hose and plenty of water. 
I worked for a company named Machen, Inc. at the time, which did aircraft modifications. One day after the ash, I was instructed to scoop up a box of it and send it back to the Midwest to some engineering company for testing on its effects.
A friend of ours even printed up some T-shirts that said "Mount St. Helens is a real ash-hole."
It also seemed everyone was concerned if the parks were going to be open for Memorial Day.
To this day, when we ride our mules out by Fish Trap Lake, you still see some of the ash. 
Gail Palumbo
Fishing party heard explosion at Jameson Lake
I was 21 years old at the time. My parents, a couple of siblings, some family friends and I traveled from the Seattle area to Jameson Lake in Douglas County, to camp and fish for the weekend. 
The morning of Sunday, May 18, was a typical day for this region in late spring – blue sky and lots of sunshine. I was involved in preparing breakfast when I heard a loud boom closely followed by a second, more faint boom. 
Hearing "sonic booms" from high-flying jets was fairly common in this area and I believe most in our camping party disregarded the noise for that reason. The two booms sounded a bit different to me and I remember commenting to a friend that maybe that was Mount St. Helens erupting. She just laughed at my comment. I recall looking at my watch and recording the time in my mind. My digital watch read 8:32 a.m.
We all went about our activities, including my Dad and me going out on Jameson Lake in our boat to fish. At about noon we noticed a very black cloud on the horizon approaching from the southwest. Rain clouds can move into this area fairly rapidly and we assumed that was what was approaching.
We motored the boat back to camp and began breaking camp before the perceived rain clouds arrived. At 12:30 p.m. the dark cloud was upon us and ash began to fall. We were puzzled for several minutes until someone from another camp came running in and said that Mount St. Helens had erupted and this was volcanic ash that was falling.
My Dad and I covered our nose and mouth with handkerchiefs. We looked like bad guys about to rob a bank. We got all of our family members in the truck, and what camping gear was not already packed in the truck we literally piled into the truck and boat and quickly began the drive home, traveling west on Highway 2.
The quick drive soon turned into a slow drive due to the amount of ash that was falling. It was similar to driving in a dust storm and was very eerie and somewhat scary since we didn't know if the ash would cause damage to our truck or our bodies.
We made it just ahead of some road closures in the north-central part of the state and got home safely.
John Lagerquist, Pullman
Made it back to Spokane in the nick of time
A friend and I went fishing at Silver Lake that morning about 5 a.m. I do not recall what time I looked up and said we should leave because a storm was coming. It looked just like dark rain clouds.
We had not even gotten back into Spokane before the ash caught up with us.
About 15 minutes after I got home it was so dark you could not see the lights on Interstate 90, and we lived on Third right next to it.
Jim Hazen
Packed up fishing trip and headed south
My family and I were fishing near Oroville in north-central Washington. We mistook the boom for a blast from a mineshaft and kept on fishing.
Only a couple hours later did a transistor radio give us the news.
We packed up fast and headed south toward Highway 2, hooking across the Cascades toward Seattle. We dodged to the West just in advance of the mile-high wall of ash, the darkness at noon that had already blown so far upcountry.
Paul Lindholdt, Cheney
St. Helens rocks created memorable sweat lodge experience
My name is Sonny George and I'm a member of the Colville Confederated Tribes. 
I was in Omak on the 18th at my friend's house. Lional Orr and wife Barb fixed an early breakfast for us before we went to our sweathouse that day.
We stepped out of the front door and started to say good-by to Barb; there was a loud boom to the south and Barb looked up into the sky, but I said that it was a ground explosion. We looked south in the direction of the sound — there was no smoke coming up anywhere close, so we said our goodbyes and went to our sweathouse to start our fire and heat the rocks.
That morning was a good for us and we both looked forward to this sweat and talked about the things to do the rest of the day. With the rocks hot we fixed up the sweat and put the rocks inside.
Boy was it hot, and it stayed hot longer than normal. We would do four rounds but this day we went six rounds and the rocks still had heat in them.
But we had things to do the rest of the day and went back to Omak.
The area we went too was out of the local radio station's range, but when the radio did come on, that was our first knowledge of Mount St. Helens. The radio said that this cloud of ash was coming our way and to get prepared for the fallout that would come.
We went to Gram Eva's house and called the house and told them all to come down there and help in our preparation for that night. At this house we took a break and everyone was sitting around talking about the day and someone asked about our sweat that morning. After we finished the story, Gram Eva told us that our rocks are so hot for a real good reason and then told of going down below Mount St. Helens to collect them.
We all stayed  the night there and in the morning expected to find ash a foot deep outside. But there was just enough dust on the ground to change its color — we were lucky that the wind changed to the east that night. What a day and night for all of us.
Sonny George
Boy Scouts heard boom, but nothing else
I was 10 years old and camping with the Boy Scouts that weekend near Goldbar, Wash. We were standing around a campfire trying to warm up after having climbed out of our damp tents when a distant but very deep explosion stopped us mid-sentence.
We didn't think much more about it until breakfast in the town of Index, where the waitress informed everyone about the mountain exploding. We sort of half-expected it would erupt at some point.
When we returned to Seattle, there was little sign anything had even happened. For a week or so I noticed the dew had a trace of ash above the door handles of my sister's '65 Mustang. That was it. I had no idea of the impact the ash had made on the lives of people living east of the Cascades. Not so good for East/West relations!
Greg Baker, Spokane
Ash stacked like snow
I was living in Tri-Cities at the time and a buddy and I were fishing on the Yakima River a little way out of Richland. All of a sudden all the birds stopped chirping, the water seemed calmer and an eerie silence came over everything. A few seconds later we heard a faint explosion and looked towards the west and saw a huge plume of smoke on the horizon. 
By the time we got to our car and got back into town, light ash was falling. 
I had to go up to Yakima a few days later and remember driving into town. It was like you had just driven to the moon. Everything was covered in ash, the sun barely came through and plow crews had it stacked up 8-10 inches high like snow in Spokane.  
Phil Rouse
Sound, clouds startle teenage fishermen
I was 14 years old, sitting with a few of my friends. We were fishing on the Willamette River in Portland.
We heard a BOOM and a little later noticed strange billowing clouds to the north. Quite the experience for a bunch of young teenagers!
Theodore O. Unzicker, Pullman
Change in plans might have saved his life
On May 16, I arrived in Portland, Ore., to begin work as a summer copy editor at The Oregonian on May 18. I was on my summer break as a journalism professor at the University of Arizona. I dropped by the newspaper the afternoon of May 16 to tell my new boss I had arrived and that I was just getting the lay of the land.
While there, a copy editor asked who I was. I told him and we chatted. Then he asked me if I wanted to go camping with he and his family that weekend. I turned him down, not wanting to intrude and because I was going to go camping on the side of Mount St. Helens, which had been puffing for several weeks. I had never seen a volcano, so this was a new experience.
That night I called my wife to tell her that I was going to the volcano and that I would call her when I returned.
But the next morning I changed my mind and accepted the copy editor's invitation. We camped east of Salem in a canyon campground.
On Sunday afternoon as we were driving up Interstate 5 I saw a huge plume of smoke. "My God," I asked my friend, "what's that?" He replied, "the volcano must have blown."
And then I remembered I hadn't told my wife my change of plans. When we got home, I called her to her great relief.
I always kidded my copy editor friend about saving my life. Maybe he did.
James W. Johnson, Tucson, Arizona
Ash fell as far away as Montana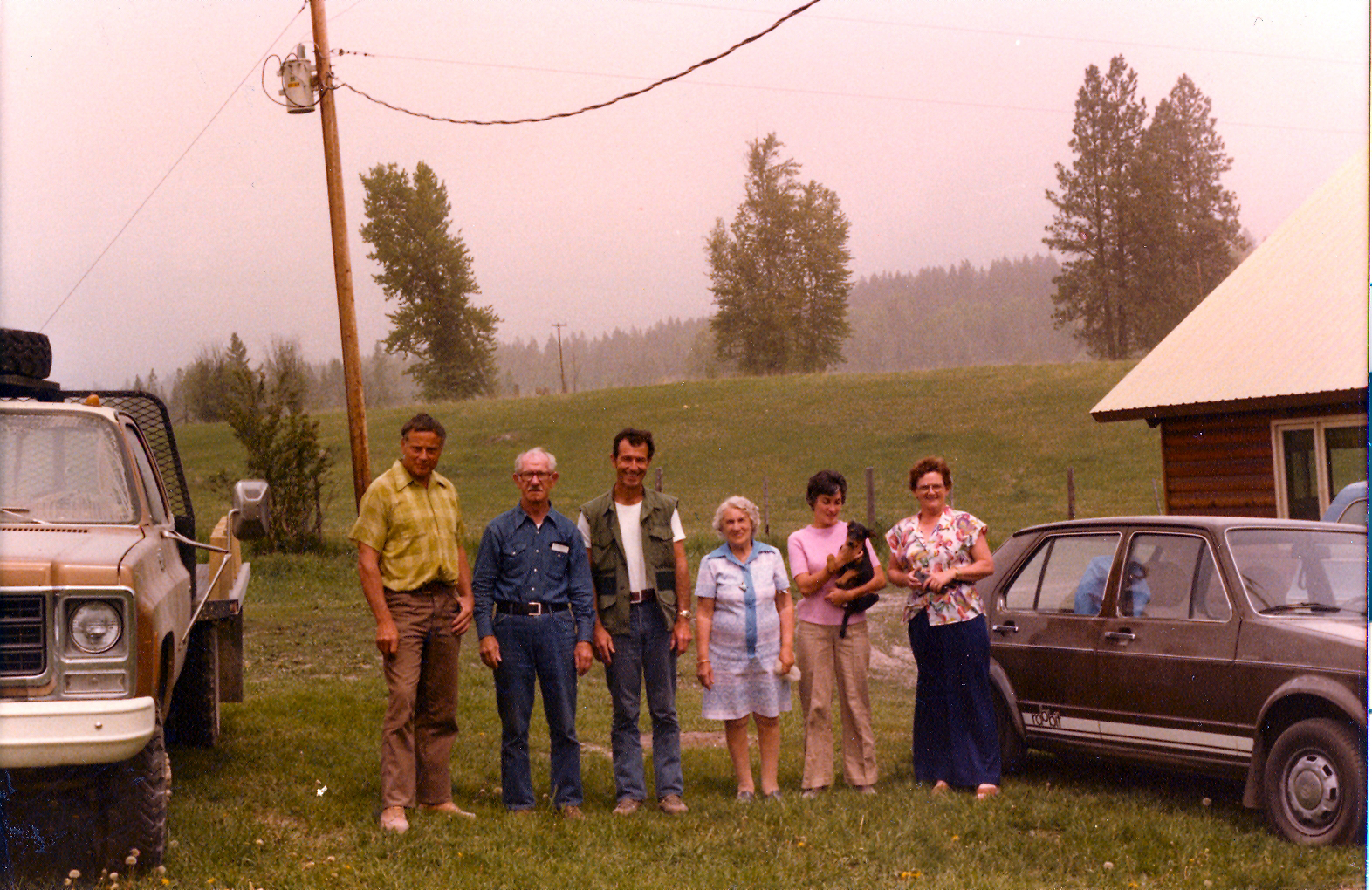 In 1980, my husband and I lived in Montana and operated the Mountain View Guest Ranch in Eureka. We were located about 10 miles from the Canadian border and 25 miles due west of Glacier National Park. The location of our ranch was beautiful and we had wonderful views of Mount Ksanka.
On Sunday afternoon, while I was driving guests around the Eureka area for sightseeing, the first dark clouds of ash appeared in the distance. I thought at first it was a big rainstorm that was heading our way and turned the vehicle around to go back to the ranch.
I remembered that an eruption of Mount St. Helens, in Washington, had been predicted and guessed that must have happened as gray ash swirled around us and enveloped the vehicle, making it difficult to see the road even with the lights on. We couldn't see out of the windows and the front windshield wipers had difficulty removing the ash. I had to get out of the vehicle several times to make sure that we were on the road, but I very, very slowly made it back to the ranch.
Once safely there, however, we quickly made our way to the television set to watch the drama of the Mount St. Helens eruption.
We were uncertain whether it was safe to be out in the ash, so remained indoors as much as possible throughout Monday. There was still gray ash everywhere and the visibility was poor.
We still had to care for our horses and other animals though, and clouds of ash would float up after each step we took whenever we went outside to feed them.
Finally, on Tuesday, news reports advised it was safe to be outdoors and I took some photos.
Surprisingly, I never saw any reports or maps of the ash-fall area that showed it coming as far north as Eureka, Mont.
Postscript: we had an apple orchard at the ranch and the apple crop that followed was fantastic, undoubtedly due to the ash that had covered the trees and ground.
Lorna Van Lankeren, Spokane Valley
Survived near the mountain
Myself and my fiancee at the time were fishing on the Cowlitz River the morning of May 18th. We were down there visiting her grandparents, who lived in Vader at the time.
We heard a loud rumble and it started getting very dark, very fast. We just knew what had happened and scrambled to warn others in the area to get out.
We made it to the main highway (Interstate 5) and as we made it across the bridge we could see the mud flow coming down the river, making a huge path. It started snowing ash and we could hardly see.
We made it to her grandparents' house before the car engine choked out. We knew others who were camping upriver, but knew it would be foolish to try to help them.
We stayed at my fiancee's grandparents until the worst was over. By the time it was over we were buried in 1 to 2 feet of ash.
We later learned that we lost people we knew, but were glad to be alive. My fiancee and I were married in September of that year, because we knew that if we could survive that, we could make it through anything.
Joshua Samuels, Post Falls
Motorcycle ride with son cut short
We were spending the weekend in the northeast Washington Spring Valley area. News travels more slowly in that area and, at that time before cell phones, having TV on only channels 2, 4 and 6 all except 4 with some degree of poor reception.
My son, age 7, and I had gone for a motorcycle ride in the hills on the farm. We noticed a huge black cloud heading our way from the west and thought we certainly were going to get wet, so we headed back to the house. Shortly after arriving at the house, the television had news of Mount St. Helens erupting and the ash cloud heading our way.
We made the decision to head home to Spokane through the ash. It was dark in the early afternoon with the dust swirling and few vehicles on highway 2. Perhaps the Chevy Citation was never the same. We spent the next few days in the house until boredom finally forced us out to start cleaning up the accumulated ash.
Jim Mathis
A fishing trip near Addy
Our Mount St. Helens story started out simply enough as a fishing trip up to the Columbia River near Addy, Wash., with some friends. The day was beautiful and sunshiny as we piled into the car at about 8:30 that morning, with picnics and fishing gear all set for a great day on the river. As we headed up from Spokane to Addy, we had the radio on all the way, and enjoyed listening to the great music it was playing all the way up to where we planned to fish. On the entire drive up to Addy, the radio station never mentioned a word that Mount St. Helens had just erupted, so we had no clue of what was to come later.
Once we got up to the river, we took turns going out on the river, as the boat was not large enough for all of us to fish at once. So for the first few hours, my husband and I hiked and explored along the river, and enjoyed our picnic when our friends came back to shore. Then we went out on the river to see what luck we might have with catching some fish. As we sat on the boat in the middle of the river, I started noticing a huge black cloud growing in the distance, and coming down the river canyon towards us. I remember thinking that a enormous storm must be heading our way, although it seemed odd that I couldn't see any sheets of rain falling from this cloud. Soon afterwards, a National Forest ranger with a bullhorn called us back to shore. When we got to shore, he informed us that Mt. Saint Helens had erupted at 8:32 that morning, and that we needed to head home as fast as possible.
So we loaded everything up and headed back to Spokane, but by this time the ash was starting to fall very heavily, and it was nearly impossible to see anything around us. The only way we knew where we were going was by following the tail lights of the car in front of us. Nothing else was visible. This time the radio stations were making up for the morning's lack of information and provided whatever news they could gather to help people through this emergency. But even their advice kept changing, as they would first recommend a dry scarf or bandana over one's mouth to breathe through, and then abruptly change the recommendation to only use a dry bandana to breathe through. We did finally make it to a gray and apocalyptic Spokane, after what seemed to be a very long trip. But we were thankful that we were able to make it home on 395, the only highway that was still open into Spokane.
Sunni Mace, Spokane
Day trip delayed, barbecues ashed out
I will never forget the morning of May 18, 1980.
I woke up to find it so dark outside and wondering what was going on. A friend called to say Mount St. Helens just blew so turn on the TV. I lived at the foot of Mount Adams in Trout Lake, Wash. Mount Adams is 30 miles east of Mount St. Helens.
Myself and several other friends planned on driving up to the foot of Mount St. Helens on that day again. But one of my friends could not get a baby sitter. So thank God, because we could have gotten badly hurt or been casualties of the mountain.
My husband and I tried to drive up closer to the national forest to see the damage from the volcanic eruption. But the Forest Service closed all roads. Trout Lake did not get much ash that day, like other areas. Mount Adams was black from the ash, though.
Every time that summer when the wind blew, we could not barbecue, because of the blowing ash.
There is ash up in the Gifford National Forest yet.
Delores Allen, Ford, Wash.
---
---
Subscribe and login to the Spokesman-Review to read and comment on this story