Boy Scouts consider selling Camp Easton to developer
SATURDAY, AUG. 13, 2011
Safety concerns spur council to investigate options, CEO says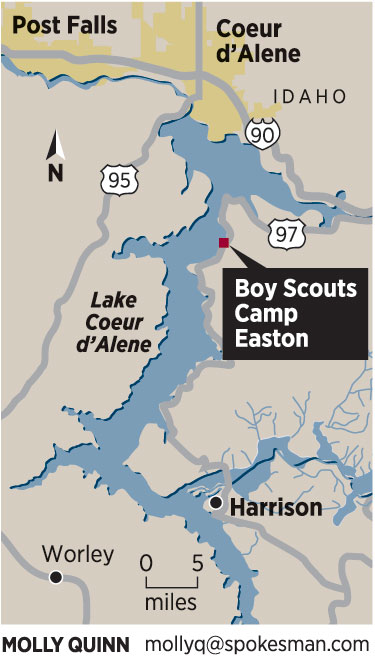 The developer of Gozzer Ranch, a luxury housing and golf course project on Lake Coeur d'Alene, is trying to buy nearby Camp Easton from the local Boy Scouts.
Tim McCandless, CEO of the Inland Northwest Council of Boy Scouts of America, said the group's executive board is reviewing an offer from Discovery Land Co., which specializes in developing private resorts and high-cost lake properties.
McCandless and Andy Holloran, Discovery's vice president of development, said the offer is being reviewed. Holloran added that Discovery has tried to buy the 383-acre Camp Easton before without success.
McCandless said the board felt an "obligation to review the offer seriously" this time. He said a key concern driving the possible sale is a need to improve safety at the camp, which provides a wide range of outdoor and aquatic activities to more than 1,300 Scouts each summer. State Highway 97 divides the camp, he said, and "we have Scouts who have to cross the highway multiple times per day."
McCandless added that property developments along the east side of the lake have led to more traffic on Highway 97.
If the camp were sold, the plan would be to build another camp somewhere else on Lake Coeur d'Alene, he said.
The board needs to consider if a sale and relocation of the camp would offer Scouts a "more modern, safer and more exciting Scout camp," he said.
Neither McCandless nor Holloran would discuss whether the sale would involve a land swap.
Stacey Cowles, publisher of The Spokesman-Review, is a member of the executive committee reviewing the possible sale.
Discovery, which is based in Arizona, has not disclosed plans for the property if it buys the camp.
Tom Little, a longtime Boy Scout volunteer and neighbor of the camp, said he strongly opposes the sale. Little said the camp has been built and maintained by hundreds of area volunteers and has established a unique history and tradition.
"There's no way to replace Camp Easton somewhere else," said Little, who said he served as camp ranger at Camp Easton from 1977 to 1984. "It's got a three-quarter mile lakeshore, along with a very gradual beach leading to the water."
Little said other neighbors near Camp Easton agree with him that any plan by Discovery Land Co. involving the camp would create another gated lake community with access only to high-worth landowners.
"The Gozzer people are not community-oriented. They don't care about the public here," he said.
McCandless, however, said Discovery Land Co. has been a good neighbor to Camp Easton. Three years ago, after a severe summer storm damaged the camp's main dock, the company was one of five donors that provided roughly $50,000 to replace the structure. He said a number of residents of nearby Gozzer Ranch are Boy Scout supporters and have become donors to the local council.
The Fritze family donated 214 acres along Gotham Bay to the Idaho Panhandle Council of the Boy Scouts in the late 1920s. Management of Camp Easton was later transferred to the Spokane Inland Northwest Council.
McCandless said the board understands the concerns of neighbors and volunteers. "While some folks love the tradition of what we have at Camp Easton, we also feel an obligation to investigating (options) and seeing if this is in the best interests of our youth.
"If we determine for whatever reason it's not everything we need it to be, we won't proceed," he said.
---
---