News > Business
Residential property market shows signs of healing
Fri., June 15, 2012
It's not time to break out the champagne yet, but many area real estate brokers have reason to think the first half of 2012 could mark a turnaround from the dismal past three years.
They're seeing positive signs: more homes are selling than a year ago; home prices are up compared with last month and last year; and overall inventory – the number of homes for sale – is dropping.
But other brokers caution that there may be clouds behind the silver lining.
Melissa Dailey, a broker with Coldwell Banker Tomlinson South, won't go near the word "turnaround" yet.
The reasons:
• She hasn't seen a lot of activity in the $400,000-and-up market.
• First-time homebuyers are not making a big dent in the market, she said. They're still struggling to get credit as banks remain cautious about lending in a tepid economy.
• Median prices for Spokane's existing-home market are going up, but not very fast. That group excludes new homes and homes on more than one acre.
"It's encouraging to see more home sales than last year," Dailey said. But "we have a lot of bank-owned properties that have to be sold off before we can see sale prices go up."
The most encouraging signs are that more people are listing properties or looking at buying homes than a year ago, said Mike Bass, a broker with Century 21 Beutler & Associates.
Bass is getting listings for condos priced between $700,000 and $800,000 that wouldn't have been on the market in 2011, he added.
"What is positive is we are seeing a lot of pent-up demand in Spokane," he said. "Sellers with homes priced under $300,000 are finding it's much easier to sell than a year ago." He believes the under-$300,000 market "is very robust right now."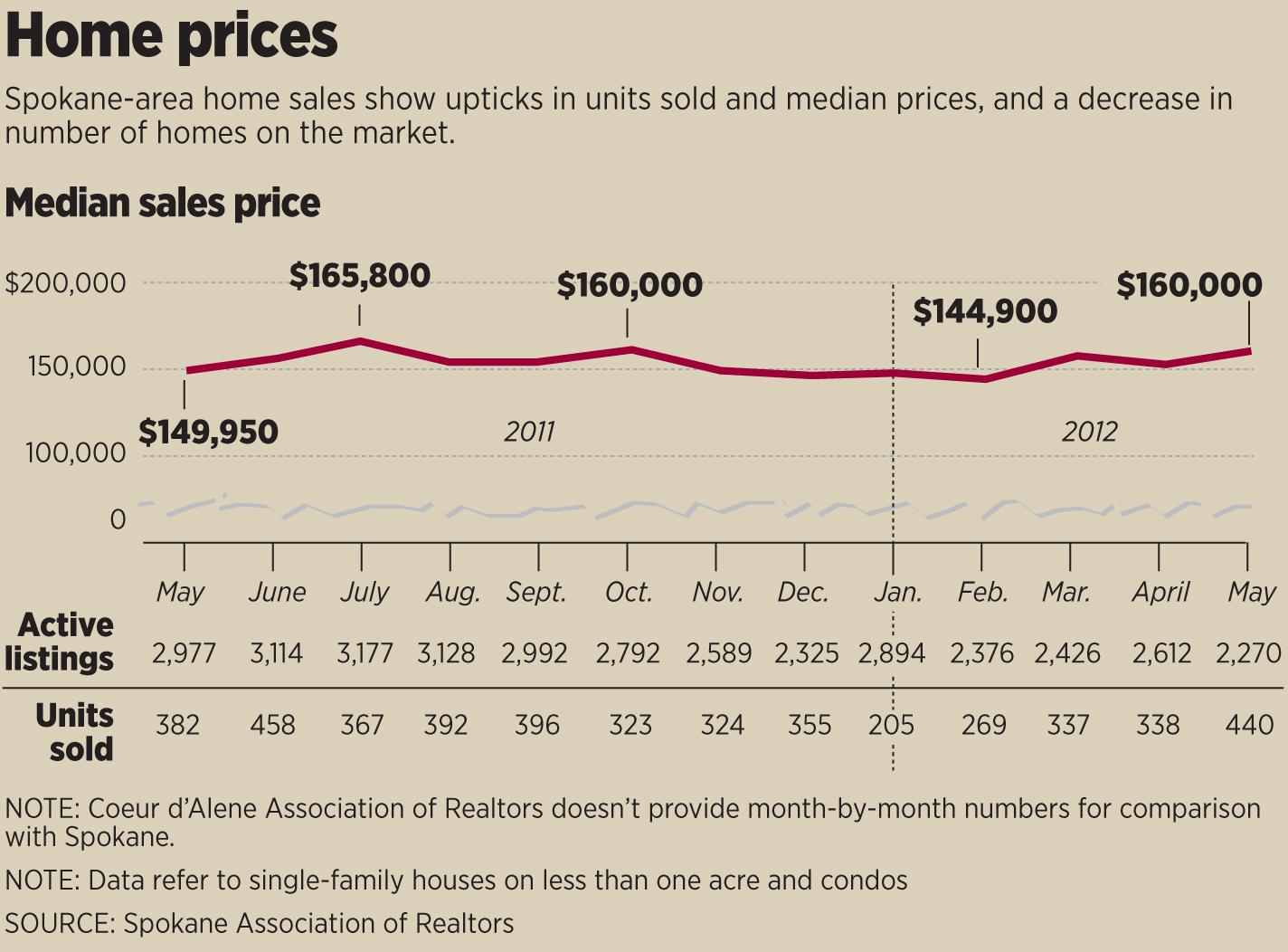 Graphic by Molly Quinn
Rob Higgins, executive officer of the Spokane Association of Realtors, said the new-home market also is seeing signs of life. It's the first year since 2007 that the median price of new homes sold is above the previous year's median price. In 2011 the median new-home sale price in Spokane was $204,900; so far this year it's $210,000.
The Coeur d'Alene Realtors Association is spotting progress in Kootenai County as well. The number of homes sold in the Coeur d'Alene-Dalton Gardens market is up 11 percent this year compared with the same period last year, said Kim Cooper, association president.
Sales have been increasing since March, giving North Idaho brokers the best quarter for home sales since the first half of 2010 – which saw a bump in sales because of the federal homebuyer tax credit program, Cooper said.
Cooper and others say their major concern is the job market. "If we can get more people back to work, that will lead to a more stable community, and that will help banks feel more comfortable lending money to homebuyers," Cooper said.
Jim Frank, CEO of Greenstone Homes, said both the Spokane and Kootenai county markets are healthier for buyers and sellers who focus on smaller homes and townhouses.
"We're seeing a continuing change in demographics, with more people living alone" and more people choosing to rent, Frank wrote in an email.
"The fundamentals for home buying (low prices, low interest rates and population growth) are very good but confidence in home buying is coming back very slowly," Frank wrote.
A graphic chart accompanying this story in print incorrectly listed number of homes for sale in Spokane in May 2012. The correct number is 2,720. The numbers were transposed by the Spokane Realtors Association.
---
---
Subscribe and login to the Spokesman-Review to read and comment on this story