North corridor receives funding
Wed., June 20, 2012
$10 million will pay for track realignment
The North Spokane Corridor project is going to receive another $10 million in federal transportation funds to continue work on the freeway in the vicinity of Hillyard, members of Congress said Tuesday.
The money will pay for realignment of mainline and spur tracks of the BNSF Railway in the vicinity of Francis Avenue and Hillyard and a one-mile extension into Hillyard of a pedestrian and bicycle trail that is part of the freeway project.
The announcement came from a joint news release from U.S. Sen. Maria Cantwell, D-Wash.; U.S. Sen. Patty Murray, D-Wash.; and U.S. Rep. Cathy McMorris Rodgers, R-Spokane.
They praised the project as a way to move freight and traffic more quickly across north Spokane and bypass 29 stoplights on the North Division corridor.
They also cited efforts by local leaders who visited federal officials earlier this year to lobby for the grant, one of three requests from Washington state under an economic stimulus program known as Transportation Investment Generating Economic Recovery, or Tiger funds.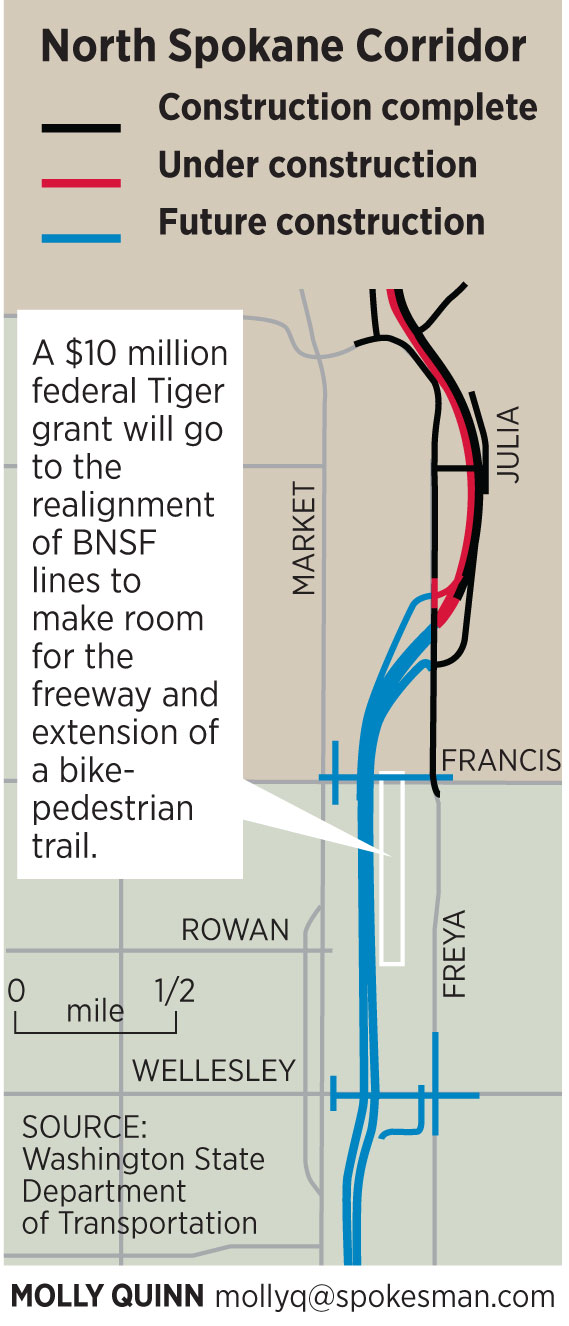 But it is just a fraction of the $1.3 billion it will take to finish the southern five miles of the NSC from Francis Avenue southward to Interstate 90, where plans call for a new interchange and reconstruction of I-90 with feeder lanes through East Spokane.
Last week, the northernmost segment was opened from U.S. Highway 2 to U.S. Highway 395 at Wandermere, allowing unimpeded traffic at freeway speeds between Wandermere and Freya Street just north of Francis Avenue, a distance of 5.5 miles. A pair of roundabouts will serve the interchange at Freya north of Francis, the second of which is now under construction.
Also, work continues on the southbound lanes from Farwell Road to Freya. Two-way traffic currently is running on the northbound lanes, but that traffic will move onto its final freeway configuration once the southbound lanes are finished later this year. Bids are being sought for construction of a larger replacement bridge for Francis Avenue to pass over the freeway lanes and rail tracks. Traffic will be routed onto a temporary grade crossing during demolition of the existing bridge and construction of the new bridge, expected to be finished in 2013.
The Tiger grant will pay for the next step in the process of moving the freeway toward the Spokane River.
However, funding packages needed to continue the work are not currently known, officials have said.
---
---