Sobering statistics
Sat., Nov. 17, 2012, midnight
College officials are concerned that, while student drinking levels are holding steady, the severity of abuse is on the rise
Washington State University freshman Kenneth Hummel's death last month brought the issue of alcohol abuse on college campuses back into the spotlight. The student had a blood alcohol level of 0.40 when he died.
But the weekend before Hummel died, three WSU students ended up in the hospital because of overdrinking, said Cassandra Nichols, the university's director of counseling services.
Pullman Regional Hospital has seen four patients since August whose alcohol poisoning was so severe that they "needed life support because they drank too much, and that is rare," said Alison Weigley, community relations coordinator. "Typically we might have one, maybe two in a year."
Alcohol abuse on college campuses is not new; a recent Centers for Disease Control and Prevention study found binge drinking among 18- to 34-year-olds has not declined in 15 years.
But police, college officials and health care providers are worried about how much those young people are drinking.
"Like many college campuses across the country, we have experienced a number of cases with students who have an extremely high blood alcohol level," Nichols said.
The legal limit is 0.08. "What universities are seeing are .30s or above," she said.
Energy drinks are partially to blame. But more commonly, police and college officials say, students appear to be unaware of what constitutes a drink, the consequences of guzzling hard liquor over a short period of time and the overall dangers of abusing alcohol.
Eastern Washington University officials say three students have ended up in area hospitals for overuse of alcohol since September. One University of Idaho student who ended up in a hospital had a 0.38 blood alcohol level and survived.
To address this growing concern, universities are implementing awareness programs about the dangers of alcohol use and problems stemming from heavy drinking.
"We kind of have a problem in this nation, in that the drinking age is 21, and that probably will never change, but it's created a unique problem," said Derrick Skaug, 22, WSU associated student body vice president. "In terms of educating, the kids go off to college and no one has talked to them about it."
Pressure to 'drink as much as you can'
Finding students drunk in their dorm rooms or staggering across campus or even minors in possession remains a steady occurrence at WSU, EWU and the University of Idaho, police officials say. There hasn't been an uptick.
"In detoxes we've actually declined," said Pullman police Cmdr. Chris Tennant.
Weigley, at Pullman Regional Hospital, said the hospital treats about "374 alcohol-related injuries annually. That's almost one per day. That hasn't gone up." She added, "fortunately, we've had less that were related to car crashes."
Moscow police Lt. Dave Lehmitz echoed that statement, saying UI students "are drinking, but they aren't driving."
At EWU, "The incidents are a little higher this year," said Gary Gasseling, EWU deputy chief of campus police. He added, however, "we always have concerns about students drinking."
Tennant said he sees "an awful lot of social pressure to drink as much as you can, and there doesn't seem to be a lot of common sense."
One example is a ritual for people turning 21 years old, called a 21-run. Young people go out with the goal of downing 21 shots on their birthday.
Additionally, students seem to be misinformed about what constitutes a drink, the police commander said.
"You talk to young people and they think 8 ounces of whiskey is one drink," Tennant said. "The reality is they have no idea what they are doing, and the consequences are life-changing."
Adding to the high blood-alcohol levels are caffeinated energy drinks, say health care providers and law enforcement officials.
"In the past, only seasoned drinkers could get up to those high levels, but now with the aid of energy drinks, they (students) can get up there," Tennant said.
Caffeine is a stimulant and alcohol is a depressant, and caffeine can mask the effects of alcohol.
"They need to pass out – that's the safety switch, but now they've disengaged it," said Penni Reavis, Pullman Police Department support services manager.
Skaug said students don't necessarily combine the two to drink more.
They do it "so they can be awake and more energetic when they go out," he said.
Linda Thompson, executive director of the Greater Spokane Substance Abuse Council, said young people "don't realize … how strong the mix is of caffeine and alcohol. The rush – of course – is bigger, but the danger – of course – is bigger."
On Thursday, the U.S. Food and Drug Administration announced the agency is investigating claims that energy drinks can be fatal. The investigation, however, centers more on consuming multiple drinks, such as 5-hour Energy and Monster, in succession, and there was no mention of alcohol contributing to the fatalities.
'Booze, Sex and Reality Checks'
Skaug, the WSU student body vice president, said students are going to drink. "Anyone who tells you they are going to end underage drinking is a liar," he said. "College is the first time students are on their own, they have their own place to live, they are around other people their age … they are curious."
WSU, EWU and UI have different ways of reaching out to educate students about the dangers of alcohol abuse.
This fall, WSU started a mandatory class for incoming freshman called "Booze, Sex and Reality Checks." The course offers information about substance abuse and the consequences of alcohol and drug use, such as poor academic performance, impaired sexual decision-making and stress. It also provides information on what constitutes a drink and on blood alcohol levels.
Students who don't complete the course cannot register for spring semester, officials said.
In addition to the new class, a website – adcaps.wsu.edu – was created so students could have all that information, and then some, readily available. "We probably get as many hits on campus as off campus," Nichols said.
Also, WSU has one of the only full-time prevention offices in the country.
"The problem is complicated, so addressing alcohol prevention has to take into account a variety of factors," Nichols said.
EWU and UI use a variety of opportunities to talk to students about alcohol abuse, including freshman orientation, safety awareness campaigns and in-classroom presentations.
At EWU, a new program called One Minute Clinics has health advisers visit the residence halls and talk to students as they wait for elevators, for example.
"We usually use a game or a quiz. We talk to them about alcohol serving sizes or alcohol abuse. This year we've been focusing on the signs of alcohol poisoning. Many think they know what that looks like, but they don't," said Karen Wanjico, health education coordinator.
"In one hour, I reach more students this way than if I do a nighttime program," she said.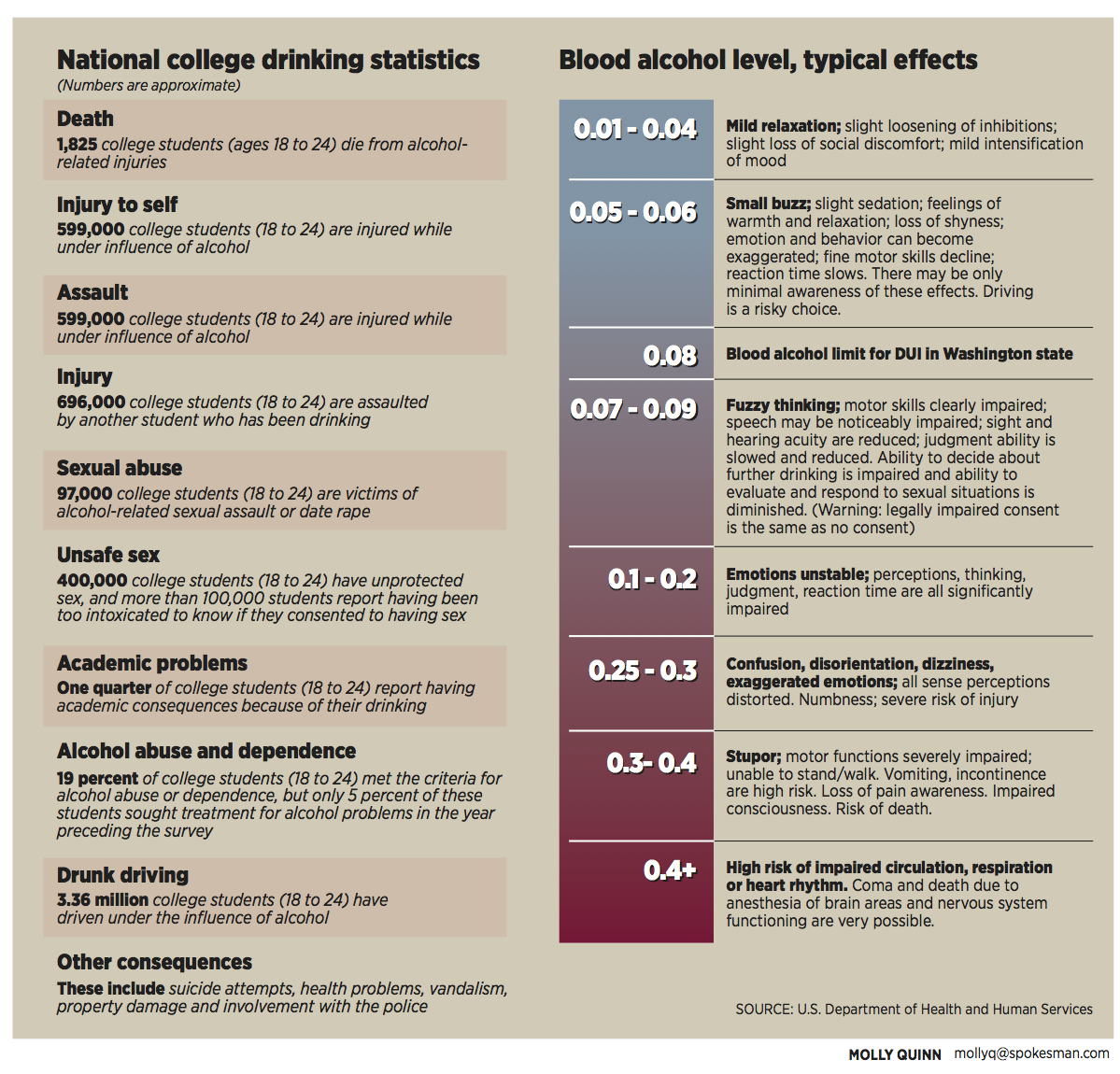 The university has also started a pilot project called Collegiate Empowerment, which provides seminars on topics including academic success and alcohol abuse. The idea behind these seminars is to require some form of engagement from the students, using clickers or signs to keep students involved, said Amy Johnson, associate vice president for student life.
"We are interested in new and inventive ways to engage students in a dialogue about this issue (alcohol abuse)," Johnson said.
UI officials have taken a new approach with fraternities and drinking, said Bruce Pittman, dean of students.
"Members are being held more accountable," Pitman said. "When we work with a group and try to get them to be accountable for their actions, usually they will. But when they don't, we have to turn to the national organization."
---
---