Convicted bank robber connected to recent armed robberies
Wed., April 17, 2013, 3:24 p.m.
Spokane County Sheriff's Office investigators are connecting a bank robber who spent more than seven years in federal prison for his crimes to several recent bank robberies in the county.
Kootenai County authorities arrested Brian D. Sheldon, 39, in Hayden last week after he allegedly robbed the Bank of Fairfield in Rockford and took about $2,800 in cash. Several agencies, including the Spokane County Sheriff's Office, Coeur d'Alene Police and Kootenai County Sheriff's Office, were looking for Sheldon as he fled police over the state line into Idaho.
Sheldon is also alleged to have robbed a bank branch inside the Safeway store in Hillyard last month, Spokane County Sheriff's Office detectives said. Surveillance footage shows the robber wore a straw hat in that incident.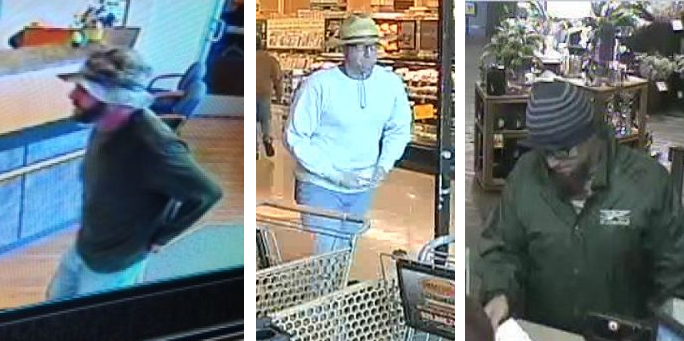 (L-R) Spokane County Sheriff's Office detectives believe Brian D. Sheldon is the man featured in surveillance footage on March 18 at the Bank of Fairfield, the Rockford branch, on March 28 at a Banner Bank branch in the Hillyard Safeway, and on April 9 at a Wells Fargo branch in a Spokane Valley Safeway.
Detectives also allege he robbed the Rockford branch of the Bank of Fairfield previously, in March, plus a Wells Fargo branch in a Spokane Valley grocery store. Detectives said he is a person of interest in the Poppy's Tavern robbery in Spokane Valley last month as well.
A criminal complaint filed in Spokane federal court Monday alleges Sheldon took money from the Rockford bank teller on April 12 and displayed a handgun that authorities saw in his hand when he was apprehended later that day.
A witness reported the suspect's license plate to authorities during the robbery and they began searching for Sheldon, including sending undercover investigators to his home. Sheldon had been a person of interest in the previous robberies even before the Bank of Fairfield branch was robbed on April 12, detectives said.
He was sent to federal prison in 2001 after being convicted of six robberies from December 2000 to March 2001, according to previous reports. Those robberies also focused on bank branches located in grocery stores, reports said.
Sheldon was released from federal prison after serving an 87-month sentence in June 2010, then completed nearly two years of parole. He was ordered to pay $25,731 in restitution to the banks he robbed.
Detectives said Sheldon is unemployed, but according to court documents he was working at a Spokane Valley landscaping company last year to pay an outstanding debt of about $22,700.
---
---
Subscribe and login to the Spokesman-Review to read and comment on this story