Authorities claim felon robbed area banks
Thu., April 18, 2013
Suspect arrested in Idaho last week
Spokane County Sheriff's Office investigators are connecting a convicted bank robber who left federal prison in 2010 to several recent bank robberies in the county.
Coeur d'Alene police officers arrested Brian D. Sheldon, 39, in Hayden last week after he allegedly robbed the Bank of Fairfield in Rockford and took about $2,800. Several agencies, including the Spokane County Sheriff's Office, Coeur d'Alene Police and Kootenai County Sheriff's Office, were looking for Sheldon as he fled into Idaho.
Sheldon is also thought to have robbed a bank branch inside the Safeway store in Hillyard last month, Spokane County sheriff's detectives said. Surveillance footage shows the robber wearing a straw hat in that incident.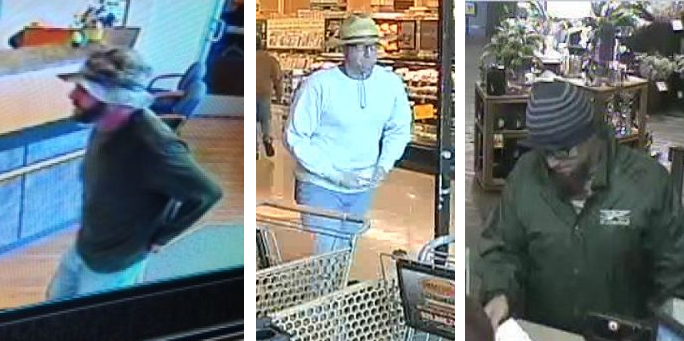 (L-R) Spokane County Sheriff's Office detectives believe Brian D. Sheldon is the man featured in surveillance footage on March 18 at the Bank of Fairfield, the Rockford branch, on March 28 at a Banner Bank branch in the Hillyard Safeway, and on April 9 at a Wells Fargo branch in a Spokane Valley Safeway.
Based on tips, Detective Kirk Keyser believes Sheldon robbed the Rockford bank before, in March, plus a Wells Fargo branch in a Spokane Valley grocery store. Sheldon is a person of interest in the Poppy's Tavern robbery in Spokane Valley last month, Keyser said.
A criminal complaint filed in federal court Monday alleges Sheldon took money from the Rockford bank teller on Friday and displayed a handgun that authorities saw in his hand when he was apprehended later that day. He did not threaten authorities with the handgun, Keyser said.
A witness reported the Rockford robber's license plate number, and authorities began searching for Sheldon, including sending undercover investigators to his home. Sheldon had been a person of interest in the previous robberies even before that one, Keyser said.
Sheldon was sent to federal prison in 2001 after being convicted of six robberies from December 2000 to March 2001, according to previous reports.
Keyser said the current string of robberies followed a common pattern from the 2000-01 spree. Both groups of crimes targeted bank branches inside grocery stores and used notes that indicated specific requests and threats, Keyser said. The recent robberies also took place 10 to 12 days apart, while Sheldon's previous crimes took place about 15 days apart, Keyser said.
"There's a lot of trends with bank robbers," Keyser said. "It has to do with the excitement, thrill and the amount of money they're getting for the risk."
A note recovered from a 2001 robbery said, "Give me all the money now. I have a gun," according to previous reports.
Sheldon was released from prison in 2010, then completed nearly two years of parole. He was ordered to pay $25,731 in restitution to the banks he robbed.
Keyser said Sheldon is unemployed, but according to court documents he was working at a Spokane Valley landscaping company last year.
Sheldon is at Kootenai County Jail on a bond of $500,000 on charges related to Friday's police chase: eluding officers and felon possessing a firearm.
---
---