Spokane's pet cause
Sat., Jan. 26, 2013, midnight
SCRAPS director offers tidbits about dogs and cats
Ever wondered what the most popular pet name is?
Locally, it's Buddy for dogs and Missy for cats.
Spokane County Regional Animal Protection Services, or SCRAPS, has been collecting licensing data for about 90 years, but the agency's methods have changed from handwritten ledgers to digital documents.
Dogs are the most frequently licensed pet in unincorporated Spokane County.
But Nancy Hill, SCRAPS' director, said that may be misleading. "I think it's an anticipation of people. People anticipate that a dog needs to be licensed, but they don't think a cat should," Hill said. "Cat owners aren't as responsible about it (as) dog owners."
SCRAPS' licensing records date back to 1922, but didn't include the dog's name back then. They would identify the dog by its breed including the slang term "cur" or "mongrel," Hill said.
Collies, shepherds and spaniels were quite popular. Some dogs were described as "bird dogs," she said.
About 10 ledgers covering data from 1922-'32 were found a few years ago in an old warehouse detailing licenses in the jurisdiction, Hill said.
Male dog licenses cost $1 in 1922, Hill said. Female dogs cost $2.50 to license.
Around that time, the agency began sending out renewal notices to dog owners by mail, but many owners would reply with the unfortunate news that their dog had died the month prior or had run away.
Cats were not available for adoption at Spokane County shelters until the latter half of the 20th century. Feline records start in 1991 when SCRAPS began licensing cats.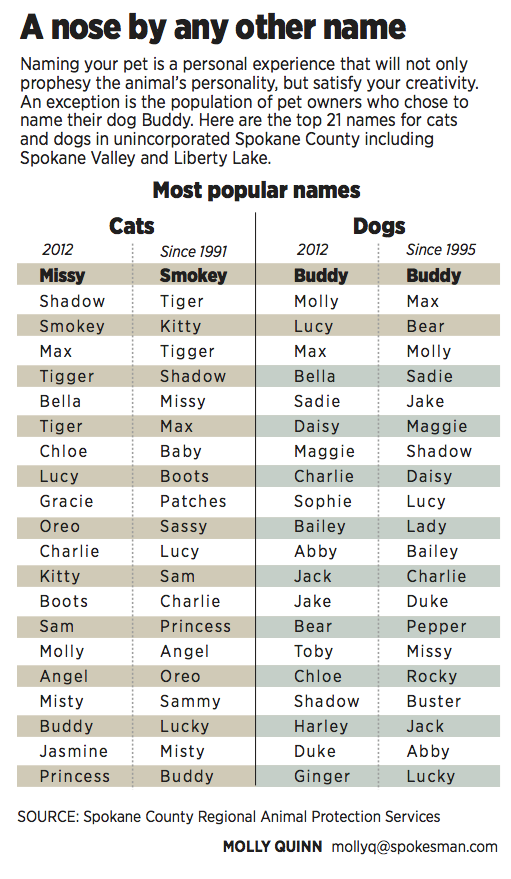 Nowadays, the shelter handles more cat adoptions than dogs.
Regional pet owners can expect some changes next year when SCRAPS takes over the city of Spokane's animal control activities. The Spokane City Council recently voted to adopt SCRAPS as the city's animal control agency.
Spokane and Spokane County's licensing data will be combined starting January 2014.
The common license fee of $15 will remain, but city residents won't have to relicense their pets until they're up for renewal, or if they move to Spokane Valley, Liberty Lake or unincorporated Spokane County from the city.
Licensing pets is a county requirement; Hill said those fees help pay for neutering and spaying vouchers and help owners recover their lost pets.
---
---