News > Spokane
Kansas killing suspect has racist ties to region
Tue., April 15, 2014
Miller testified in Aryan Nations case
The man accused of going on a hate-crime killing rampage targeting two Jewish facilities over the weekend in Kansas has Inland Northwest ties and served as a key prosecution witness in a 1988 federal case against the now-deceased Aryan Nations leader Richard G. Butler and 13 other white supremacists.
Following the acquittals of Butler and the others, Frazier Glenn Miller Jr. has spent the past 26 years trying to convince other racists that he is a true "white nationalist" who genuinely hates Jews and minorities, not a government informant.
Investigators are expected to examine whether Miller, who also goes by the name Frazier Glenn Cross, had come to believe he had to move from simply engaging in hate speech activities to carrying out an actual hate crime to win back support in white supremacy circles.
Miller posted messages on a racist website praising Kevin Harpham before and after his arrest and conviction for planting a bomb in 2011 on the route of the Martin Luther King Day parade in downtown Spokane.
And on Saturday – a day before the Kansas shootings that killed three people – Miller posted a public notice that he had spoken with fellow racist Craig Cobb, in jail on seven charges of terrorizing the mayor and others in Leith, N.D.
On just one website he has posted about 12,000 messages in the past 10 years.
The 73-year-old Miller is suspected of killing three people in a bungled hate crime. None of the shooting victims was Jewish: William Lewis Corporon was taking his 14-year-old grandson to a singing audition. They were Methodist. And Terri LaManno was visiting her mother at a retirement home nearby. She was Catholic.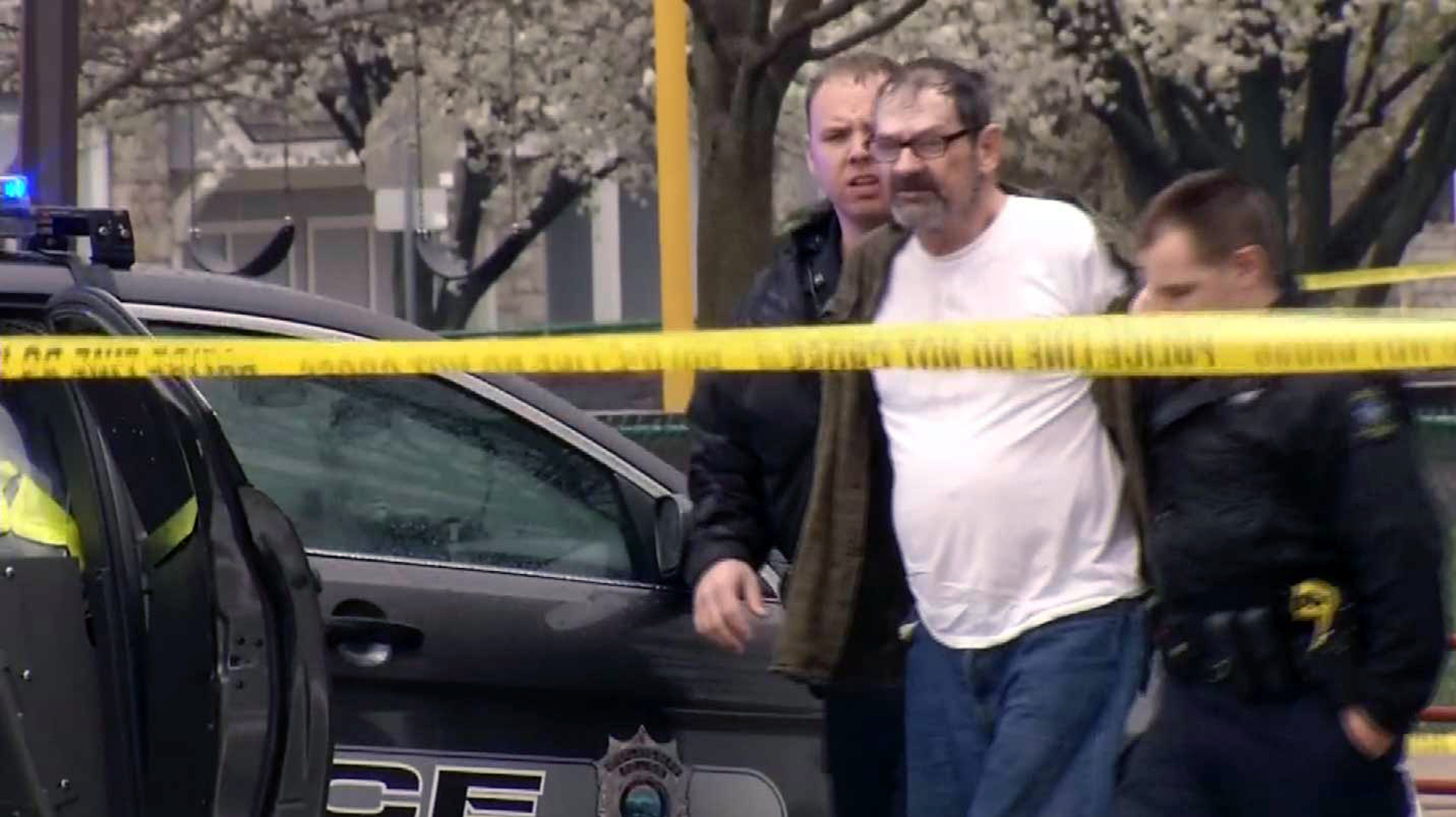 Police arrested Miller, of Aurora, Mo., (pictured, right) shortly after the shootings. He was shouting "Heil, Hitler," according to various press accounts.
The investigation is reportedly attempting to determine whether Miller had been drinking at a casino before the shooting and where he was able to obtain guns despite being a felon.
Miller has been labeled a patsy and government mole for assisting the FBI in 1987 as agents pursued criminal charges against Butler and 13 other white supremacists. They were indicted in Fort Smith, Ark., on charges of seditious conspiracy – plotting the overthrow of the U.S. government. Many Justice Department officials said privately at the time that the case was overreaching and hard to prove.
U.S. attorneys in the Northwest, who had been following the activities of North Idaho and Eastern Washington white supremacists, declined to prosecute.
But FBI agents, using Miller and other cooperating individuals, laid out the case and persuaded a grand jury in Arkansas to issue indictments, believing there was probable cause to suggest the overthrow plot was hatched at the 1983 Aryan World Congress at Butler's compound near Hayden Lake. The two-month trial and failed prosecution was the only significant criminal case ever brought against Butler and his Aryan Nations group.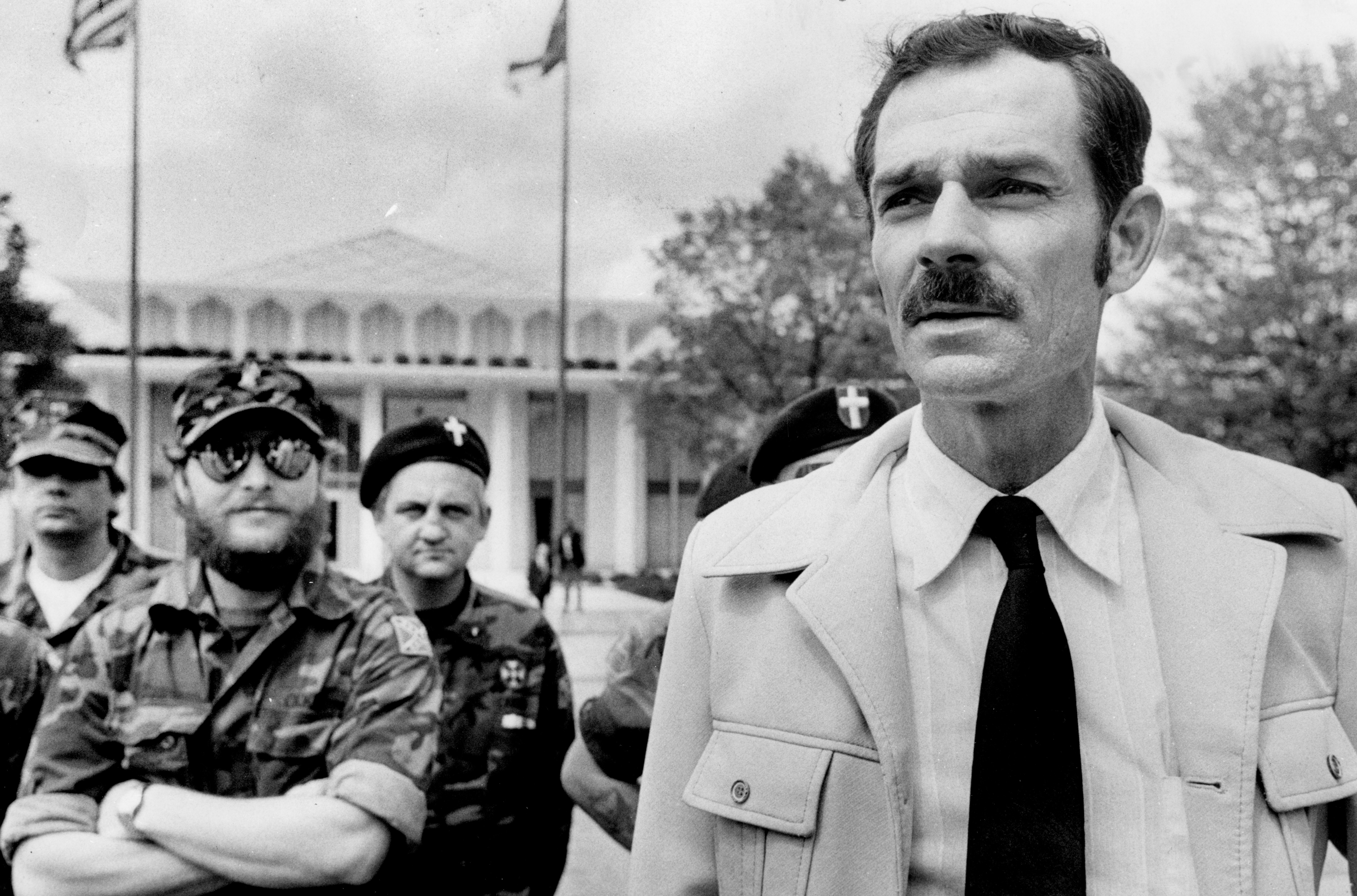 (AP Photo: Frazier Glenn Miller Jr., right, then-leader of the Carolina Knights of the Ku Klux Klan, holds a news conference in Raleigh, N.C., in April 1984.)
Butler later lost a major civil rights case in Kootenai County and the $6.3 million award led to the dismantling of his Hayden compound.
In exchange for assisting federal prosecutors in the Butler prosecution, Miller struck a plea deal and served three years in prison for weapons violations associated with paramilitary training; plotting robberies; and planning the assassination of Morris Dees, the founder of the Southern Poverty Law Center.
At Butler's trial in Fort Smith, Miller testified about accepting $200,000 in stolen money in 1984 from Robert Mathews, a Metaline Falls, Wash., man who formed a terrorist group called The Order. Miller testified that he was told that Butler and other white supremacist leaders also secretly received robbery money from The Order.
The neo-Nazi group funded its attempt to start a race war by robbing banks and armored cars. They got away with an estimated $4 million.
In 1984, before he was killed in a shootout with the FBI, Mathews delivered some of the robbery money to Miller, who was then the head of the paramilitary White Patriot Party in Angier, N.C., believing the funds would promote white supremacy causes.
Miller later testified he accepted the robbery money before issuing his own "declaration of war" on April 6, 1987, against the Zionist Occupation Government and becoming a federal fugitive.
In his declaration, Miller asked his fellow "Aryan warriors" to join him in a fight against the federal government and Jews.
"Together, we will cleanse the land of evil, corruption, and mongrels," he wrote, adding, "let the battle axes swing smoothly and the bullets whiz true."
"Strike for the millions of innocent White babies murdered by Jew-legalized abortion, who cry out from their graves for vengeance," Miller wrote.
He said, "I ask for no quarter. I will give none." But he did just that, agreeing shortly after his capture to cooperate with the Justice Department in exchange for leniency. He testified how he, along with Butler and other selected white supremacy leaders, received money stolen in robberies carried out by The Order.
After testifying for the government, Miller, the father of seven boys, changed his name to Frazier Glenn Cross Jr. He moved from North Carolina to Missouri but made no real attempt to keep his past a secret, continuing over the past 26 years to use the code name "Rounder" that was given to him by Mathews.
Using that screen name, Miller appears to have spent the last two decades trying to convince others of his racist views.
On March 11, 2011, Miller wrote another racist forum comment, claiming Harpham's arrest by the FBI "is most likely a result of pressure put on Obama, the lefties, and pro-muslim groups to show that 'neo-Nazis' are just as much a terrorist threat in the U.S. as militant Muslims."
Miller wrote that Harpham was framed for the foiled MLK bomb plot in Spokane. He accused the government of planting the bomb and pinning the crime on Harpham.
Forensic evidence found on the unexploded backpack bomb tied Harpham to the device and he ultimately pleaded guilty and was sent to prison for 32 years.
Miller said Harpham "was a patsy selected because of where he resides, because he's an intelligent, courageous, and effective" spokesman and activist for white nationalist causes.
In a May 1, 2007, posting on a racist forum, four years before the bombing case, Miller thanked Harpham, known on that discussion board as "Joe Snuffy."
"Joe, many thanks for your generous financial contributions to our newspaper fund, and for your distributions work, as well," Miller wrote, telling Harpham that he ranked among the top half-dozen financial contributors.
Former Spokesman-Review reporter Bill Morlin now writes occasionally for the Southern Poverty Law Center's website.
---
---
Subscribe and login to the Spokesman-Review to read and comment on this story