Man arrested in South Hill homicide of Douglas Carlile
UPDATED: Tue., Jan. 14, 2014, 2:39 p.m.
Timothy Suckow is shown by video feed in Spokane County Superior Court on Tuesday, Jan. 14, 2014.
A man has been arrested in the homicide of Douglas J. Carlile, which occurred on Spokane's South Hill on Dec. 15.
Timothy E. Suckow, 50, was arrested on suspicion of first-degree murder and made his first court appearance today, the Spokane Police Department said in a news release.
Court documents released today paint a complex picture of Carlile's business dealings in North Dakota, and tie Suckow through phone records to James Henrikson, a business associate of Carlile's.
Henrikson was an investor in a company called Kingdom Dynamics that had mineral rights to 640 acres on the Mandan Hidatsa and Arikara Nation Reservation. Carlile owned 51 percent of Kingdom Dynamics, court documents say.
Henrikson told Spokane Police Detective Mark Burbridge that Carlile owed him $1.88 million and that he was angry with the Spokane man.
Henrikson told the detective that he did not kill Carlile or have anything to do with his death.
But Skyler Carlile, Doug Carlile's son, told police that his father once said, "If I disappear or wake up with bullets in my back, promise me you will let everyone know that James Henrikson did it," according to court documents.
The younger Carlile also told police that Henrikson demanded nearly a half-million dollars from him, too, and that if he did not give him this money, "something bad could happen to me and my family," according to court documents.
Another of Carlile's sons, Seth Carlile, had loaned a gun to his father for protection, according to Seth's brother Shane. Police say they had not been alerted to any threats made against the Carlile family.
It's not spelled out in court records how Henrikson and Suckow knew each other, but records note that Suckow's cell phone listed "James ND" as a contact, with Henrikson's cell phone number.
Suckow has a court record in the region that includes burglary in the early 1980s, according to court documents. His arrest led to a series of incarcerations at jails and mental health institutions in Minnesota, California and New Mexico. Criminal psychologists diagnosed him with a range of mental issues, including bipolar disorder, depression and substance abuse, according to court records.
In at least one instance, Suckow complained of "demonic possession" and made multiple attempts at suicide, records show. In 1995, he appealed his convictions, saying he hadn't received proper counsel and that he had only recently gained competency to defend himself in court.
Suckow married in 2006 and listed his address as a rented duplex in Spokane Valley. Court documents do not yet reveal a potential relationship between Suckow and Carlile, though on his marriage license Suckow lists construction as his occupation. Carlile is listed as the owner of several companies that haul building equipment.
Neighbors said Tuesday that Spokane Police arrived at Suckow's listed address late in the evening Monday and remained there until early morning.
"I never saw anything suspicious," said Debbie Veter, Suckow's next-door neighbor. Veter added that Suckow could be seen driving a white van belonging to IRS Environmental, where he worked, to and from the Spokane Valley home.
It's that van that led police to Suckow, the court documents filed Tuesday say.
Police had indicated they were looking for a white van captured on surveillance video they think was connected to the crime.
Spokane Police Chief Frank Straub said at a briefing today that police found a black ski mask in Suckow's personal vehicle that matched the description of one worn by the person who shot and killed Carlile. In addition, police found what Straub called a checklist for homicide in the vehicle, and Suckow's DNA was found on a glove dropped near the Carlile home.
Straub said both the FBI and the Department of Homeland Security are involved in the continuing investigation and there could be more arrests.
Carlile's wife had told Spokane police that the couple had just returned home on that Sunday night when an intruder confronted Doug Carlile in the kitchen. Already at the top of the stairs, his wife returned to the kitchen, where she saw a white man she didn't recognize, clad in black and wearing gloves, pointing a gun at her husband.
Carlile's wife ran upstairs as gunfire rang through three-story home at 2505 S. Garfield Road. She called 911 and was found by police hiding in a bedroom closet upstairs.
Investigators had also narrowed their request for information on Carlile's business dealings by seeking information on Carlile's business, Kingdom Dynamics Enterprises Inc., a construction equipment hauling company based in Spokane.
The company had its license with the U.S. Department of Transportation revoked in September, according to agency records. A spokesman with the Federal Motor Carrier Safety Administration said the agency censured Kingdom Dynamics for not providing proper insurance paperwork.
Investigators recovered multiple casings from the scene of the shooting and several stray bullets, one lodged in a kitchen wall and another inside a popcorn popper. Also found were two handguns, though neither were located near Carlile's body, according to the search warrant.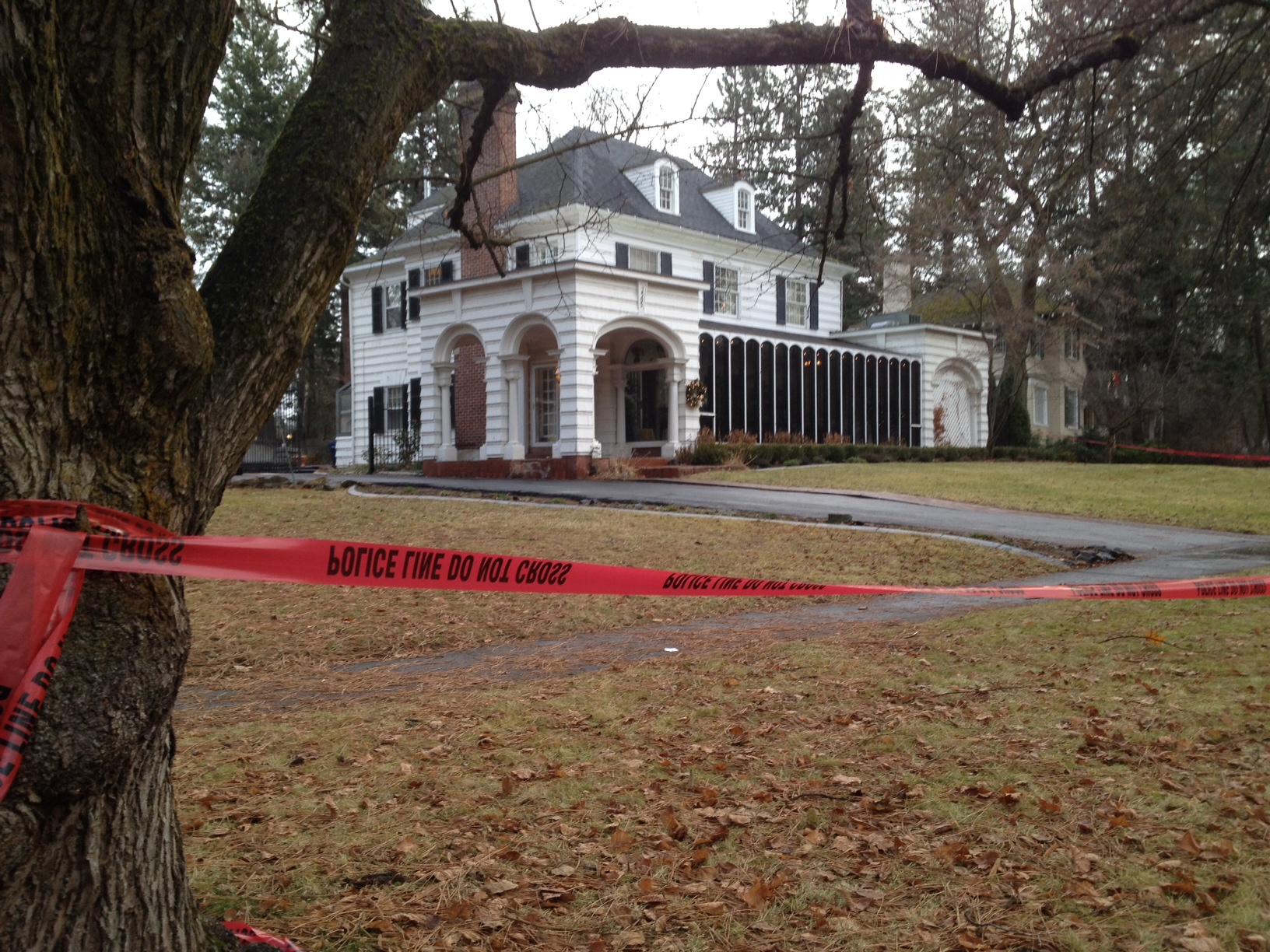 The crime scene at 25th Avenue and Garfield Road. (SR Photo: Dan Pelle)
More information will be posted on this story when it becomes available.
---
---