Area real estate, construction industries fared better in 2013
Wed., Jan. 15, 2014, 5 a.m.
The region's real estate and construction industries continued rebounding in 2013, with home sales topping $1 billion for the first time since 2008 in Spokane.
New construction, both for residential and commercial projects, jumped 50 percent in Spokane for the year compared to 2012, according to McGraw-Hill, which collects construction data for the counties. In Kootenai County, new construction was 52 percent higher than the year before.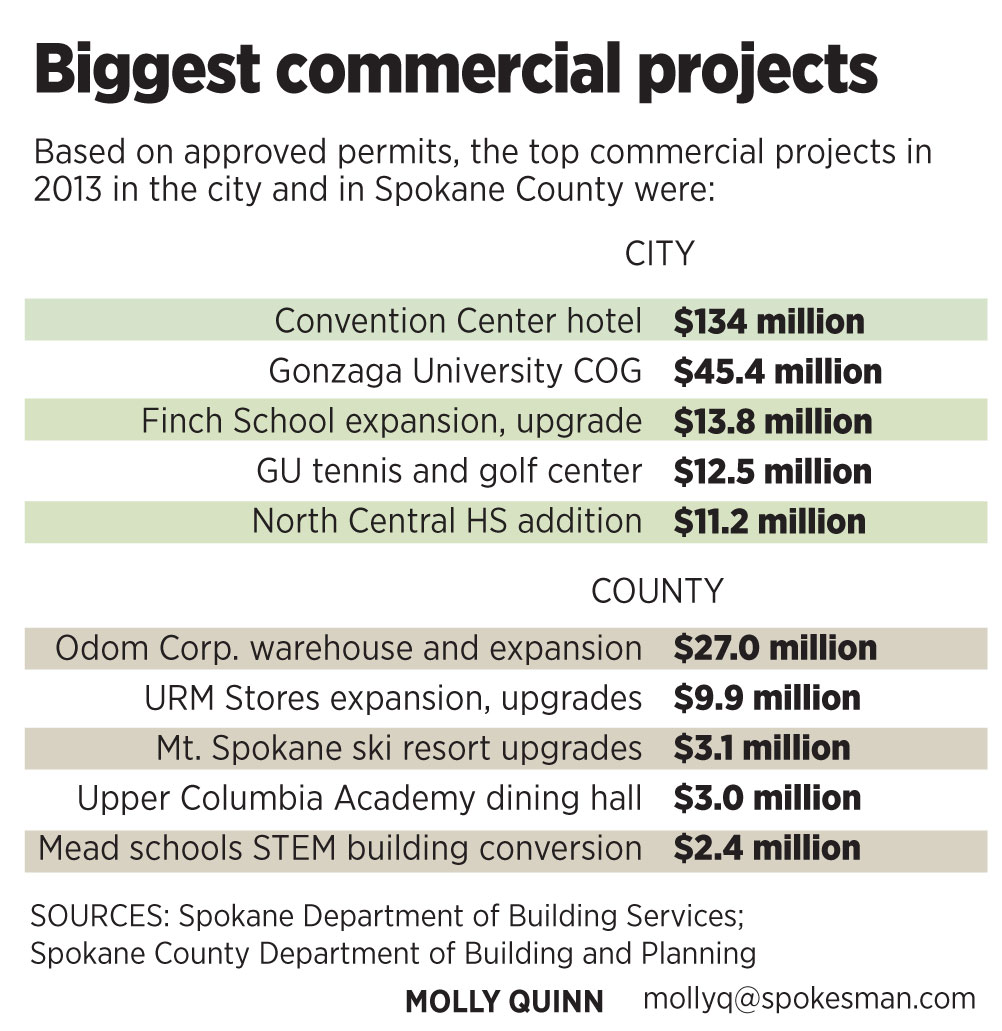 There were some signs of an imperfect recovery from the punishing recession. Spokane home prices sagged in the final quarter of 2013, with a median sale price of $159,950 in December, well below the median of $167,000 in December 2012, according to the Spokane Association of Realtors.
Still, "Last year was the best year for us since the recession started," said Reed Caudle, senior vice president with Baker Construction, based in Spokane.
He said the company saw a 15 percent bump in business, divided between new construction and modernization of existing buildings. The company had no one super-sized project; instead, business was spread among projects for financial, nonprofit and health care organizations, Caudle said.
In general, Spokane saw a stronger rebound in 2013 than Kootenai County did, said Glenn Crellin, associate director of the Washington Center for Real Estate Research, based in Seattle.
"Things have improved appreciably, and they've improved more in Spokane, because in many ways Kootenai County was hit harder by the recession than Spokane," Crellin said.
Other high points in the real estate and construction categories:
• Kootenai County homes sold for more money, generally, than those in Spokane during 2013. The median home price in Spokane rose 2.9 percent to $164,697. In Kootenai County, the median price rose 11 percent, to $174,000.
• Spokane County had a 21 percent gain in home sales in 2013, said Rob Higgins, executive vice president of the Spokane Association of Realtors. Kootenai County Realtors saw a 26 percent gain over 2012.
• Sales of newly constructed homes in 2013 rose by 28 percent in Spokane and 18 percent in Kootenai County. Those gains reflect still-moderate interest rates and buyers still eager to find ways to afford new housing.
• Multifamily housing and duplex construction had a big year. During 2013, new apartments and duplexes accounted for 20 percent of all residential construction in Spokane.
Growth in multifamily construction follows apartment vacancy rates, Crellin said. Spokane's September vacancy rate was 3.9 percent, well below the 5.2 percent in Kootenai County, he said. Developers respond when the rate falls below 5 percent in a metro area, he said.
• Last year's largest commercial construction project in the area was the Walt Worthy Spokane Convention Center hotel. Permits submitted by the Worthy company estimate the construction cost at $134 million. The next-nearest, the new COG building at Gonzaga University, is listed at $45.4 million.
The largest construction project in Kootenai County last year was the new WinCo Foods grocery store, estimated at more than $8 million.
Area economists pay close attention to both the number of construction projects occurring and home sales. Both sectors create jobs; when construction crews are busy, more dollars roll through the local economy, spurring other business activity.
When more buyers are moving into new residences, the economy responds by adding service jobs for companies providing painting, plumbing and electrical work, or retail jobs tied to garden supplies, furnishings and home merchandise.
Kim Cooper, president of the Coeur d'Alene Association of Realtors, said new home sales are encouraging.
"It means we are putting people back to work. And, the diminishing inventory of average-priced housing means demand is higher now, so new housing has to be built to accommodate buyers in that price range," he said.
He expects this year to match or exceed last year's numbers, provided interest rates remain low and the economy keeps adding jobs.
Higgins, of the Spokane Realtors, suspects the fear of rising interest rates has slowed the area's housing market.
"It will be interesting, going into 2014, to watch that. It's not a normal pattern we've had (of seeing gains and then a late-year slide)," he said.
---
---