Flu patients crowded area hospitals last week
Thu., Jan. 23, 2014, 4:01 a.m.
The region's hospitals barely had enough rooms, drugs and equipment to handle an influx of influenza patients and other people sick with winter illnesses last week.
At different points during the week of Jan. 12-17, Spokane's four hospitals, as well as Kootenai Health in Coeur d'Alene, had to turn away potential patients to another hospital with available space.
The need to send away patients resulted from the large number of patients being treated for a range of reasons, not just the H1N1 "swine" flu virus, officials said.
Yet the most frequent reason last week for patients needing critical care in those five regional hospitals was the current flu outbreak, officials said.
Every winter the virus causes hospitalizations to go through spikes and drops, said Dr. Walt Fairfax, chief medical officer at Kootenai Health in Coeur d'Alene.
Most patients treated this week at the hospital don't have the flu, he noted. Spokane hospitals also report a similar decline in patients in critical care compared with last week.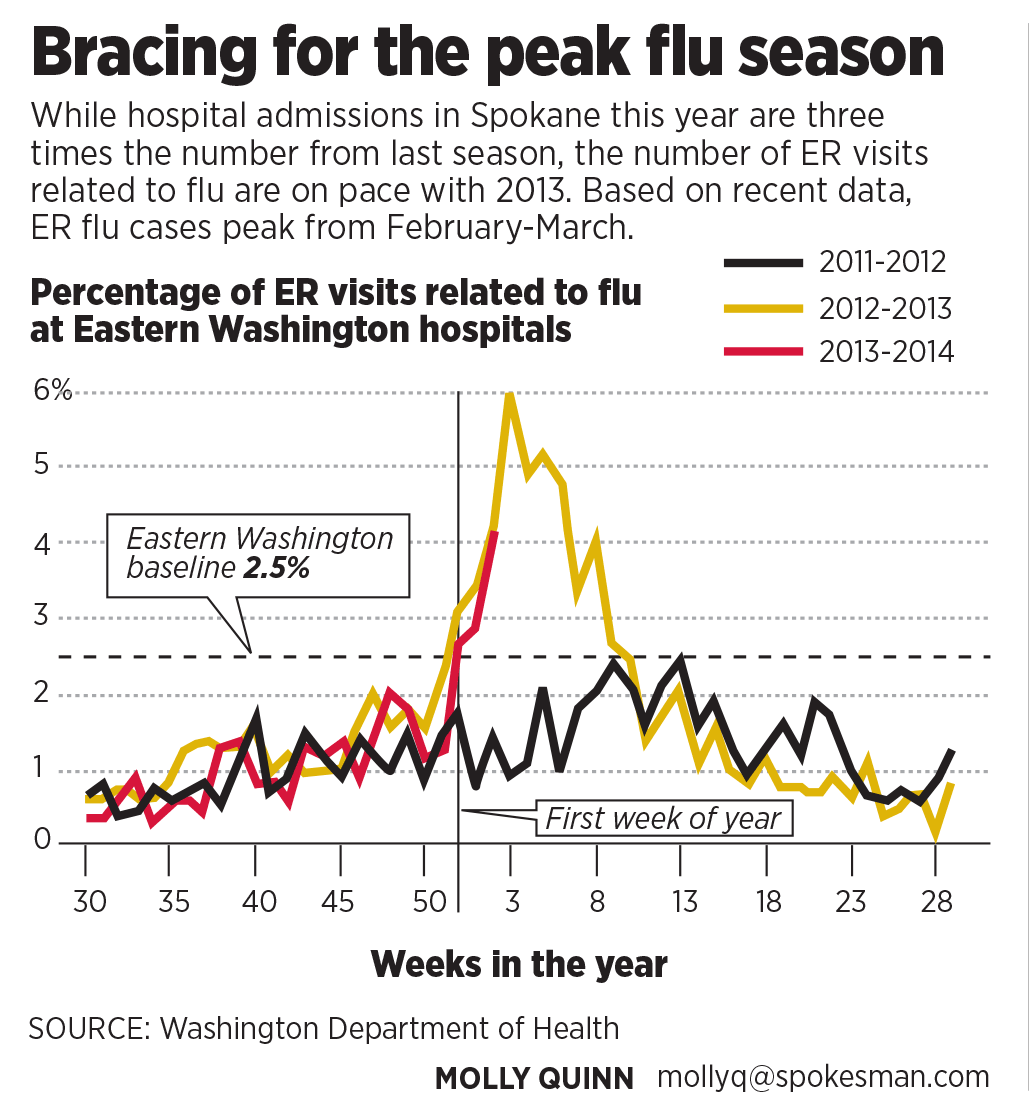 This year's flu outbreak, Fairfax said, is unusual in one respect: While it isn't creating pandemic-level numbers of diagnosed cases, many of those infected by the virus end up in need of hospital or emergency room treatment.
The situation a week ago, Fairfax said, was dire.
"That's due in part because once they're sick they end up staying in hospitals for more than a few days," Fairfax said.
"At one point we were short of critical care beds and running short of ventilators for life support," he added.
The volume of patients left Kootenai Health turning away requests to admit patients from smaller hospitals in Idaho or Montana, and larger hospitals in Spokane needing beds, Fairfax said.
The result: For most of last week Kootenai Health's 28 critical care unit beds were full. The hospital also needed to borrow three ventilators from Northern Idaho Advanced Care Hospital in Post Falls.
Ventilators are needed to help patients who have difficulty breathing. The swine flu often leads to pneumonia or other respiratory conditions.
"The scary thing was that not only did Spokane have few beds but we found the same situation" in hospitals in Seattle, Portland and Boise last week, Fairfax said.
Officials at the two Spokane Providence hospitals – Sacred Heart and Holy Family – rented ventilator units for added protection but ended up not needing them, said hospital spokeswoman Jennifer Gilcrist.
Fairfax said if there had been an extra wave of intakes last week due to flu or other reasons, the area's hospitals would have turned to regional health districts to get access to emergency stockpiles of antiviral medicines and ventilators.
This year's flu strain seems most potent in attacking teens and adults in their 40s, not the very young or the elderly, he added.
"We believe this flu causes an immune storm, and the more competent your immune system is, the worse the flu seems to hit you," Fairfax said.
The nature of the flu means you can't be sure when the absolute peak of the season hits, Fairfax said.
For that reason area clinics and doctors continue to urge residents who haven't been vaccinated to get the shot. Immunity usually starts within two weeks of injection.
As an added precaution, area hospitals have issued visitor restrictions to discourage visits to patient areas by people under 18 years old.
There have been 19 flu deaths in Washington this year, including three in Spokane County. One person has died of the flu in North Idaho.
Since November, Spokane's four major hospitals have admitted 156 patients for flu; most of those involve the H1N1 flu strain, said the Spokane Regional Health District. That is three times the number of patients admitted for flu in Spokane hospitals in the same period of 2012.
For now, area health officials are in "concerned" mode, hoping the big spike from last week won't be repeated, said Kim Papich, of the Spokane Regional Health District.
"The pressure is off some for now," Fairfax said. "But the flu is a scary thing."
---
---