News > Features > Washington Voices
Love Story: Slow start led to lifetime of love for the Rockwoods
Thu., July 3, 2014
Kirke Rockwood heard about Barbara Top long before he met her. His father had hired the musician to be the church organist at First Presbyterian Church in East Aurora, New York.
Barbara had just received her master's degree from the Eastman School of Music at the University of Rochester, but returned to her home in Spokane for the summer, prior to starting her job.
"All summer long my father talked about Barbara Top – how wonderful she was – how talented she was," recalled Kirke. "But I was seeing someone else and wasn't interested."
His disinterest lasted until Sept. 11, 1952. That's the day he walked into his home and found Barbara there, visiting with his father. Kirke wasted no time in asking the new church organist for a date.
The date went well, but Barbara proved elusive. "I chased her all over! She was trying to avoid me," Kirke said.
The young musician had her eyes on a lofty goal. "I was going to Europe to get my doctorate," she said. "I was interested in boys – but not permanently."
She found it odd that so few of the young men in the large congregation asked her out. Then she discovered the reason. Shaking her head, she glanced at Kirke. "He was telling all the boys that I was his girl!"
By December, Kirke told her, "I love you and you love me – you just don't know it yet."
But Barbara brushed him off, saying, "I'm going to Europe."
She said she was "flattered and annoyed in equal parts" by his dogged pursuit. He was a lot of fun, not to mention blond and handsome. Plus she loved his car – a red Jeepster convertible. "I just adored it!"
At 27, Kirke knew what he wanted. After graduating from high school, he joined the Army Air Corps in 1943 and served three years. When he returned to the States he attended the University of Buffalo and took a job with a furniture company. He was ready to marry – Barbara was not.
In fact, after spending a month in Spokane to attend to health problems, she made up her mind to cool things off between them.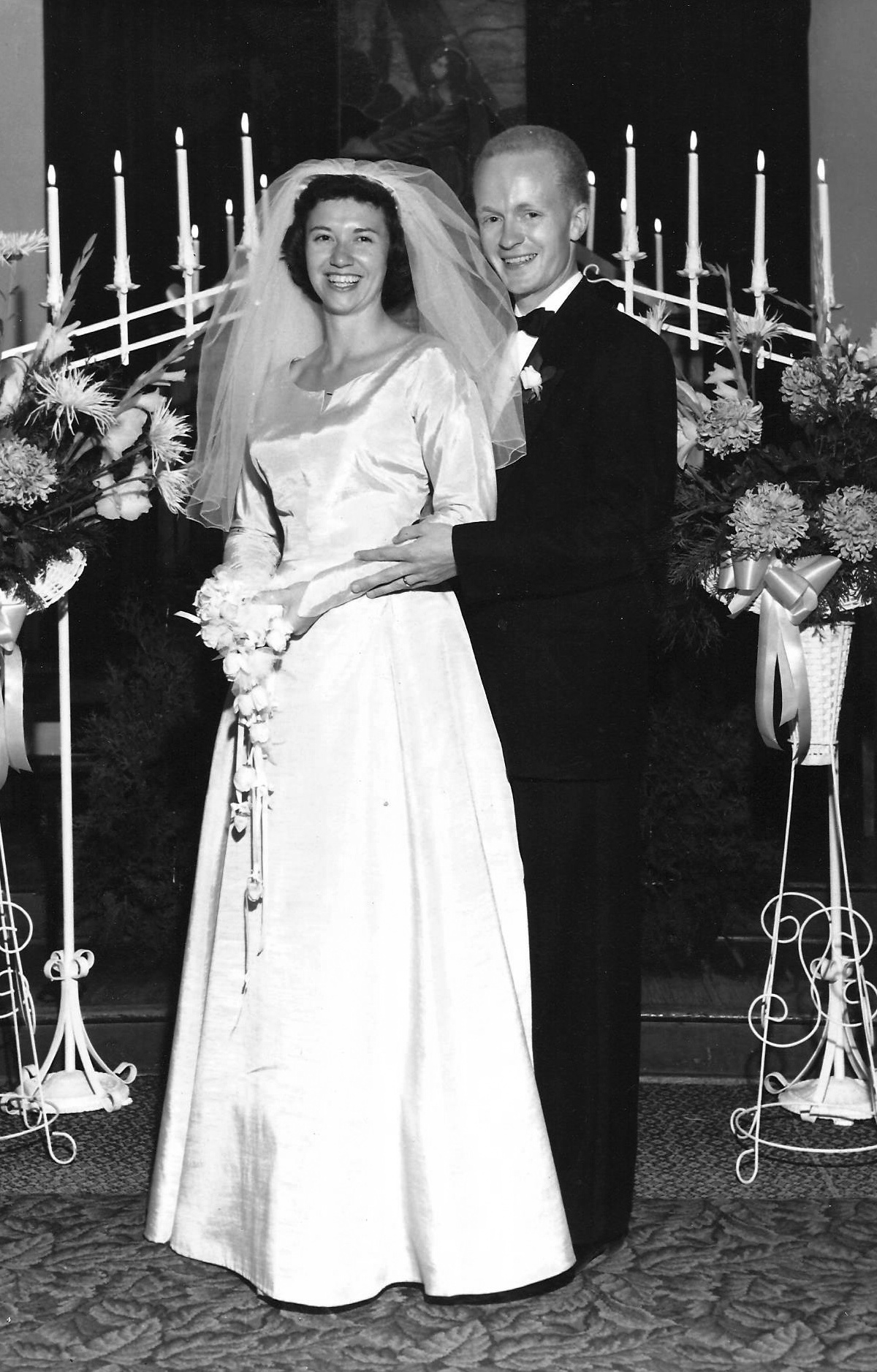 "I went to the station to pick her up," Kirke said. "And she put out her hand for me to shake."
Bewildered, he shook it. Then she told him she didn't think they should see so much of each other.
"That lasted about two weeks," Kirke said.
Then one night while driving in the Jeepster, Barbara said, "Well do you want to try it?"
Kirke was so stunned he had to pull over at the nearest side road. "I gave her a smooch and then we looked up. We'd parked on the road to the Depew City Dump!"
It may not have been the most romantic place for such an important decision, but one year and one day after they first met, the couple married at Manito Presbyterian church.
They'd traveled from New York to Washington in the Jeepster with an "About to be Married" sign affixed to the bumper. Barbara's father, Evert Top, pastor at Manito Presbyterian, performed the wedding on Sept. 12, 1953.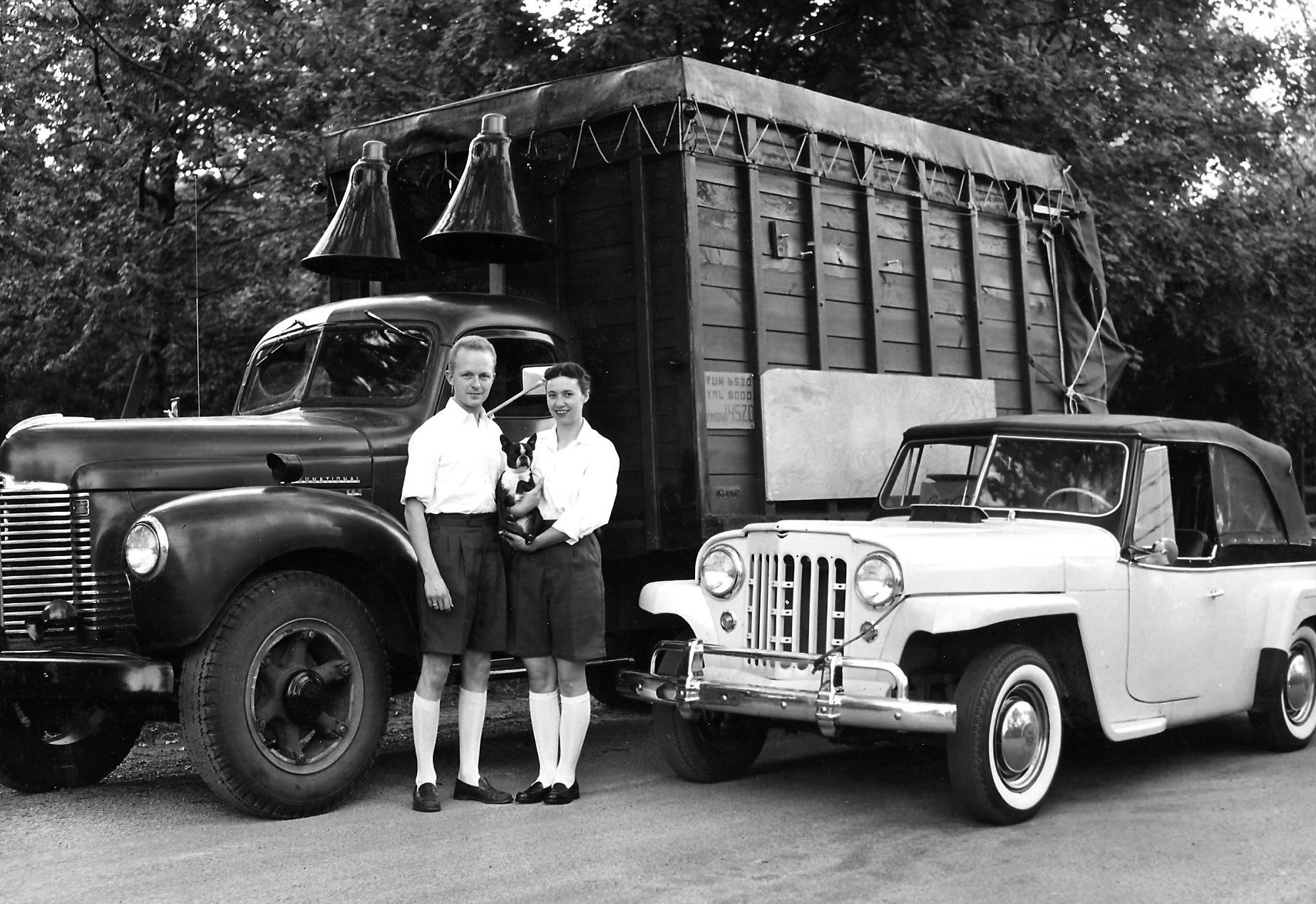 (Cutline: This photo appeared in the local paper when the Rockwoods left East Aurora, N.Y., and headed west. The couple's MG TF sports car was inside with the top and windshield down and a platform over it with furniture, and their Jeepster (newly painted from the original red) was hooked to a tow bar. The "bells" hanging on the front were loudspeakers for a PA system.)
After they returned to New York, Barbara encouraged Kirke to pursue his dream. "From the time I was 14, I started cutting records and pretending I was a deejay," he said.
Though he had a job as a furniture salesman, he didn't enjoy it. "I didn't want him to work for years at a job he hated," Barbara said.
So Kirke wrote to 45 colleges and 75 radio stations, trying to get a job in the industry. They finally decided there'd be more opportunities for him in the West, so they loaded a truck with all their belongings – including an MG TF convertible, and towing the Jeepster behind them, they landed in Spokane.
His first radio job was as a deejay for KCLX in Colfax. "1650 where the listening's nifty," he intoned with a grin.
Two years later, when they discovered a baby was on the way, they returned to Spokane where Kirke took a job with KREM television. Daughter Elizabeth arrived in February 1957.
Having had no formal training in television engineering, Kirke learned on the job. In his 31 years at KREM he did everything from directing, to camera operating, to being an on-air personality.
For several years he was Anchor Andy on the "Captain Cy" show. He was also the Boge Bunny on the "Boge Bunny Show." "I wore a turquoise wool bunny suit, custom-made for me," he said.
In 1959, son Bruce arrived. He and his sister were often part of the studio audience on the "Boge Bunny Show," and when Kirke served a stint as director of Romper Room, his kids appeared in the audience there, too.
Meanwhile, Barbara kept busy with her music. For 40 years she taught piano and organ students. When Manito Presbyterian needed a new organ, she was asked to design it with the stipulation that she'd continue as church organist. She agreed and for more than 30 years served in that position.
In 1988, they both retired and hit the road in a custom-designed fifth wheel that featured room for Barbara's twin passions – quilting and music. She toted her fabric and her full-size keyboard across the nation, while they visited 48 states.
For 12 years they traveled and became known for hosting singalongs at campsites across the U.S., often serving as activity directors before they moved on again.
Now, settled back in Spokane, Barbara, 85, and Kirke, 89, remain fit and active in their retirement community.
He remains grateful he finally caught the girl he so adamantly pursued. "She was as cute as a bug and still is," he said, smiling at her. Her support allowed him to have a career he loved.
"If I'd married somebody else they would have said, 'Stay in your job!' "
Barbara's never regretted saying "I do." Though she never made it to Europe to get her doctorate she said, "Kirke is a wonderful guy. He's gentle, calm and so easy to get along with."
They laugh often while recalling their six decades together. Kirke said, "The thing that's neat about being married so long is we share so much history – so many memories and in-jokes that still make us laugh."
---
---
Subscribe and login to the Spokesman-Review to read and comment on this story