Spokane Valley's Ponderosa Jump to be flattened after deadly car crash
Thu., June 19, 2014
Construction to flatten a stretch of road in Spokane Valley sometimes referred to as the "Ponderosa Jump" will begin next week.
The jump, located at South Bates Road and East Ponderosa Drive, was the site of a car crash that killed two University High School students in October. It's on the border of the city of Spokane Valley and Spokane County in a residential neighborhood called the Ponderosa.
The car carrying Josie Freier and McKenzie Mott, both 15, was traveling at speeds close to 70 miles per hour and struck a tree before reaching the jump, according to court documents. Preston Maher, the driver of the vehicle, turned 16 the week prior to the incident and received his driver's license the day before the collision. He has been charged in juvenile court with two counts of vehicular homicide.
Workers next week will remove a section of the asphalt and raise the area where the road takes a dip. Once started, the project should take one week to complete and will cost between $25,000 and $26,000, said Carolbelle Branch, spokeswoman for the city of Spokane Valley.
"The city and the county have made this a priority since the accident," Branch said.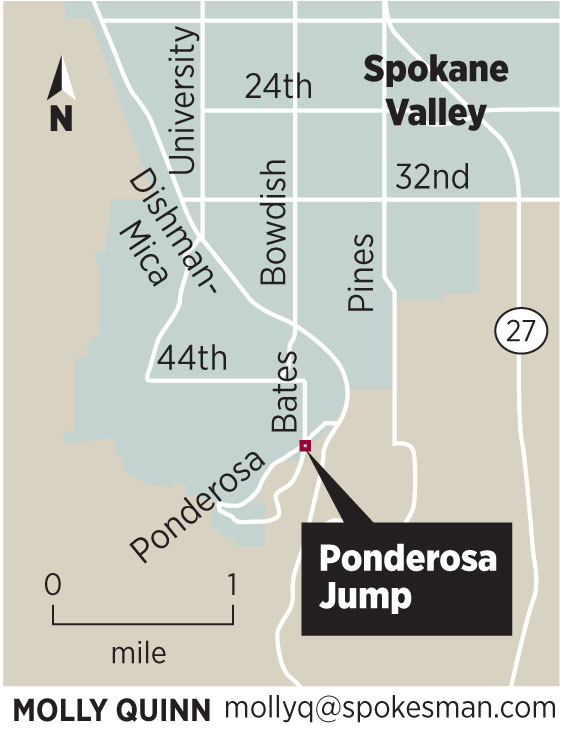 Tom Towey, former Spokane Valley mayor, can see the so-called "Ponderosa Jump" out his front window.
"A lot of the kids in the valley knew about it," Towey said.
He said even after the crash, teens continued using the spot as a jump for their cars. After the incident, however, white posts were put up at the site, meant to detract cars from going airborne. Near the posts, track marks where cars have bottomed out scar the pavement.
Towey also has noticed the number of skateboarders using the road and acknowledged that fixing the dip in the road may not prevent either skateboarders or cars from traveling at high speeds in the neighborhood.
While the area that cars travel leading to the jump is part of Spokane County, the jump itself is in Spokane Valley city limits. For this reason, the city has been in charge of construction, although the county has offered assistance when asked, said Spokane County Engineer Robert Brueggeman. Brueggeman said the county was not aware that this was a popular location for teens to jump their cars until the investigation of the fatal collision.
The tree trunk of the tree that the car hit is covered with a yellow ribbon, commemorating the two students who were lost in the crash.
---
---