Cops, rain delays, big prizes and other Hoopfest stories
Fri., June 27, 2014, 5:46 p.m.
The streets are ready. Players, fans, vendors and support staff descended on Downtown Spokane for the summer's biggest event: Hoopfest.
Police want everyone on their best behavior for a great weekend. And to ensure things go as smooth as possible, the Spokane Police Department will have 100 officers plus special security teams patrolling downtown Spokane.
"Last year we had a similar plan and it went well, except for a little rain," said Special Events Unit supervisor Sgt. J.D. Anderson. "That's not my problem. I'm not in charge of the weather."
Some rain may make the street courts wet, but the weather is expected to be pleasant.
Increased police patrols will continue during the nighttime hours as well because of increased traffic to bars and restaurants.
The rest of the city will still have full staffing despite the extra officers working downtown, Anderson said. "We restrict vacations during this time," he said.
The other Fab Four
Daniel Thomas, Tim Donahue, Jack Berry
(SR Photo: Pia Hallenberg)
Team "Fab Four Plus" was huddled near the gondola at Riverfront Park Friday afternoon. Friends Daniel Thomas, 12, Tim Donahue, 12, and Jack Berry, 13, had yet to join up with the last player on their team, Adam Parker, 12. The group traveled here from the Seattle-area.
"We play together at home," said Thomas, who is at his first Hoopfest.
Donahue and Berry are here for the second time.
The boys said they love Hoopfest – not just because they get to play basketball but because of all the vendors and the great food.
"It's almost like a fair here," Thomas said. "It's really cool."
Fab Four Plus hits the court at 8 a.m. Saturday morning and when asked what they were most looking forward to they all answered: "To have fun."
Mia and Maya
Good friends Mia Berry, 11, (with ball) and Maya Davis, 8, traveled from Seattle to be at Hoopfest. Mia is on the team "Revival" and Maya is here with her dad, who coaches.
(SR Photo: Pia Hallenberg)
Mia Berry, 11, and Maya Davis, 8, traveled from Seattle together with friends and family to be at Hoopfest. Berry is on the "Revival" and her first game is at 10:30 a.m. Saturday. The two girls pulled their long-sleeved sweatshirts to cover their hands in the rain.
"It is fun," said Berry, who was holding a ball she'd picked up at the Hoopfest Shop.
"I like that there are only three players on the court at a time," Berry said, "because then you get more play time."
What's her best move?
"I'm a good three point shooter," she said, smiling.
Crowds hinder setup
As basketball hoops were put in place Friday evening, players filled the void and started to play. Hoopfest board member Skip Templeton said people were shooting hoops as his crews still were installing baskets on the courts.
"It's hard to get set up with everybody around," he said.
The crowds and confusion led to an accident on Post Street just south of Main Avenue around 8:30 p.m. Witnesses said that a woman playing basketball in the street backed into a forklift hauling basketball hoops, Templeton said.
The woman was knocked down and her injuries didn't appear to be serious, said Spokane Police Officer Casey Jones.
24 of 25
Jean Parsons of Davenport, Wash., has volunteered at 24 Hoopfests only missing the very first one. She has so much experience with Hoopfest that she is now a professional problem solver at the team check in tent.
(SR Photo: Pia Hallenberg)
It is volunteers like Jean Parsons who make everything come together as the teams arrive and check in. Parsons, who's from Davenport, has volunteered at 24 Hoopfests, only missing the very first one.
Her immense experience qualifies her for the job as one of the chief trouble shooters at the team check in tent.
"I love the interaction with people and talking about Hoopfest," Parsons said during a short break Friday June27. "We try to make sure everything goes smoothly."
She said technology has changed a lot since Hoopfest's early years.
"Everything was done by hand then," she said. "Now we have computers and that makes everything easier – as long as they are running smoothly."
Players showed up at Parsons' desk asking for team numbers, and looking for directions.
"We figure out what's going on and send people on their way," Parsons said.
In between volunteering, Parsons gets to go watch some of the games and cheer on her friends.
And she finds it hard to believe how big Hoopfest is today compared to the first years.
"Even when it was smaller it was always a fabulous family event," Parsons said. "Today it's like every single corner of the park has something going on."
Better than bad
Tambi Hoskins brought her daughter, Kiana, 13, and her friends from Troy, Idaho to play Hoopfest over the weekend. They call their team the BA Ballerz. Left to right: Tambi Hoskins, Kiana Hoskins, Madison Sanderson, 15, Austin Pope, 14, Whitney Fredrikson, 17, Coltin Pope, 12 and Jordyne Fredrikson, 12. (SR Photo: Lisa Leinberger)
A group of teens from Troy, Idaho are playing their first co-ed games this weekend. Kiana, Hoskins, 13, Jordyne, Fredirikson, 12, Madison Sanderson, 15, Austin Pope, 14, Whitney Fredirikson, 17, and Coltin Pope, 12, clutched orange registration bags with their new t-shirts, basketballs and socks while they waited to get lunch downtown Friday.
They call themselves the BA Ballerz, the BA standing for "badass."
"Because we're just that," said Austin Pope, 14, one of the teammates.
Tambi Hoskins, mother of Kiana, said they've come to Spokane for Hoopfest before. The group of friends said they play basketball at school back home in Troy.
"It's like, all we do," said Jordyne Fredirikson.
Rain strikes again
They say that watching paint dry is tedious, but it can't be any worse than watching pavement dry.
At 7 p.m. on the Friday night before Hoopfest volunteers usually are flooding the streets setting up basketball courts for two days of games. But at their usual start time Friday the streets were wet, and the tape used to mark off the courts wasn't sticking.
That left volunteers standing on sidewalks with nothing to do.
"It's not going to happen until it dries," said Patty Leland, who volunteers with her extended family every year. "It could be an hour. It could be two hours. It could be tomorrow morning."
Her family was responsible for 15 courts this year. "The worst case scenario is 6 a.m. (Saturday) and if it's still wet, go without," said her brother, Gary Kelly.
They were still too wet to place the tape at 9 p.m.
"It's just a big food fest"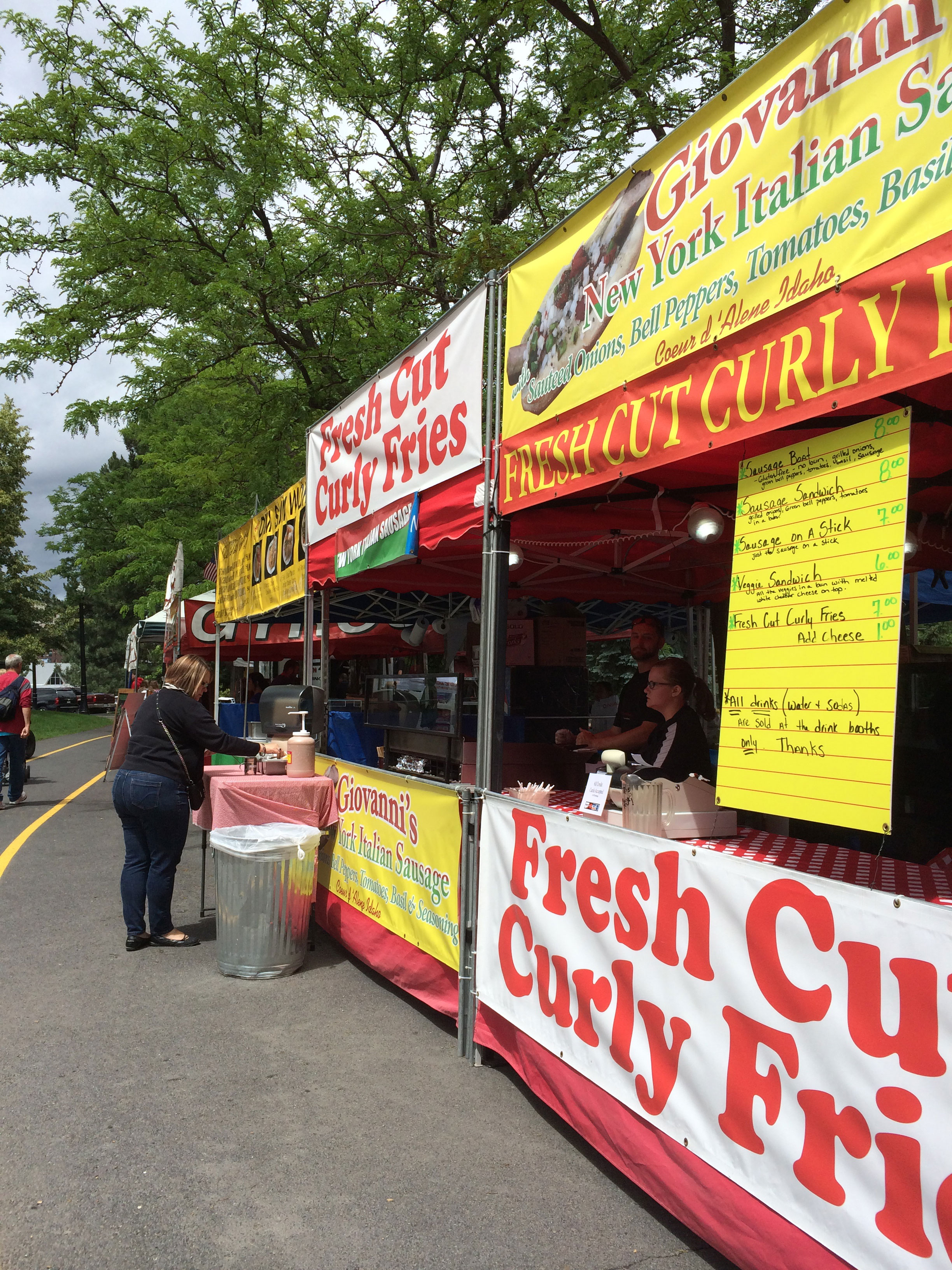 Food vendors are anticipating large crowds over the weekend for the Hoopfest festivities. Giovanni's New York Italian Sausages' owner, Pamela Eiter said her friends and family members have taken vacations from their everyday jobs to help serve crowds of hungry players. (Lisa Leinberger)
Giovanni's New York Italian Sausages are in Riverfront Park with many other food vendors this weekend, ready to serve up sausage sandwiches, veggie sandwiches, curly fries and sausages on a stick.
Pamela Eiter, one of the owners, said it's their fourth year at the event.
"It's just a big food fest," she said. "It's a great event."
Many of her friends and family often take vacations from their day job to help serve the thousands of customers expected this year.
Hoopfest Store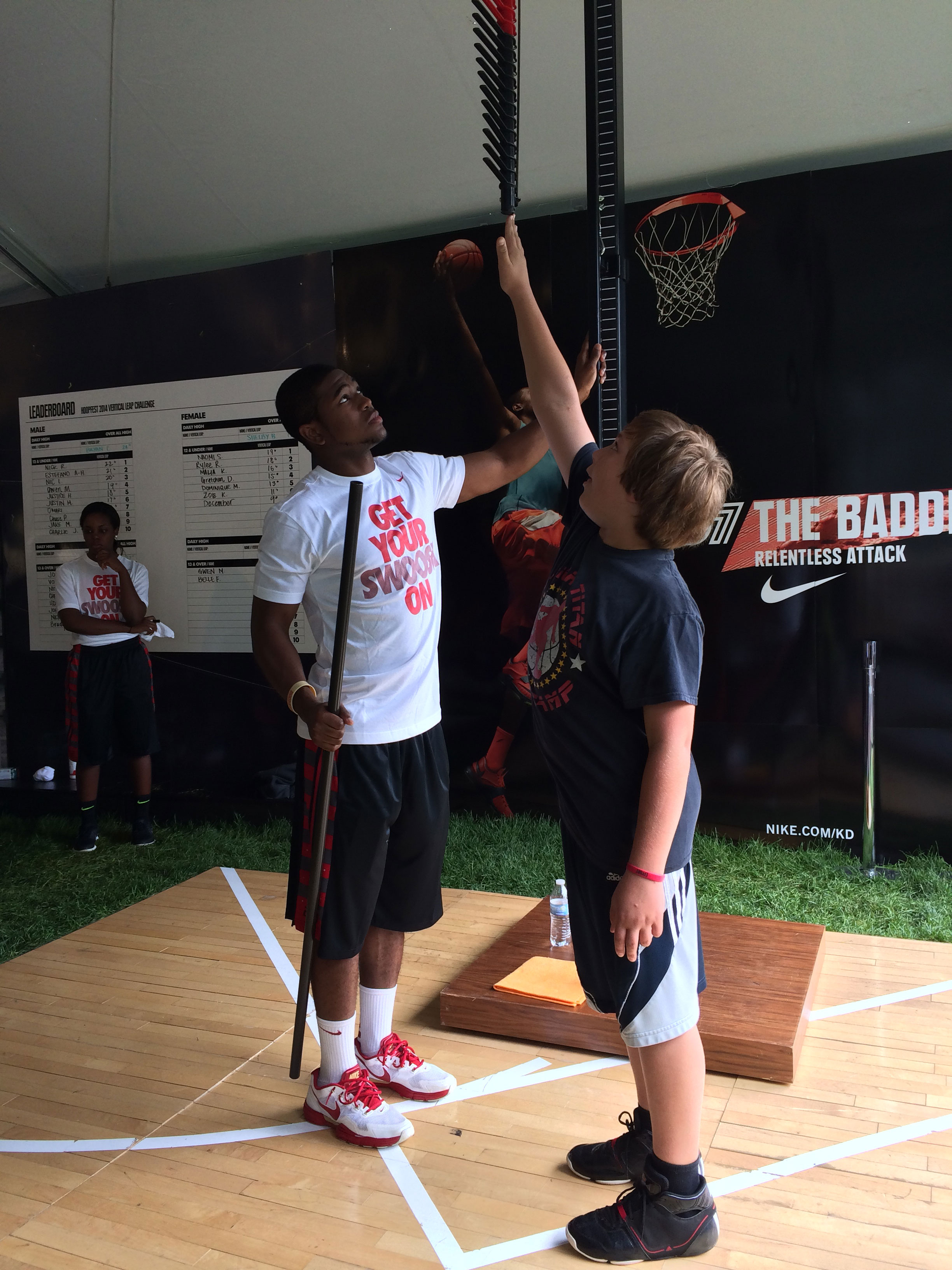 Curtis Drews, 11, prepares to get his vertical jump measured in the Hoopfest Store Friday afternoon. Employees at the store under the large tent sold t-shirts, basketballs, sweatshirts, socks, shoes and more. There was also a photo booth. (Lisa Leinberger)
Curtis Drews, 11, jumped as high as he could inside the Hoopfest store in Riverfront Park Friday, testing his vertical jump.
His father, Steve, said the family has done the tournament before, but it was the first time they had entered the tent with vendors selling t-shirts, basketballs, shoes, sweatshirts and anything else players may need this weekend.
There was also a photo booth, where kids were lining up to get their picture taken spinning a basketball on their fingers.
Music in the streets
The group of Nate Huntsman, Brendan Davis and Morgan Phillips will play under the team name, "Super Splash Bros," this weekend.
"I like playing to music," Davis said.
It's the third time the trio has made the trip to Spokane from Eatonville, Washington near Puyallup.
When asked what his favorite thing about Hoopfest is, Davis said without hesitation, "winning." He also enjoys seeing all the people that come to play.
Pictures retro-style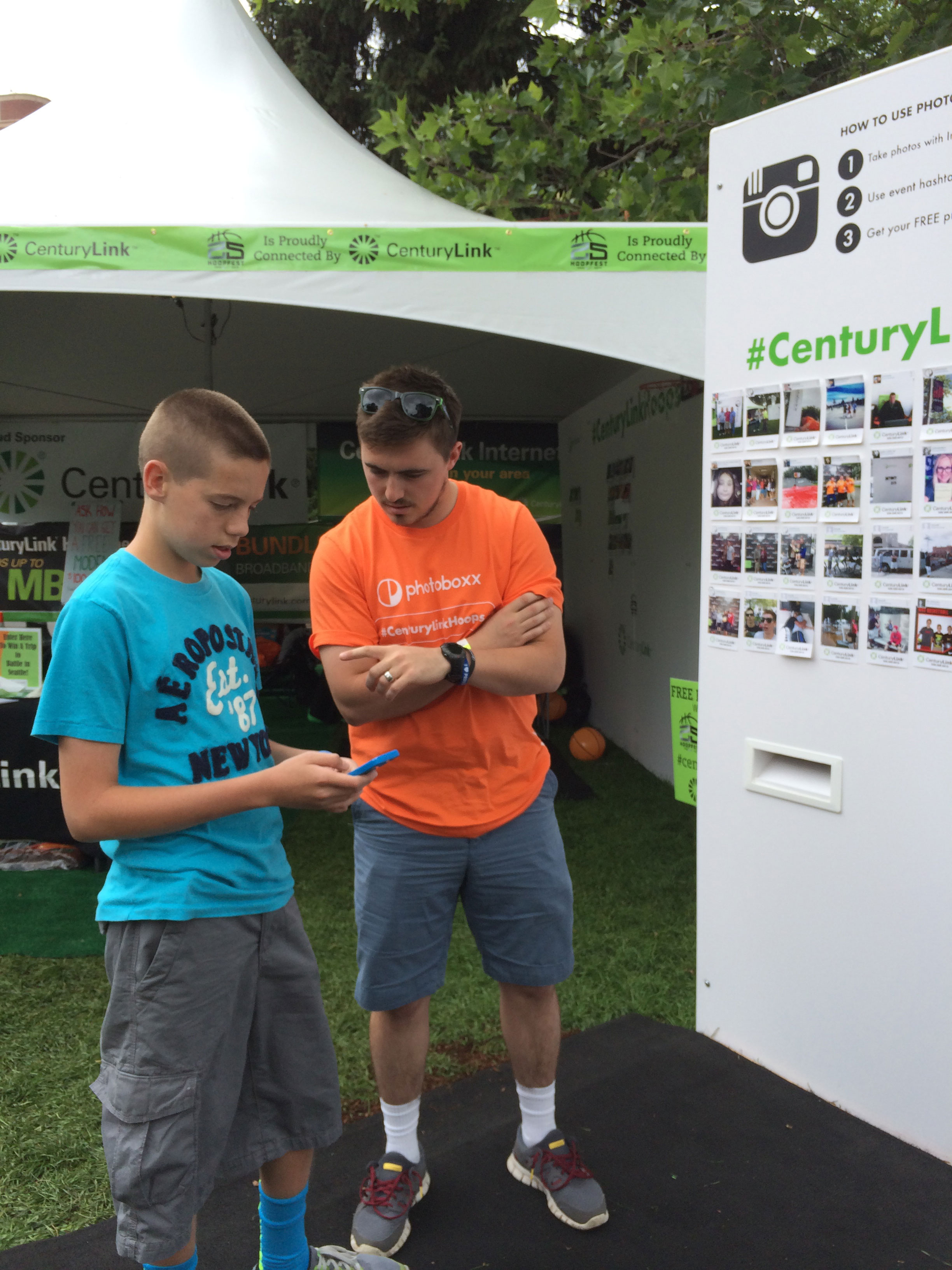 Devon Lind of Photoboxx answers questions from Bryce Logsdon, 13, from Boise. Instagram users at Hoopfest can use the hashtag #centurylinkhoops and can find their photo printed out at the booth in Riverfront Park along Spokane Falls Blvd. (Lisa Leinberger)
Those snapping pictures at Hoopfest with cellphones can quickly get an old-fashioned version – on paper.
Devon Lind, Michael Fisk and Matt Gibson of Photoboxx, a Spokane-based company, have teamed up with Century Link for folks who post to Instagram.
If users tag their photos with #centurylinkhoops, the photos will print out at the Photoboxx booth which has been set up along Spokane Falls Blvd. in Riverfront Park. People can pick up their photos for free. If you want a reprint, just share your Instagram photo again.
It's the first time the company has been to Hoopfest, although they were at Farm Chicks not long ago.
"It's a neat thing people like to do," Gibson said.
Street closing as a family tradition
At 6:30 p.m. Friday Jim Psomas hit the streets of downtown Spokane with his wife Julie and 16-year-old son Jimmy. Their mission: to close busy downtown streets while dodging cars trapped by the closures.
It's a task the family of volunteers has taken on for the last several years. They walk from intersection to intersection, placing barriers that are stacked and ready to go on each corner.
The family also serves as court monitors.
"We help out wherever we can," he said.
Lucky shot
Dave Mason is the manager of the Toyota Shoot-off raising money for Hoopfest, trying to get 125 people to qualify for the Toyota truck drawing. To qualify, shooters must hit a basket.
(SR Photo: Margaret Cowles)
Despite the down pour on Thursday, Dave Mason and the Toyota Shoot-off crew aren't worried about the weather for Hoopfest.
They've been raising money for Hoopfest with a half-court shot contest looking for 125 qualifiers to compete for a donated 2014 Toyota Tacoma. Mason is spending the weekend practicing his shooting recruiting Hoopfest players to donate $10 to Hoopfest for three chances at a qualifying half court shot.
---
---