School teams get creative for Destination Imagination finals
Thu., May 8, 2014
Billed as the world's largest celebration of creativity, Destination Imagination's global finals in Knoxville, Tennessee, later this month will draw teams from 40 states and 12 countries.
Two of those teams are from Spokane: one from St. Aloysius and one from Gonzaga Prep.
"We've been at this since these kids were in second grade," said Anne Walter, St. Al's team manager. "It's so exciting!"
The six team members are now in eighth grade.
The Destination Imagination program encourages teams of learners to have fun, take risks, focus and frame challenges while incorporating STEM (science, technology, engineering and mathematics), the arts and service learning. "It's really STEAM because they bring the arts into it," Walter said.
Each year, teams choose one of seven challenges as their project. The St. Al's team chose the fine arts challenge: Laugh Art Loud. The students had to select a piece of art crafted by an artist from a country other than their own, and then use that art to inspire a comic book strip. They are given 8 minutes to theatrically bring their comic to life.
Team managers are not allowed to interfere or instruct. "Their solution is entirely their own," Walter said.
Gonzaga Prep team manager Mike Carroll said that limited role can be both "frustrating and joy-filled."
"It's like having a football team where the players create all their own plays, without the coach's input," he said.
But both managers say that's the beauty of Destination Imagination – it frees students to discover creative solutions to challenges without the constraints of adult interference. "It stretches their imaginations," Carroll said. "And it's a challenge kids relish."
His six-member team, composed of freshmen through seniors, chose the Extreme Environments challenge. "They had to show a way to survive in an extreme environment," he said.
They chose under the earth as their environment and created an 8-minute musical about a person in search of a family heirloom. "He encounters several obstacles," said Carroll, "including a Trojan horse and a talking mosaic fish."
Their solution to surviving the harsh environment? A metallic armadillo that regulates temperature and spouts water. All of the sets and props are created by the students using a limited budget.
"The joy of seeing the kids solve the challenge is a joy that's out of this world," Carroll said.
The St. Al's team amazed Walter with the story they chose to tell: Using a colorful painting by French artist Gerard Fromanger as inspiration, the students tell a story of rejection and acceptance.
"The really sweet thing about these kids is they're very good at looking at their own lives and examining where they are right now," Walter said.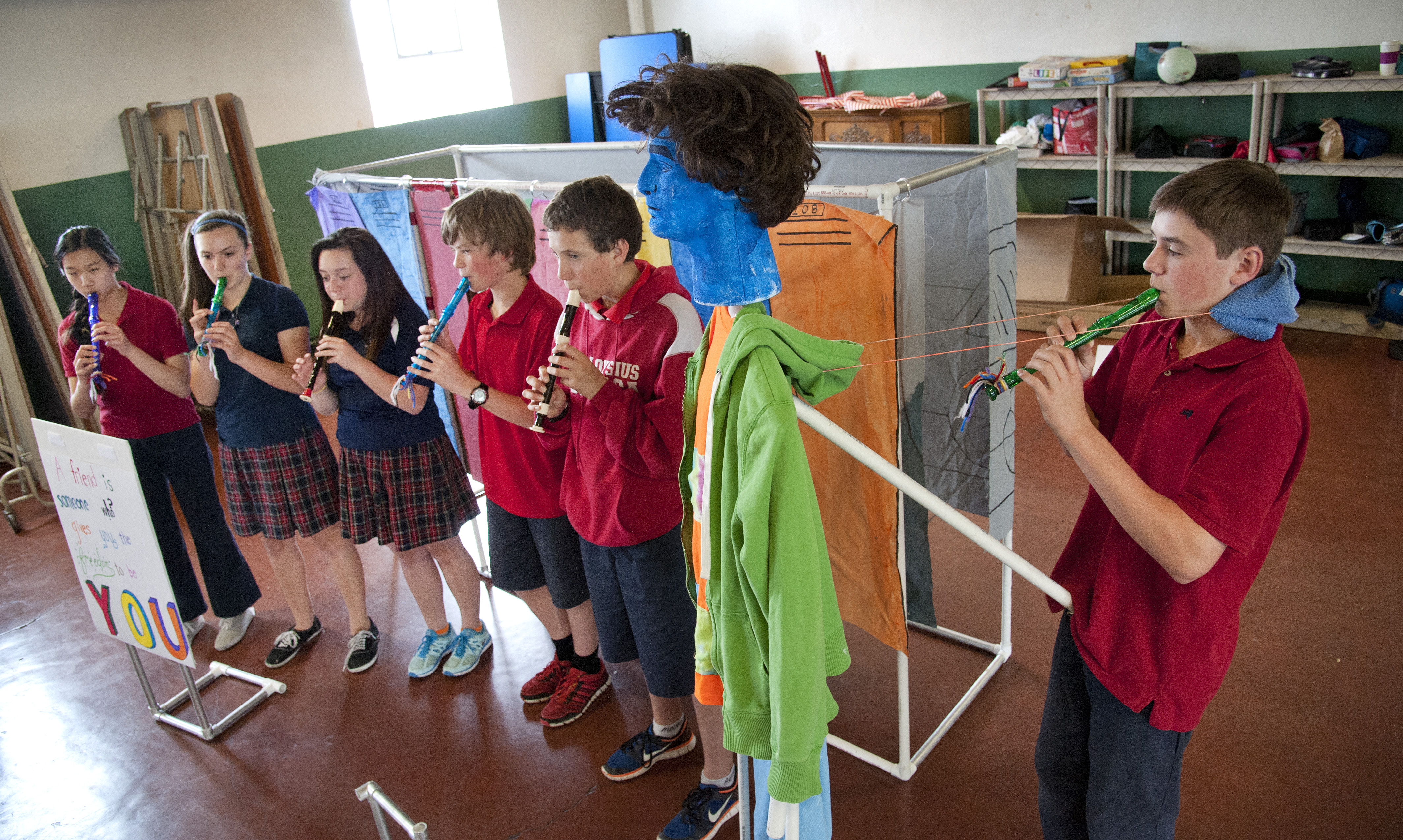 (Caption: St. Aloysius Catholic School students, from left, Cindy Ou, Frances Bertotti-Metoyer, Chelsea Power, Alec Walter, Chance Dixon and Mason Tiffany are preparing for the global finals of Destination Imagination in Knoxville, Tenn. Their performance is a lesson in tolerance. SR Photo/Dan Pelle)
Recently, the team did a quick run-through of their presentation as they prepared to ship their set to Tennessee for the finals. The set includes several panels and a larger-than-life puppet.
Mason Tiffany, 14, is responsible for the puppet. "I'm a Lego guy," he said. "It's fun to build stuff and hang out with friends." Looking up at his blue-headed creation, he added, "This is probably my favorite."
Frances Bertotti-Metoyer explained the story. "It's about kids at a middle school. We all start out wearing gray colors – it represents the conformity of middle school," she said. "Alec (Walter) comes in wearing a bright-colored shirt and we shun him."
Captions pop up at key times. Creating a caption contraption was part of the challenge. Students step on a portion of PVC pipe and up pops a frame with a caption inside it. Alec Walter said he got the idea after stepping on a rake in his yard.
The story unfolds in front of drab gray lockers, and when Alec removes his brightly colored shirt, he's accepted by the other kids. Then the puppet arrives, operated by Mason. The students mock his rainbow-hued clothing, but Alec reaches out to him.
"The message is not to be confined to what other people think, but to be unique and be yourself," said Frances.
Their performance ends with the team playing "True Colors" on recorders.
In addition to their first-place win at state, the St. Al's team was awarded a DaVinci Award for excellence in creativity.
"The beauty of DI is it integrates the strengths of the team members," said Anne Walter.
Carroll agreed. "You have engineer types working with actors – sparks fly! They learn a lot about personal integrity and being true to themselves," he said. "Destination Imagination prepares them so well for college and the workplace. I wish more schools would embrace it."
---
---
Subscribe and login to the Spokesman-Review to read and comment on this story