Sports
Grip on Sports: There are a lot of ways to judge U.S. Open winners – and losers
Mon., June 19, 2017, 8:19 a.m.
A GRIP ON SPORTS • There were winners and losers yesterday in the final round of the U.S. Open at Erin Hills north of Milwaukee. There always are. It's just tough to identify all of them. Read on.
••••••••••
• The winner on the scoreboard, and in the financial sense, was Brooks Koepka.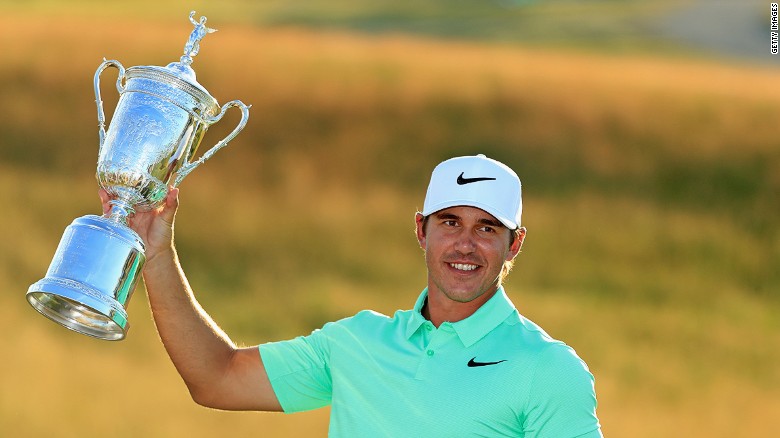 His 16-under score tied the Open record for lowest score in relationship to par (equaling Rory McIlroy's total from Congressional in 2011). And the $2.16 million Koepka won is the most in U.S. Open history.
But there were other winners as well. And some obvious losers.
Winner: Brian Harman. The young left-handed pro was able to hold on to second place despite showing his nerves down the stretch. The 72 he shot was good enough to tie Hideki Matsuyama for second at 12-under. That showing was good enough for $1.05 million.
Loser: Harman. His bogey at 18, which was playing as the easiest hole on Sunday, cost him about a quarter-million dollars. Then again, the 6-footer he made to save a 6 also made him about the same amount.
Loser: Joe Buck. The Fox announcer, who was solid all four days, made one big mistake after Sunday's final round, but it will live with him forever. As Koepka left the 18th green and headed to the scoring trailer, he was met by his girlfriend. Buck told the world about her. Except Buck was wrong. He identified Koepka's companion as Becky Edwards. Nope. The two broke up recently and Koepka is now dating Jena Sims (that's her pictured with the winner). Oops.
Winner: The anonymous producer who gave Buck that information. Much of the info on-air talent cites during these type of events is supplied by a guy in the background who does the legwork. Not all of it, sure, but let's assume Buck doesn't research everyone's significant other. He probably had a producer do it for him. We don't know that person's name. That's enough to make him or her a winner. Of course, they are probably looking for work today, so there's that.
Loser: Erin Hills. Sorry, but no matter how pretty the course was, and it looked great on TV, it wasn't much of a test – despite its length. Koepka's score tied McIlroy's record, sure, but six players were within six strokes of Koepka's final total. In McIlroy's win, no one was. The closest was Jason Day at minus-8. By the way, when Tiger Woods set the previous record in 2000 at Pebble Beach at 12-under, he was the only player under par. Miguel Jimenez and Ernie Els tied for second at plus-3. Contemplate that for a second. The course was so tough only one golfer broke par. And he won by 15 strokes. That's domination.
Loser: Rickie Fowler. The young gun with unlimited ability is well on his way to becoming Lee Westwood. With a chance to win his first major, he shot 72 on the final day. He still has yet to break par on a Sunday in the U.S. Open.
Winner: Fathers who love golf. The USGA is smart to finish up its tournament on that Sunday. It allows dads who want to watch a free pass. Son No. 1 can mow the lawn why daughter No. 1 sits and watches with Pops. And everyone wins. Including Spokane, where Father's Day was invented. Thanks Sonora Smart Dodd.
•••
WSU: Mike Leach is sitting on the coldest of cold seats – well, maybe not the coldest seat – in the Pac-12. … One long winning streak will end today at the college World Series.
Indians: It was Star Wars weekend at Avista and Rob Curley explains why that is important – and a perfect fit. … On the field, the Indians split a doubleheader with Boise. Whitney Ogden has the story. … Around the Northwest League, Eugene and Everett won.
Mariners: The M's are just treading water right now. Which isn't a bad thing. Not with all their injuries. That's the thrust of my column this morning in the S-R. (And this piece as well). … Seattle avoided a sweep in Texas with a Kyle Seager-powered 7-3 win over the Rangers, who were not happy with the umpiring. The M's return home today to start a series with Detroit. … Nick Vincent has been nails in the bullpen lately. … Of the M's top draft picks, only their second-round pick is yet to sign. … Jean Segura will be back soon. But a few years ago, he almost hung up his cleats.
•••
• I understand the weather is finally brightening in Spokane. The Central Coast of California is nearly perfect right now, though the traffic is, and always is, overpowering. Until later …
---
---
Subscribe and login to the Spokesman-Review to read and comment on this story