Sports
Grip on Sports: Man-bun aside, former Gonzaga star Kelly Olynyk is a certified Boston hero
Tue., May 16, 2017, 8:19 a.m.
A GRIP ON SPORTS • Back in the day, when Noah checked his weather app and saw the rain coming, he built an ark. These days, we mow the lawn. And get ready to hunker down with the television on. Lucky for us, a former Gonzaga star popped up on it last night. Read on.
••••••••••
• Remember Kelly Olynyk as a Gonzaga freshman? Heck, even as a sophomore.
He was a lanky, somewhat loose-limbed big guy from British Columbia seemingly bereft of coordination and production, right?
Sure, there was potential there. He was a 7-footer after all. But Gonzaga has had a few big men over the years that haven't been anything but big throughout their career. So when Olynyk redshirted between his sophomore and junior seasons, it seemed a bit out of left field.
Turns out, it was a life-altering move.
In the fourth quarter last night Olynyk took over the Boston Celtics' Eastern Conference semifinal deciding game, scoring time and again as the Celtics topped Washington, 115-105.
How did the Boston Globe describe Olynyk this morning, the day after he scored 26 points – 14 in the fourth quarter – in the franchise's biggest game this decade?
"… Olynyk, who is generally known just as much for awkward plays as he is brilliant ones."
That's not very nice.
But it's true. And it was even more true back in 2011, when Olynyk, who had scored 332 points in two mostly overlooked seasons at GU, decided to spend a season rebuilding himself.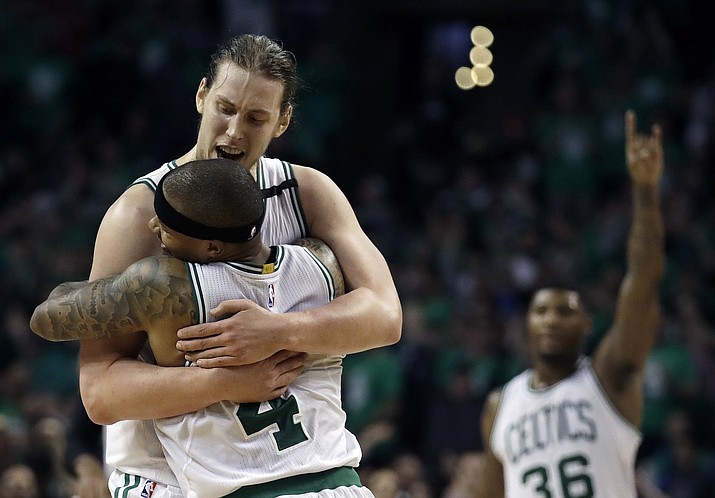 He did. During his redshirt junior season he basically doubled his points-per-minute average, improved his shooting percentages from the field and the line and improved his rebounding and defense.
He made himself into the WCC player of the year and a first-round draft pick.
And now into Boston's basketball hero.
But Olynyk isn't the only Celtic with Washington ties. Not at all. Two starters – Olynyk doesn't do that; he comes off the bench – went to high school in the state.
Isaiah Thomas, who scored 53 points in the second game of the series and is the Celtics' most important player, grew up in Tacoma and played for Curtis High before heading up the road to Washington.
Avery Bradley also is a Tacoma guy, and attended Bellarmine Prep before spending his senior year in Las Vegas.
Heck, Bradley and Thomas played AAU ball together. And now they are teaming with Olynyk in Boston.
Just like everyone figured back in the day.
• I'm thankful the fourth quarter of the NBA game last night was so exciting. It allowed me to take my mind off the Mariner game, though I did see Nelson Cruz's rocket to centerfield. But I'm happy I headed to bed before the ninth inning. It probably would have made it impossible to sleep.
As it is, what do you think was going through Scott Servais' head last night as it hit the pillow?
His closer, the young man with the golden arm, couldn't find the plate. His star second baseman can't play. His rotation is in shambles. He has to play some guy everyone calls Tuffy behind the plate.
And the fans, those few that show up to games, anyway, are restless.
Manager. What a great job.
•••
WSU: So what is going on with the Pac-12 Conference's finances? If that question is on your mind, you can find most of the answer here, courtesy of the San Jose Mercury-News' Jon Wilner. … If you have questions about Washington, Christian Caple has some answers. … Sometimes you win and sometimes you lose – players that is. … Arizona picked up a football commit. … Oregon's baseball coach isn't sure what his future holds.
NIC: The men's golf team had a successful NWAC tournament.
Preps: Central Valley seems to like playing its soccer matches on turf. Jim Allen has an advance of the state playoffs that begin tonight. … We also have a roundup of Monday's playoff action in all sports.
Mariners: All the particulars of the M's 6-5 victory over the A's last night can be found in the Mariners Log. As can the links.
Seahawks: The big news yesterday was the Hawks confirming they have interest in Colin Kaepernick (and Robert Griffin III) as a backup quarterback. Though the names overshadowed everything else, the underlying thrust here – Seattle feels it needs insurance not only for Russell Wilson but the oft-in-trouble Trevone Boykin as well – is crucial. Boykin's tenure with the team seems tenuous. … Eddie Lacy is on a diet plan I wish someone would fund for me. … The Hawks made some minor roster moves yesterday. … It's going to stay CenturyLink Field for a while.
•••
• It was raining as hard this morning at my place as it has in a while. Thank goodness I mowed yesterday. The wet weather really agrees with my grass. Until later …
Subscribe to the sports newsletter
Get the day's top sports headlines and breaking news delivered to your inbox by subscribing here.
You have been successfully subscribed!
There was a problem subscribing you to the newsletter. Double check your email and try again, or email
webteam@spokesman.com
---
Subscribe and login to the Spokesman-Review to read and comment on this story