Sports
Grip on Sports: Are the profits from Thursday night games worth the cost to the NFL?
Fri., Nov. 10, 2017, 8:45 a.m.
A GRIP ON SPORTS • We asked one question yesterday when we tweeted out the link to our column: Who will survive? Little did we know the answer was no one. Read on.
••••••••••
• Yes, the Seahawks "survived" their trip to the desert with a 22-16 win over the Arizona Cardinals. But they really didn't.
At least their Super Bowl hopes may not have. We know Richard Sherman's Achilles certainly didn't. Others, including newly acquired left tackle Duane Brown and running back C.J. Prosise – OK, we all knew he would be injured again, right? – didn't survive the end of the game either.
So who really won?
Not us. Not the folks who want to see the best that professional football can offer. We haven't been seeing that all season and injuries are a part of it. A big part of it. And Thursday night games don't help keep players healthy. There simply is not enough rest between games. No one in their right mind would argue that.
Most Thursday games turn out to be "poopfests," to quote the now out-for-the-season Sherman from last year. But they are also dangerous to the participants.
Being that the NFL's most important product is its players, you know the league values their players' health and safety over the money available from playing on Thursday night.
Sorry, lost my head there. Of course the league doesn't care. If it did, it wouldn't have instituted these games in the first place.
• Speaking of not caring, it's obvious the NFL doesn't care much about the officiating. If it did, such obviously missed calls as occurred in last night's game wouldn't happen as often as they do. In every game.
The league is a money machine. Every owner is raking in millions and, if they want to sell, billions. But hire full-time officials, pay them a salary commiserate with the difficultly of the job and train them year-round? Nope, can't afford that. Just because it would improve the quality of the product? The clucks out there accept it the way it is, so why should we improve it? Besides, it gives Seahawk fans something to whine about.
And there was plenty to whine about last night.
Yes, the Hawks do dumb things. And they need to improve their decision making process when it comes to penalties. But at least a third of the calls flagged in the first half were uncalled for. The most illustrative of these was a pass interference penalty on rookie Shaquill Griffin during the flag-fest that was the Cardinals' touchdown drive.
It wasn't a penalty. And certainly wasn't a penalty when compared to two plays made by the Arizona secondary in the half that went unflagged.
• College basketball season begins today all over America. Which got me thinking back to last year at this time.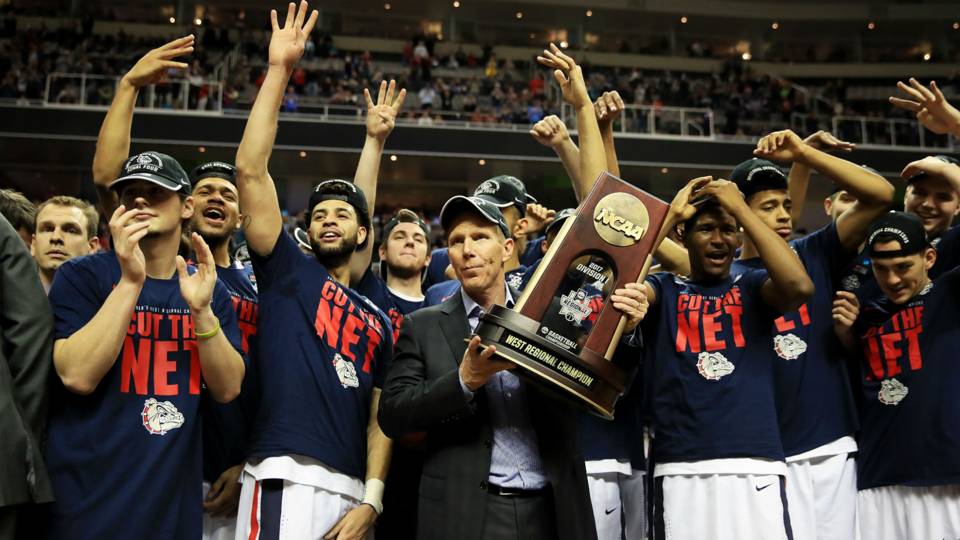 Who would have thought the Zags would end the season in the national title game? If you said "I did," shut the heck up. On paper, last season's Gonzaga team seemed to have a chance to be pretty special. There were some veterans returning who Mark Few could count on. There were some veterans returning who were questions marks. Both statements applied to the newcomers as well. The roster was intriguing but unproven. But would it come together in time to win the WCC title again? Would the Zags make a decent run in the NCAA tournament? Would the season be a success?
It turned out the answer to all those questions was yes.
By the way, the Zags were ranked 14th in the Associated Press' preseason poll last year. They are ranked 18th this season.
•••
WSU: Luke Falk is really good at leading late game-winning drives. Maybe it's because he's had a lot of practice. Theo Lawson takes a look at five of his best today. It's a story even Mike Leach would love. … Theo also has interviews with some assistants on our WSU football page. … Injuries earlier in the season may have helped Utah, missing one of its safeties, prepare for defending Washington State's offense. … The volleyball team signed three recruits.
Elsewhere in Pac-12, there seems to be a hierarchy forming in the conference, with Washington and USC on top these days. … But will the Huskies, and its top-rated defense, even make the conference title game? To do so, they probably have to win tonight at Stanford. A loss gives the Cardinal the inside track. … USC has a margin of error in the South, though the Trojans may not need it this week against Colorado. … So what's going on with UCLA's porous defense? Arizona State hopes to continue to run over the Bruins. … Oregon State is missing a couple players as it prepares for a night game at Arizona. (Is there any other kind?) … Oregon is still hoping to have Justin Herbert back after its bye week.
Gonzaga: If you are wondering who will serve as Gonzaga's backup point guard, Jim Meehan's story on Silas Melson lets you know. … Tonight's opponent, Texas Southern, has a veteran coach, an outstanding guard and a mileage plan to die for. Jim has those stories as well. … And Jim covers the news Johnathan Williams is on the Naismith Trophy watch list. … Speaking of awards, Jill Barta is on the Miller Trophy watch list. … Around the WCC, BYU is actually in rebuilding mode.
EWU: Over the years, Eastern has had to rely on a backup quarterback making a big start. As Jim Allen points out, those players have often stepped up and played well. … Jim also held his live chat yesterday and shares some basketball signing news. … Around the Big Sky, Southern Utah has some depth at running back, depth it needs. … With a lame-duck head coach, Northern Arizona is still doing well.
Idaho: The volleyball team survived a tough match in Missoula.
Whitworth: The Pirates have 18 football players from Hawaii, which is a huge increase in recent seasons. Whitney Ogden has more on the Whits bringing in players from the islands. … The basketball team has a game at Montana again.
Preps: The State B volleyball tournaments started yesterday and Colfax hit its way into the semifinals. … A former Lewis and Clark basketball guard is playing a new position at Montana State. As a senior.
Seahawks: We were unavailable to write the Three Takes last night, so Gene Warnick filled in. … Of course, Sherman's injury was the top story from the win, as his season is done. That's a hole that is going to be tough to fill. … Others were banged up as well. … Everyone stood for the anthem last night to underscore their protests are not about the military. … Russell Wilson was a wizard at times last night. And among those who were hit pretty hard. … The Cardinals are in trouble.
Mariners: Nelson Cruz was honored as baseball's best designated hitter. … A few familiar names may be leaving the organization.
•••
• We have to ask. Will Sherman ever return to his spot as one of the NFL's top pass defenders? Achilles injuries have a tendency to have long-lasting effects. Until later …
---
Subscribe to The Spokesman-Review's sports newsletter
Get the day's top sports headlines and breaking news delivered to your inbox by subscribing here.
There was a problem subscribing you to the newsletter. Double check your email and try again, or email webteam@spokesman.com
You have been successfully subscribed!
---