Sports
Grip on Sports: Sherman's departure reminds us of sports' impermanence
Sat., March 10, 2018, 7:59 a.m. A GRIP ON SPORTS • Nothing in sports last forever. Nothing. We are being reminded of that fact just about every day this week. Read on.
••••••••••
• Richard Sherman was a mainstay of the Seahawks' defense. Put the cornerback on one side of the field and teams – ask Aaron Rodgers – stayed away from throwing there. Challenge him, like the time the Super Bowl was on the line, and bad things happened.
But as Jerry Glanville once famously said back when the league was climbing to prominence, the NFL has a simple acronym: Not For Long.
Nothing, and nobody, lasts forever. Not even Tom Brady – even if he seems like it these days.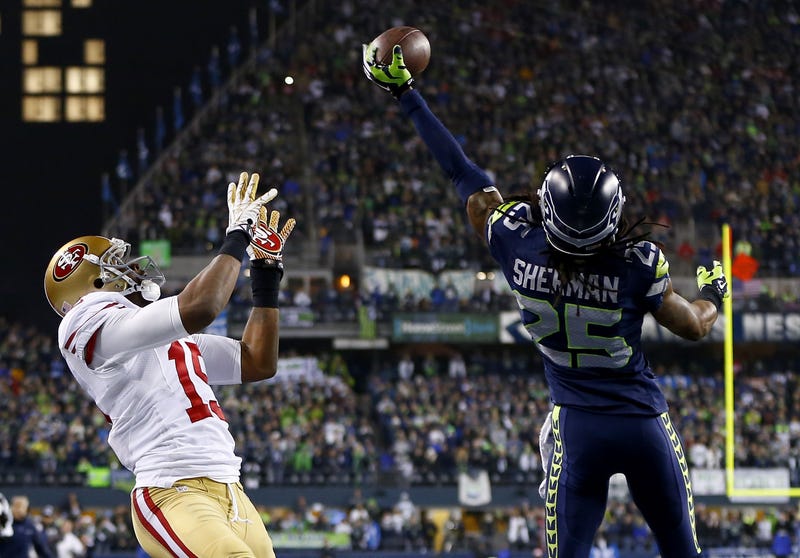 Sherman lasted seven years in Seattle. Seven years of excellent play, loud proclamations and tantrums. He seemed the perfect role model for Pete Carroll's defense, loud, brash and impossible to push around.
While he patrolled CenturyLink, the Hawks went from middle-of-the-road to the betting choice to win the Super Bowl. And they actually won one. And came this close to another.
But that door has closed on this group of players, with age and injury playing a part. Cliff Avril, Michael Bennett, Kam Chancellor (probably), Sherman, they have all succumbed to the NFL's brick wall, the salary cap.
The Hawks' run of success was sparked by Russell Wilson's magic, even in that regard. A middle-round draft choice, Wilson was an elite quarterback being paid like a backup left guard. That allowed the team to spend money elsewhere.
But the bill came due, Wilson is now in the upper echelon of NFL quarterbacks in the pay scale rankings as well. That leaves less for elsewhere. It showed last season. It is showing this offseason.
The Seahawks are being remade. Rebuilt, if you want to use a cliché. Sherman was asked to chip in with a salary cut, according to reports, and didn't agree. So he's been released.
He is a free agent, able to sign with anyone. It could still be the Hawks – some Las Vegas lines have Seattle as the second favorite, right behind the 49ers – but seems ready to head somewhere else. He's coming off a couple offseason surgeries to his legs, which are, after the brain, a cornerback's most important physical attribute.
He will leave a legacy. And a huge hole on the defense no one can fill.
• Talk about legacy. Bogdan Bliznyuk has quietly built one in Cheney. Eastern Washington's do-everything forward set the Big Sky Conference scoring mark last night in the Eagles' semifinal win over Southern Utah. He will try to pad it a bit tonight as Eastern attempts to return to the NCAA tournament with a win over regular-season champion Montana.
And he's done it all a little under the radar.
Gonzaga dominates our local college basketball scene, and rightfully so. The Zags' run of national-level success has earned them the local spotlight from all forms of media, including this one.
And Bliznyuk, always a well-rounded player, had another handicap in the PR department. Playing at Eastern, he was overshadowed by teammates Tyler Harvey and Venky Jois, who both set offensive records while in Cheney.
While Harvey was leading the nation in scoring in 2015, Bliznyuk, a freshman, averaged 8.7 points per game. With Jois setting Eastern all-time marks in 2016, Bliznyuk averaged 12.6.
But last year Bliznyuk was the featured player in Jim Hayford's offense and he scored almost as many points as a junior as he did his first two seasons combined.
And this year he's gotten even better.
He's the best player in the Big Sky Conference. He's one of the best in Eastern Washington's history. And he's trying to get the Eagles, under first-year head coach Shantay Legans, to the NCAAs for the second time in four years.
That's a big deal, no matter how large the local shadow.
•••
WSU: The big news in the Pac-12 yesterday was the basketball tournament's semifinals. That's not something Washington State participates in. It's the purview of the Arizonas and UCLAs of the conference. Those two met in one semifinal, with the Wildcats prevailing, as the Bruins couldn't score in overtime. … The other semifinal pitted USC and Oregon, with the Ducks knowing they needed to win the tournament to have an NCAA tournament shot. They didn't. The Trojans and Arizona will face off today for the conference crown. … Washington is looking toward the NIT. … Will Arizona State be headed to the same tournament? … How about Utah?
Gonzaga: San Diego is looking for a new basketball coach.
EWU: The Eagles' 82-70 win over Southern Utah lifted them to tonight's final in Reno. Jim Allen has the story. Hopefully, the crowds at the Reno Events Center will improve. … The Eagles' run to the tournament championship game is also covered in Larry Weir's latest Press Box podcast. … Northern Colorado needed just one of two free throws as time expired to win in regulation. But the Bears missed both and Montana won in overtime.
Idaho: The Vandal women shot their way into today's championship. Jim also has that story. They will face regular season champion Northern Colorado. … Peter Harriman has a feature on an Idaho senior football player who earned All-American academic honors.
Chiefs: A late flurry by Seattle sent visiting Spokane down to a 4-2 defeat.
Whitworth: Indoor track season is winding down.
Mariners: Dee Gordon hit two home runs yesterday. The M's lost. … Ichiro says he's ready to play in games.
Seahawks: Sherman's departure elicited many responses, nationally and locally. But there are certain plays he made that will live on for years in the Northwest's sports consciousness.
•••
• Ever look up and be surprised by what one of your sports teams has just done? That fits me right now. My alma mater, UC Irvine, is one game away from an NCAA berth. Which begs the question: how bad is the Big West? The Anteaters, who are barely over .500, will face archrival Cal State Fullerton with the berth on the line. Until later …
Subscribe to The Spokesman-Review's sports newsletter
Get the day's top sports headlines and breaking news delivered to your inbox by subscribing here.
There was a problem subscribing you to the newsletter. Double check your email and try again, or email webteam@spokesman.com
You have been successfully subscribed!
---