Sports
Grip on Sports: If the question is 'what region is experiencing the most college football success,' we have the answer
Tue., Oct. 2, 2018, 8:06 a.m.
A GRIP ON SPORTS • You have any questions today? We do. And answers as well. Read on.
••••••••••
• You know, when you supposedly have all the answers, it's a lot easier to pick the questions to which you want to respond. That's one of the best parts of being in charge of this column.
• What will be the biggest upset in the Pac-12 this week? If either Oregon State or UCLA ever win a conference game, it will qualify no matter what week it is. But as they are playing the Washington schools at home this Saturday, I don't see either happening.
Which brings us to Stanford. The Cardinal are beat up. They may not have Bryce Love again. Their chances of a playoff berth were ground into the South Bend turf. And here comes Utah. The Utes are 0-2 in conference. A third loss will kill any chance of winning the South, something they have never done. The defense matches up well with Stanford's offense. The Utah offense, though still one-dimensional, showed some signs of life against the Cougars. As upsets go, this seems to be the one to pick.
• Why did Earl Thomas do what he did? Anger, frustration, disappointment? Pick one. The all-pro safety flipped off the Hawks' bench Sunday as he was being carted off the field. It seemed so low-class a move from a guy who has been pretty high-class throughout his arguments with the Seattle hierarchy.
It just shows how emotional a game football is. To play it at the NFL level, and to play it well, those who participate have to exhibit a mindset that most of us never reach. Anger is part of it. I'm guessing, and it is only a guess, Thomas was so ticked off about the injury, about the circumstances of the season, about everything, he just couldn't control himself.
• If you were the general manager of the Mariners, what would you do? Myself, I would resign. I don't think this franchise is fixable right now.
There is no way the ownership group would be willing to eat some $50 million in contracts (all of Felix Hernandez's and Juan Nicasio's and part of Robinson Cano's so they can trade him) and then spend a corresponding amount of cash to fill holes. It's too much money. But it is also the only way to right the ship.
Heck, I'm not sure management would eat the contracts and rebuild with young guys. They would be too worried about drawing 15,000 every night and losing even more money.
So the only answer to this imaginary scenario is to get out the door before your reputation is destroyed forever.
• Is there a better area of college football these days than the Inland Northwest? I'm sure there is, but with Whitworth on top of the Northwest Conference, Eastern one of the best teams in the FCS and Washington State once again contending in the Pac-12 North, three of the four college football teams in the area are at the top of their game.
Idaho is the outlier, which is too bad. The Vandals have wandered in the FBS wilderness so long, it would have been fitting for them to have a successful first season back in the Big Sky. But so far they have been floundering at .500, trying to right the ship.
If they can put it together, and the other trio continues to play well, then this has a chance to be the best season ever for college football in the region.
•••
WSU: Mike Leach's Monday meetings with the media have taken on a life of their own over the past seven years. There is even a late question designed to get Leach to riff on some aspect of life outside of football. And he rarely disappoints. His comments yesterday were at the core of three Theo Lawson stories, the longest of which, some gamesmanship versus Texas, Leach explained in great detail in his first book. … Theo also covers the status of Rodrick Fisher, the East Valley graduate who may be the first Cougar to take advantage of the four-game redshirt rule, and Leach speaking about his interpretation of offensive balance. … Theo also takes his first look at Oregon State. … Larry Weir and Theo spoke yesterday for the latest version of the Press Box pod. … The Beavers are struggling right now. Mike Leach understands. … Even with all its defensive problems, Oregon State has still been just a play or two from being in games.
Elsewhere in the Pac-12, Larry Scott's comments concerning the no-call in the USC/WSU game are still biting the commissioner in the hand. Jon Wilner weighs in a bit today in his power rankings. The biggest problem with Scott's most recent comments? He is complaining his original comments were misinterpreted. Knowing the AP reporter who passed them along and that she tapes all interviews, Scott was quoted accurately. And then reading them, it's almost impossible to interpret them the way Scott says he meant them. So I'm baffled why he's keeping this alive. … Back to football, Washington, which faces a tough October schedule, is reaping the benefits of having a four-year starting quarterback. … Oregon and Washington will play an old-fashioned, middle-of-the-day game Oct. 13. … Colorado's depth has improved on the offensive line. … With a losing Pac-12 season looming, Utah is beginning to question its leadership. … The quarterback situation at UCLA is still unsettled. … Herm Edwards is still learning about Arizona State's Pac-12 opponents. … Should Arizona sit Khalil Tate and let him heal?
EWU: Around the Big Sky, this season has been OK for Montana State entering its bye week. … It has been pretty "decent" for 14th-ranked Montana.
Chiefs: Elsewhere in the WHL, Portland has shown some encouraging signs.
Indians: Spokane and the Texas Rangers have agreed to at least two more years together.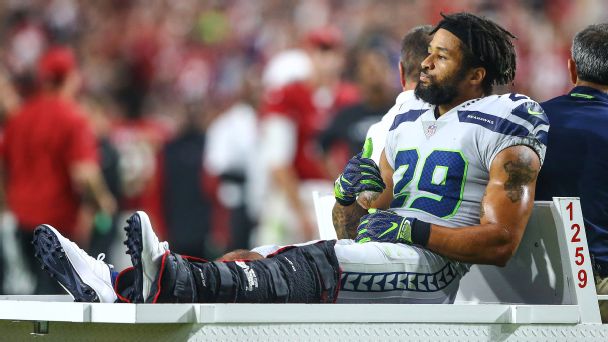 Seahawks: It was a gamble. A gamble for the Hawks to keep Thomas. A gamble for Thomas to play. Both lost their bets in Arizona on Sunday. … Russell Wilson will do whatever he has to do to help a running back score. … Cut Earl Thomas some slack, will you? That's Pete Carroll's keep-the-locker-room-happy move this week. … Paul Allen's cancer is back.
Mariners: There is always a fall guy when a team fails to reach its goal. For the M's this season, the fall guy is Mel Stottlemyre Jr. He won't be back as pitching coach next year. … In the S-R's last Out of Right Field column of the year, Gene Warnick looks ahead to 2019. The offseason is filled with more than a few questions.
•••
• An early heads up. I will be on an airplane before sunrise Friday, heading for a week in the Eastern time zone. It means there will not be a Grip on Sports that day. We will return Saturday. Until later …
Subscribe to the sports newsletter
Get the day's top sports headlines and breaking news delivered to your inbox by subscribing here.
You have been successfully subscribed!
There was a problem subscribing you to the newsletter. Double check your email and try again, or email
webteam@spokesman.com
---