Sports
Grip on Sports: Mr. Smith comes to Washington State
Tue., April 2, 2019, 8:31 a.m. A GRIP ON SPORTS • Welcome to Washington State, Mr. Smith. Now win games, graduate players, fill Beasley and drive a combine just north of Colton in August. That's all. Read on.
••••••••••
• New Washington State basketball coach Kyle Smith has spent his coaching career in two main places: the Bay Area and New York City.
It's little wonder he called Pullman "the friendliest place on Earth." Compared to those two locales, it is.
We kid, of course. Pullman is a friendly place for basketball coaches. At least their first year. To keep that "we're-so-happy-to-have-you" vibe going, however, some things will have to happen.
At the top of the list: win games. Actually, that may be the whole list.
Unless you take the Dick Bennett approach and use hand signals to let the Washington crowd know how you feel about it. That's another way to become a legend on the Palouse, but it only works, more than likely, for a veteran coach with a Final Four on his resume. And before video became ever-present.
The venerated Washington State basketball coaches of the past include George Raveling, Kelvin Sampson and Tony Bennett. Add in Jack Friel and Fred Bohler and you have the only five coaches in the past 100 years who actually didn't have a losing record at WSU.
Winning will win over the Cougar fans. Right now, all they really want to know is whether Smith can add his name to the list.
He certainly emphasized the right things yesterday. Coaches who have been successful on the Palouse in the last half-century have emphasized the defensive end. (Remember the "intensity" practice shorts Sampson's teams used to wear and the floor-slapping, in-you-face defense that came from modeling that behavior?)
Offense? Whatever the Cougars run will be good with the fans as long as the team wins. In his previous stops, Smith has relied on offensive principles that go back to Pete Carril and Princeton, back when the Tigers were putting the scare of a lifetime into higher-seeded teams in the NCAA Tournament.
You like hard cuts, screens and deception? You value toughness and rebounding? You'll love the way Smith's teams play.
It worked at Columbia, in the heart of New York City. It worked at USF, in the heart of San Francisco. And now he'll try to make it work in Pullman, in the heart of the Palouse, the most down-to-earth place on the planet.
• Does it happen over night?
If it does, make room in Terrell Mall for a new statue, because Smith wasn't handed a program at the top of the Pac-12 pecking order.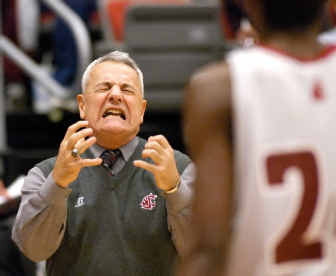 When Raveling took over in the early 1970s, it took him four years to put together a winning team. The same for Sampson in the late 1980s. Bennett won in his first year, but only after his dad had endured three awful seasons rebuilding the mess left by Paul Graham.
One could posit the program is in as bad a spot as it was in 2003, when Jim Sterk hired the elder Bennett – but one would be wrong. That was the nadir of WSU basketball in more ways than one.
But Smith faces different challenges, as the entire landscape of college basketball has changed in the past 15 years. And Washington State, with its less-than-sparkling facilities and deep budget woes, has struggled to keep pace. Hence, the six-year commitment the school has made to Smith, who is making a similar promise just by leaving a school in which he's won 20 games a year every season.
The Cougars may not win next year. Or the year after. But most in the college basketball community I trust believe Smith will win in Pullman in the not-too-distant future. He has a plan, he has a philosophy and he has the humble nature to accept the challenges – and overcome them.
That's a great combination. And one that has proven to work at WSU before.
•••
Gonzaga: Nope, we're not done with GU basketball just yet. Jim Meehan not only talks with Larry Weir for the usual Monday Press Box pod, he also has a story on Rui Hachimura's contributions to Japan's recent basketball success. … Around the WCC, filling BYU's coaching vacancy make take a new approach.
WSU: The media event in Pullman yesterday introducing Smith to the Inland Northwest and Cougar alums not only displayed the new basketball coach, but prominently featured the successful football coach. Yep, Mike Leach was in the house, posing for pictures and making funny comments. Theo Lawson was also there and he has two stories on Smith's introductory party, including an overview and 19 takeaways. Why 19? See the picture above. … Elsewhere in the Pac-12, another school, California, introduced its new head coach yesterday. The choice was made with some costly help. … Too bad the Pac-12 didn't make more money in the NCAA Tournament. … USC's Lynn Swann has figured out a way to make more money. … Utah is losing a player to transfer. Oregon may lose more than one to the pro ranks. USC is picking up one. … UCLA is still looking for a coach, though just by talking with Kentucky's John Calipari, the Bruins helped him get a lifetime contract. … There is one Pac-12 team still playing, though Oregon will face top-seeded Baylor in the women's Final Four. … Stanford's season ended against Notre Dame. … There is football news from Washington, USC, Utah, Colorado and Arizona.
Idaho: One of the most important aspects of spring football is figuring out who is ready to replace the players who have graduated. The Vandals are trying to identify those replacements on defense, as Peter Harriman explains.
Preps: Former Central Valley High standout Ryan Looney took his Point Loma basketball team to the Division II title game this season. Ryan Collingwood has more in this story.
Mariners: Felix Hernandez hasn't won in a while. Thanks to the M's potent offense (and no thanks to their porous defense), he earned one last night against the Angels and Mike Trout. … The M's made a trade for another bullpen member. … Gene Warnick, who took fewer swings on the golf course yesterday than yours truly (not a huge accomplishment, actually), has a game summary in the latest Out of Right Field appearance.
•••
• The first round of golf each spring is an adventure. Muscles unused for months make an appearance. Clubs that have gathered dust are asked to perform with little prep time. And the swing you've imagined making while watching Dustin Johnson play Pebble Beach is just that, imaginary. Still, when that first clutch 17-inch putt drops on the 11th hole, there is some satisfaction in knowing you aren't going to double-bogey all 18. Until later …
Subscribe to the sports newsletter
Get the day's top sports headlines and breaking news delivered to your inbox by subscribing here.
You have been successfully subscribed!
There was a problem subscribing you to the newsletter. Double check your email and try again, or email
webteam@spokesman.com
---