Everything tagged
Latest from The Spokesman-Review
My in-laws were in town last week and asked, "Who is Al French?"
It was another indicator that French has been effective in getting his name out in the community.
With eight years on the Spokane City Council, French already had an advantage in name recognition — at least over his GOP rivals.
Now French has mailed a flyer that takes aim at his Republican competitors over the Spokane County Raceway. This morning, it sparked a response from Steve Salvatori, one of his Republican opponents who also hopes to represent the county's 3rd Commissioner District. Salvatori accuses French of "deliberately" misstating his position.
The mailer shows two racecar drivers, one labeled Steve (for Salvatori) and one labeled Jeff (for Jeff Holy). The text says, "Steve says Zoom" and "Jeff says V-room."
French's ad says he's the only GOP candidate that "says stop wasting tax dollars on a raceway." In a Spokesman-Review questionnaire last month, French wrote that the county should "develop a strategy for getting the racetrack back into the hands of the private sector."
The flyer is accurate if his point is that he's the only Republican candidate currently advocating the sale of the track — at least based on the candidates' responses to the newspaper survey. But the flier appears to exaggerate his opponents' enthusiasm for the track. Here's what Holy, the Spokane County Republican Party's preferred candidate, told The Spokesman-Review about the raceway: "I would not have purchased the racetrack when other essential services weren't being adequately funded. It's all about failing to make the priorities of government a priority. To protect county tax dollars, we now must avoid the mistake the city of Spokane made with the purchase and subsequent desperation sale of Playfair Race Course, where lack of adequate planning caused a multimillion-dollar loss."
That's a position that may be hard to equate to "V-room."
Here's an excerpt from Salvatori's news release: "The mailer implies that both Jeff Holy and I advocate spending tax payer dollars on the Spokane Raceway and that Al is the only republican candidate against it. I want to make clear that Mr. French is free to distribute as many mailers as he can afford, but he does not have the right to deliberately misstate the positions of his opponents."
Salvatori says his position is to convert the track to "an enterprise fund. That would ensure it breaks even on an operating basis, and prevent any further outlay of taxpayer money."
Republicans on the county commission bought the track in hopes of the raceway generating enough revenue to pay for its operations, but the track has thus far struggled to pay its own way.
To read all the candidates' responses to The S-R's questionnaire, click here.
(As a member of City Council, French supported the purchase of Playfair for sewage treatment and later fought the selling of the land, arguing that it should be used as a train-loading center to spark commerce. When that proposal didn't gain support, French said he would support the sale of the land to a business.)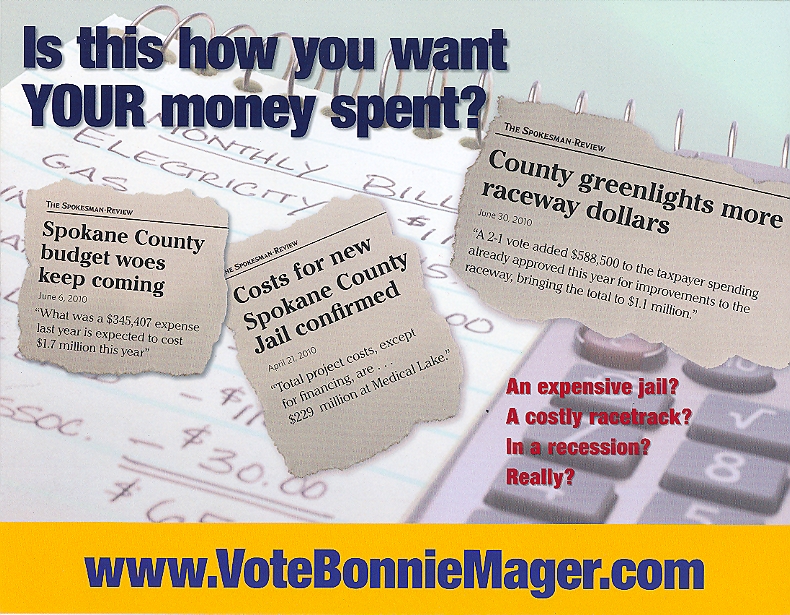 The race for county commissioner is one of the most competitive in Tuesday's election. As the only Democrat, incumbent Bonnie Mager has the easiest path to the November election. If French's campaign fliers are any sign, she also could benefit from her strong stance against the raceway. One of her recent mailers highlights her opposition to the track as well as her criticism of the cost of plans to replace Geiger Corrections Center.
A day after announcing an end to his campaign, David Elton says he's back in the running for Spokane County Commission.
On Monday, Elton wrote a news release announcing his departure from the race. Today, he told a Spokesman-Review reporter that he'll still be a candidate because it's too late to get a refund on his $930 filing fee.
"I will be running," he said. "But I will not be running a full-fledged campaign."
Elections Manager Mike McLaughlin said Elton's check that he submitted earlier this month when he filed to run for the seat bounced. Even so, McLaughlin said it's past the deadline for him to withdraw.
David Elton, a civic gadfly and former radio show host, announced Monday that he is dropping his bid for Spokane County Commission.
Elton had filed to run as a Republican for the seat held by Democrat Bonnie Mager. Elton faces harassment charges related to e-mails he sent that allegedly threatened City Council President Joe Shogan and Cowles Co. Chairwoman Betsy Cowles. The Cowles Co. owns The Spokesman-Review.
Elton recently was ordered by a Spokane County Superior Court judge to undergo mental evaluations to decide if he's competent to stand trial.
"Mr. Elton believes that he cannot get fair and accurate media coverage from the local journalists," said a news release from Elton that announced his departure from the race.
Spokane County Elections Manager Mike McLaughlin said it's too late for Elton to pull his name from the August primary ballot. Mager and Republicans Jeff Holy, Al French and Steve Salvatori remain in the race for County Commission.