Everything tagged
Latest from The Spokesman-Review
As the year ends, we look back at the events - global, communal, private - that define 2011. From Egypt's Tahrir Square to Wall Street; from Libya's political upheaval to Japan's quaking destruction, we have witnessed drama and change. Osama bin Laden is dead; our soldiers (we can now "ask, tell") have left Iraq. The 9/11 New York memorial offers an oasis of peace. A prince took a wife in London; Republican candidates took to the campaign trail. The space shuttle landed for the last time.
Take a few minutes to enjoy the New York Times "The Year in Pictures" with Colum McCann's words; be amazed at the journey we - now seven billion of us - have taken together on our planet.
(S-R archives photo)
It was a fitting end to a season that Vandals far and wide wish they could erase from their collective memories.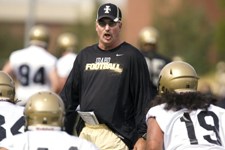 A forgettable, yet unforgettable 56-3 thrashing by Nevada on Saturday capped a painful three-month stretch which featured two wins, four losses by seven points or fewer and one of the most consistently underprepared football teams I've ever had the pleasure (or in this case, displeasure) of watching. In the fourth quarter on Saturday, Idaho was able to sum up its season with a comedy of errors that seemingly only the Vandals could pull off. With backup Taylor Davis in at quarterback and the Vandals facing a fourth-and-8 down by 46 points, the offense couldn't get the play in and had to take a delay of game penalty/Troy Warzocha, Lewiston Tribune. More here. (Daily News/AP photo: Coach Robb Akey gives direction to a special teams unit in August when Vandals were dreaming of a bowl bid)
Question: What was wrong with 2011 Idaho Vandals?
New technology often surfaces in campaigns — whether it was candidate websites, scientific polling, automated calling, Facebook, Twitter, or plastic yard signs.
City Council President hopeful Ben Stuckart and City Councilman Richard Rush appear to be the first local candidates using the latest technology to get the word out: Quick Response codes — boxes that can be quickly scanned by smartphones to redirect users to websites.
Rush, who faces former City Councilman Mike Allen in his reelection bid, said one of his supporters suggested placing the codes on his campaign yard signs. Rush said that didn't turn out to be practical but that his campaign decided the codes would work better on fliers left on doorsteps "so people could actually hear me speak to them."
The bar code links to a Rush campaign video.
Stuckart used the code on a flier during his hotly contested primary. He faces former Mayor Dennis Hession in the November election.