Everything tagged
Latest from The Spokesman-Review
Spokane-area residents will have chances to ask their legislators what's going on in Olympia this weekend at several town hall meetings scheduled for Saturday.
Sen. Andy Billig, Reps. Timm Ormsby and Marcus Riccelli, all Democrats from central Spokane's 3rd District, have a 10 a.m. meeting at Shadle Park High School Auditorium, 4327 N. Ash, and a 2 p.m. meeting at Emmanuel Family Life Center, 631 S. Richard Allen Ct.
Sen. Mike Baumgartner, Reps. Kevin Parker and Jeff Holy, Republicans from northwest and south Spokane's 6th District, have a 10 a.m. meeting at Lincoln Heights Elementary School, 3322 E. 22nd Ave.
Not sure what legislative district you're in? For a detailed map of Spokane-area legislative districts, click here.
Many residents of the West Plains likely will vote for different legislators this fall, even if they like the ones they have right now.
Medical Lake and Cheney residents would no longer be sharing their legislators with Ritzville and Pullman, and Airway Heights and Fairchild Air Force Base residents won't share theirs with Colville and Republic. Instead, all would elect legislators with voters on Spokane's South Hill and the city's northwest neighborhoods under the new boundaries established by the Washington Redistricting Commission this week.
The commission moved much of the West Plains into the 6th Legislative District as it rearranged boundaries around the state to make up for the increased population recorded in the 2010 Census.
With a statutory deadline just hours away Sunday evening, the redistricting commission overcame the biggest sticking point in drawing legislative and congressional boundaries for the next 10 years – Eastern Washington legislative boundaries.
The plan on which they settled . . .
To read the rest of this post, go inside the blog.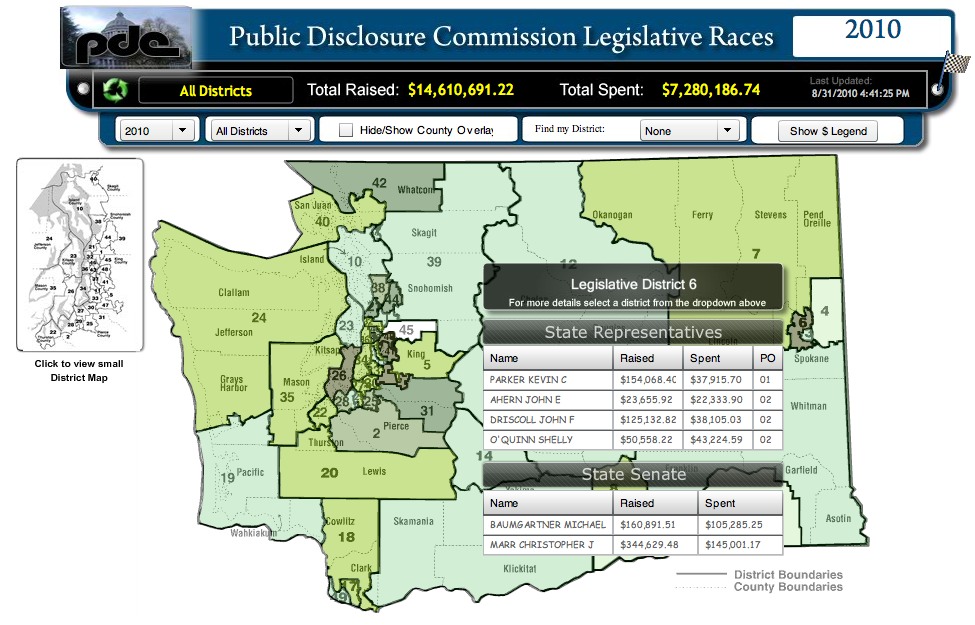 Click on the image to get to the PDC's interactive map on  legislative campaign spending.

A Spokane legislative district is tops in the state for money raised by candidates, and near the top for spending that money before the August primary.
The 6th Legislative District – which curves around central Spokane's core from the Whitworth and 5 Mile arreas to the South Hill – is often a pricey political battleground. Its last three state Senate races have been the three most expensive Senate races in state history, with the 2008 contest between Democrat Chris Marr and Republican Sen. Brad Benson at the very top of the list with nearly $818,000 spent for a seat that pays just over $42,000 per year.
This year is likely to follow that trend …click to go inside the blog and read the rest of this story or leave a comment.