Everything tagged
Latest from The Spokesman-Review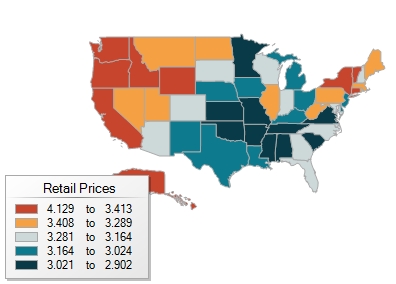 HUNTING/FISHING — Declining fuel prices are good news for hunters in the peak of the fall seasons as well as for steelhead anglers pulling boats to the big rivers:
The national average price for regular unleaded gasoline has dropped for 18 straight days to a national average of $3.20 a gallon, according to American Automobile Association surveys.
Pacific states as well as Idaho are still among the most expensive regions for purchasing gas, but Washington ranks third in the nation for the rate of fuel-price drop in the past month.
The national price represents a 2014 low and is the lowest average for the Columbus Day holiday since 2010 when gas averaged $2.81 a gallon, AAA reports.
Today's average price is nine cents less than one week ago, 20 cents less than one month ago and 15 cents less than one year ago.
Drivers in six states are paying an average price below three dollars per gallon to refuel their vehicles with eight additional states posting prices within a nickel of this mark.
Missouri has the lowest gas price average per gallon: $2.90.
Hawaii has the highest: $4.13.
California has the highest in the continental U.S.: $3.60.
New York and Oregon both are at $3.52.
Washington's average is $3.51. That's 11 cents lower than a week ago and down 33 cents in a month. But it's 31 cents higher than the national average.
Idaho's average is $3.46, although Coeur d'Alene is well below the average at $3.23
Montana's average is $3.39, with prices significantly lower — $3.17 — at Superior on I-90 60 miles west of Missoula.
Washington metro prices from today's AAA survey include:

Bellingham $3.57, Bremerton $3.35, Seattle-Bellevue-Everett $3.61, Tacoma $3.43, Olympia $3.45, Vancouver $3.50, Yakima $3.49, Tri-Cities $3.49, and Spokane $3.44.