Everything tagged
Latest from The Spokesman-Review
Chef Adam Hegsted of the Coeur d'Alene Casino Resort picks leaves off of stinging nettle plants along the trestle that carries golf carts around Circling Raven golf course.
Adam Hegsted, executive chef at the Coeur d'Alene Casino Resort in Worley, is not in the kitchen. He's out on the golf course.
Drivers of the passing golf carts eye the chef, dressed in his black jacket, with a mix of confusion and amusement. He's not carrying clubs. Instead, he's got a plastic bag in one gloved hand. A reporter and photographer trail behind.
He points out the various edibles as we walk – wild mustard, Oregon grape, cattails – but he has something else in mind.Lorie Hutson, SR Full story.
Have you ever eaten at the Cda Casino?
Chef Adam Hegsted is practicing for his upcoming dinner at the James Beard House in New York City.
Hegsted, who is the executive chef at the Coeur d'Alene Resort and Casino, and a team of chefs and servers presented the meal he's planning to make for the venerable venue at the resort last night.
Inspired by the food of this area, Hegsted's dinner opened with an appetizer plate featuring "Idaho Sushi," a small roasted potato topped with Waygu beef "sashimi". There was also roasted quail with a rhubarb barbecue sauce and cold smoked Columbia River sturgeon.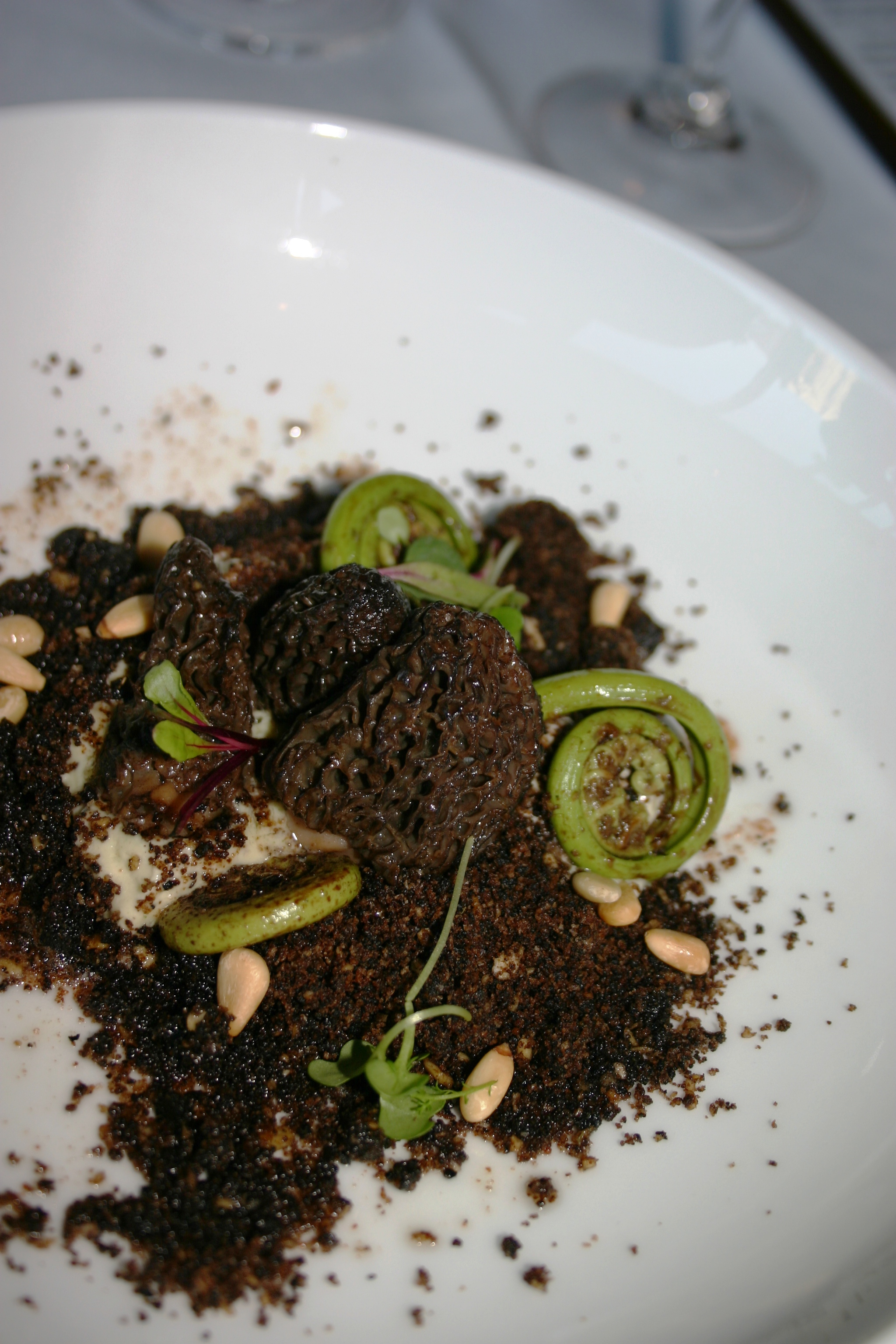 He also served a dish of morel mushrooms buried in edible forest floor along with fiddlehead ferns, among the courses.
There were dry aged lamb chops with potato gnocchi, served with nettle pesto, an Inland Northwest cheese plate and an array of berries - serviceberries, huckleberries and elderberries - with a wild rose whipped cream.
And I'm going to tell you all about the meal and Hegsted's plans for the June dinner at the Beard House in an upcoming feature story for The Spokesman-Review food page. Stay tuned.
The Wandering Table will meet the James Beard House this summer.
Chef Adam Hegsted and sous chef Ryan Stoy will be cooking at the James Beard House in New York in June.
The honor is something Hegsted has dreamed of since he started cooking. The story from this morning's food section is here.
Here are the links that I promised:
We featured Hegsted's traveling feast in this story about other mobile menus.
This is the link to the Northwest Profiles show about The Wandering Table by KSPS.
Makes me hungry just thinking about Hegsted's dinners.
Both chefs have day jobs. Hegsted is the executive chef at The Coeur d'Alene Casino Resort and Stoy is executive chef at Downriver Grill.