Everything tagged
Latest from The Spokesman-Review
A Spokane couple doing missionary work in Africa died over the weekend in a plane crash in northwest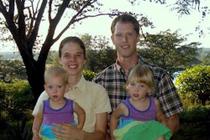 Zambia, leaving behind two young children. Jay and Katrina Erickson, who attended Hillyard Baptist Church, were killed Saturday when the six-seat Cessna aircraft Jay was piloting crashed into the Zambezi River. Their daughters, 2-year-old Marina and 1-year-old Coral, had stayed behind at the Chitokoloki Mission Hospital where the couple worked. "They were living their dream and doing what they thought the Lord wanted them to do," Pastor Ron Ulmer of Hillyard Baptist said Monday/Scott Maben, SR. More here.
Question: Why do the good sometimes die young?
For some of the best legal minds in Washington state, a complicated Spokane divorce that spanned two continents and a bloody civil war came down to this: 15 cows.
The missing herd was part of several legal arguments before the Division III Court of Appeals as justices contemplated custody of two children. In the end their mother, who relocated to Spokane from Sudan, retained custody.
"This saga spans southern Sudan to Spokane, and features a civil war, refugees seeking to escape Africa and a failure of consideration because the war prevented payment of the remaining cows owed the bride's father," Judge Kevin Korsmo wrote in an opinion released last week. "Against this chaotic backdrop, the facts and law are often unclear and in some dispute."