Everything tagged
Latest from The Spokesman-Review
BIRDWATCHING — Responsible bird enthusiasts regularly clean their feeders to help prevent the spread of disease that can kill masses of birds. But even the most conscientious feeders can be deadly if the seed they buy is poisonous.
Scotts Miracle-Gro Co. recently admitted guilt in charges of distributing insecticide-tainted bird seed, potentially subjecting itself to $4.5 in fines to be approved by the U.S. District Court for the Southern District of Ohio.
The American Bird Conservancy is spotlighting this case as an example of the need for regular monitoring to assure the safety of the nation's bird seed supply.
The stakes are high. U.S. Fish and Wildlife surveys indicate that one in five Americans considers themselves among the birdwatchers who spend a total of $36 billion dollars a year on bird food, equipment and birding related travel.
The bottom line: With tons of bird seed put out each year to make birding convenient, huge numbers of wild birds are at risk if bird seed isn't safe.
The ABC did its own tests and found that most bird seed from popular outlet is pesticide free.
But read on for the conservancy's release of details on the shortfalls of EPA rules and the chilling disregard for bird safety by Scott officials.
WILDLIFE WATCHING — Mayors of major U.S. cities received a letter from a major bird advocacy group this week asking them to stop the epidemic spread of feral cats that threaten national bird populations as well as scores of other wildlife.
Letters were mailed to mayors of the fifty largest cities in the Unites States by the American Bird Conservancy urging them to support responsible pet ownership and oppose Trap-Neuter-Release (TNR) programs that promote the feeding of outdoor cats.
"Cat overpopulation is a human-caused tragedy that affects the health and well-being of cats, our native wildlife, and the public," says Darin Schroeder of ABC. "Numerous published, scientific studies have shown that trap, neuter, re-abandon programs do not reduce feral cat populations, and that outdoor cats, even well-fed ones, kill hundreds of millions of wild birds and other animals each year in the U.S., including endangered species. Birds that nest or feed on the ground are especially vulnerable to cat attacks."
There's no disputing that. But cat lovers have been living in denial forever.
Good luck in your attempt to use logic and facts to save millions of birds a year, ABC.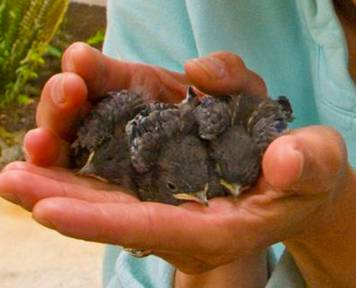 WILDLIFE WATCHING — A five-year project has succeeded in returning the Western bluebird to Washington's San Juan Islands. The bird had historically inhabited the islands, but changing land use practices and a paucity of nesting sites meant the species had not nested there for over 40 years.
Biologists with the Western Bluebird Reintroduction Project captured and translocated 45 breeding pairs of Western Bluebirds from an expanding population at Fort Lewis Military installation, Washington, and another four pairs from the Willamette Valley in Oregon. The birds were kept in aviaries on San Juan Island prior to release to acclimate them to their new surroundings.
Read on for details about the project and the several cooperating groups from the American Bird Conservancy.