Everything tagged
Latest from The Spokesman-Review
WILDLIFE — The signs along highways warning motorists that wildlife frequently crosses the road in certain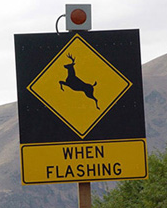 stretches aren't random acts of government spending.
State's keep track of roadkill — what they pick up and where motor vehicles are reported to have collided with critters. fall and winter are the most hazardous times.
Statewide, more than 1,100 wildlife/vehicle collisions are reported to the Washington State Patrol every year. Many more go unreported but leave animals dead. Washington Department of Transportation crews remove an average of 3,500 deer and elk carcasses from highways every year.
Those "wildlife crossing" signs are placed in the hot spots for these statistics.
Eastern Washington areas with the highest wildlife/vehicle collision rates include:
Spokane County's and the state highways heading north, especially in the Chewelah-Colville area as well as Newport, where highways intersect with white-tailed deer wintering grounds.

The Methow River Valley, home of the state's most prolific mule deer herd, consistently has high numbers of animals killed in collisions each year.

T

he Wenatchee vicinity has

high deer collision rates on the busy highways that run through prime mule deer ares

north and west of the city. On U.S. 97.

Goldendale and to the north between Omak and Tonasket have high wildlife collision rates.
Interstate 90 near the Easton/Cle Elum vicinity has the highest number of elk/vehicle collisions in Eastern Washington.
Several factors combine to make late fall the peak of the "bumper crop."
Colder temperatures and snow force more deer and elk from the mountains to milder conditions and better food sources in the lowlands.

Hunting seasons are underway, increasing deer movements.

Deer mating season, which also increases deer movements and makes normally wary bucks stupid, builds from late October, peaking in mid-November and tapering off into December.
A 2008 analysis of deer-elk collisions along Washington state highways — the lead author was Woody Myers, Washington Department of Fish and Wildlife big-game researcher based in Spokane — gives state agencies more guidance in planning highway routes and when to use measures such as fencing or wildlife overpasses or underpasses.
The DOT has posted a short video of images from cameras that illustrate how a range of wildlife use properly sited underpasses.

See commonly asked questions and answers about reducing the risks of wildlife vehicle collisions can be found in this DOT

Question and Answer

page.
WSDOT is working with the Department of Fish and Wildlife and other stakeholders on a statewide Habitat Connectivity assessment that will identify areas where wildlife require movement across the highway.
The Hyak to Easton project under construction on I-90 has a number of wildlife crossing structures and wildlife fencing.