Everything tagged
Latest from The Spokesman-Review
COUGARS
UPDATE: A WSU spokesman has confirmed that senior defensive tackle Anthony Laurenzi has been dismissed from the Washington State football team. The news was first reported by Cougfan.com. Read on.
Two Washington State football players were arrested in separate incidents over the weekend, marking the third and fourth projected defensive starters to be arrested this offseason. Defensive end/ outside linebacker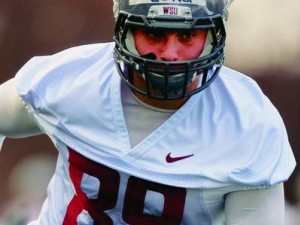 Travis Long was arrested Friday for suspicion of minor in possession of alcohol by the Pullman Police Department. According to Pullman Police logs, Long's date of birth is listed as July 24, 1991, meaning he turned 21 on Tuesday. Defensive tackle Anthony Laurenzi was arrested two days later on suspicion of third-degree theft at 1690 S.E. Harvest Dr., the address of the Walmart shopping center in Pullman. Long and Laurenzi mark the third and fourth starters on the front seven to be arrested since head coach Mike Leach was hired in December/Andrew Nemec, Moscow-Pullman Daily News. More here. (Dean Hare Daily News photo of Travis Long)
Question: Ah, is there a problem here?
COUGARS
As first reported by Cougfan.com, linebacker Travis Long and defensive tackle Anthony Laurenzi were arrested in separate incidents during the past three days. Here is a short item we filed for tomorrow's newspaper.