Everything tagged
Latest from The Spokesman-Review
Former Spokane Police officer and current federal prison inmate Karl Thompson earlier this month filed an appeal to the U.S. Supreme Court of his excessive force conviction in the March 2006 death of Otto Zehm.
The appeal, filed with the nation's highest court Oct. 22, raises a different legal issue than the argument Thompson's attorney, Carl Oreskovich, made earlier this year before the Ninth Circuit Court of Appeals. In the most recent filing, Thompson says the U.S. District Court improperly allowed evidence in the 2012 trial showing Zehm was innocent of the reported crime that prompted the contact in a Spokane convenience store March 18, 2006.
Store video showed Thompson approaching Zehm and quickly begin striking him with a baton. The filing with the Supreme Court gives Thompson's version of the events. The former officer said multiple commands for Zehm to put down a two-liter Pepsi bottle were made before the blows began, a claim the federal jury who heard the case rejected.
In arguments earlier this year that were later rejected by an appellate court panel, Thompson said his legal team was not provided expert witness statements analyzing the baton strikes in the video that may have changed trial strategy. A trio of appellate judges shot down that claim in June, then the entire panel of justices on the court declined to hear the case en banc later that month.
Thompson's claim this month is known in legal parlance as a "writ of certiorari," or a formal request for the nine-member Supreme Court panel to review the rulings of a lower court. The Supreme Court receives 10,000 such requests annually and hears between 75 and 80 cases, according to its website.
Zehm, who died two days after the incident with Thompson, would have turned 45 today (Oct. 31, 2014).
Former Idaho gubernatorial candidate Rex Rammell has lost his second appeal over a 2010 elk poaching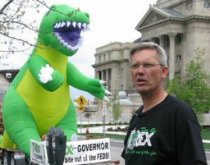 charge, with the Idaho Court of Appeals ruling unanimously that two lower courts correctly upheld Rammell's misdemeanor conviction. He challenged it on multiple grounds, nearly all centering around his contention that the state didn't prove he intended to unlawfully kill an elk in the Tex Creek Zone on Nov. 30, 2010. But the high court found that the offense requires no specific intent/Betsy Russell, Eye on Boise. More here. (Eye on Boise file photo)
Question: Anyone out there admit that they've voted for Rex Rammell at one time or another?
Tax-protesting Idaho state Rep. Phil Hart is taking his fight against paying his back state income taxes to the Idaho Supreme Court, despite already having lost four appeals. Hart lost his fourth round in March, when 1st District Judge John Mitchell rejected Hart's request that the judge reconsider his December 2010 decision tossing out the appeal. In a 13-page decision, the judge twice termed Hart's arguments "simply wrong," and called his central argument – that he'd actually filed his appeal one day earlier than the state says - "patently wrong."

Hart, whose first court appeal in November of 2010 charged that the state income tax is unconstitutional, also is arguing that he should have months longer to appeal his taxes than other citizens because of his status as a state legislator. Plus, he's claimed a requirement that he submit a 20 percent bond when filing his appeal is unconstitutional. You can read my full story here at spokesman.com, and see the latest court decision and Hart's notice of appeal here.