Everything tagged
Latest from The Spokesman-Review
"It's a damn shame that the Mariners never lived up to their play-by-play man" — Art Thiel, Seattle Post-Intelligencer, re: Seattle play-by-play announcer Dave Niehaus, who of a heart attack this week at age 75. Full Thiel column here.
Playing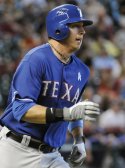 off the Yankees against the under-the-radar Rangers Friday morning, general manager Jack Zduriencik shrewdly snatched first baseman Justin Smoak, a 23-year-old with 30 home run power and plus-.900 OPS potential. Smoak may not be ready this season, his first in the majors, but every scouting report on him has a variation on the theme "studhoss." ESPN's Keith Law ranked him before the season as the No. 15 prospect in all baseball, and Baseball Prospectus ranked him a five-star (of five) prospect. The comparisons include Mark Teixeira and Adrian Gonzalez. Lee, magnificent as he has been, was never going to re-sign with the Mariners in free agency, just as he will never re-sign with the Rangers — two of the three teams left in baseball who have never made the World Series/Art Thiel, Seattle P-I. More here. (AP file photo: Justin Smoak doubing against Houston on June 20.)
Question: Could it be that Seattle will be the team that ultimately comes out on top — way on top — in this trade?
Seattle Mariners' Ken Griffey Jr. flies out to end the baseball game against the Tampa Bay Rays in the ninth inning Thursday in an 8-0 loss to the Rays in Seattle. Seattle P-I columnist Art Thiel discusses a recent incident in which Griffey was in the clubhouse asleep late in a game when he was needed to pinchhit — and suggests that it's time that Junior retires. Column here. (AP Photo/Elaine Thompson)
Question: Have you ever fallen asleep at work?